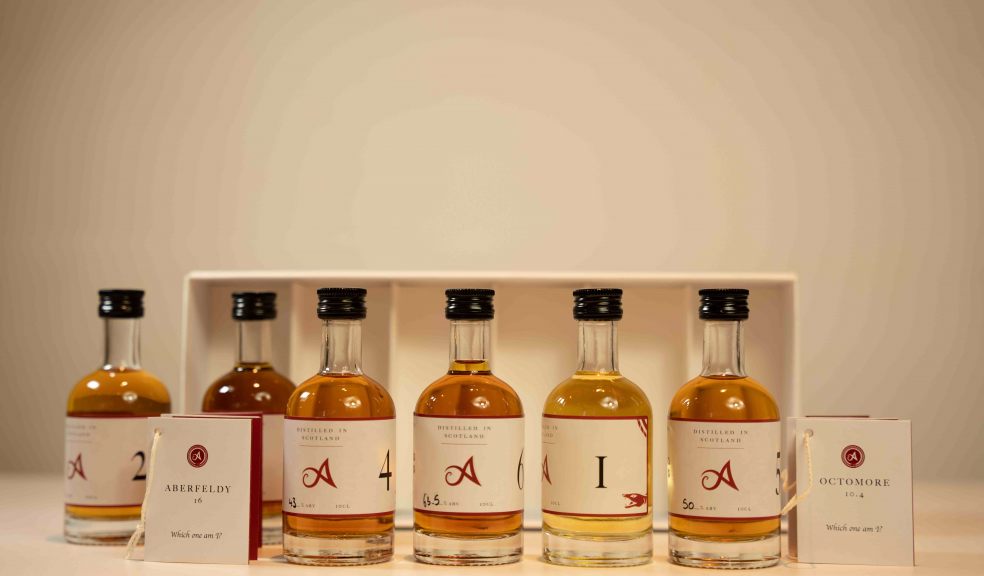 A new way to taste spirits with friends
Blind tasting has always been used by judges at awards ceremonies to avoid preconceptions and focus solely on aroma and flavour.  It has also become common among wine consumers more generally, allowing individuals and groups to enjoy, explore and, of course, test their knowledge of the wide variety of wines available. 
Azu Spirits has found a way to offer this to spirits enthusiasts, providing an at-home blind tasting experience they can enjoy with friends. Ellie Gibson from Azu says "When someone says 'this has notes of cereals, green fruit or bananas' I find I can immediately taste those things. I don't think it's necessarily a trick of the mind, but flavour compounds found in whisky are also found in a variety of foods, so you instantly recall them when they're mentioned. With blind tasting, you rely on your own experiences and memories of smells, trying to distinguish and identify certain flavours according to your own palate. It can be quite an interesting experience!"
The blind tasting experience collections, launched in January 2021 but having just been redesigned, are sold online at www.azuspirits.co.uk and include 3 or 6 100ml numbered sharing bottles of premium spirits, an introductory leaflet and a wax-sealed envelope containing name tags, tasting tips and a 'reveal' envelope. The name tags include detailed descriptions of the unique qualities of each spirit so you can 'challenge' your palate and try to match the name tags with each of the numbered bottles included in the box.
Designed for social occasions, the smaller boxes (which include 3 x 100ml bottles) are recommended for four - five people, whilst the classic boxes (6 x 100ml bottles) are recommended for six people. Azu Spirits focuses on the social and blind tasting aspect to create something new and unique for the spirits' market. 
A premium product containing quality spirits, each collection offers a complete tasting set providing everything needed to host a fun and sociable blind tasting experience. It's also far cheaper than going out for dinner or to a bar with a group of friends! 
Encouraging engagement, focusing on quality and exploring the stories behind the brands, Azu Spirits offers a number of standard collections as well as the opportunity to 'build your own' tasting set from the spirits they stock. 
The single malt whisky collections showcase the diversity in Scotch whisky, including single malts such as Talisker 10, Ledaig 18, Dalmore 18 and even Macallan Rare Cask and Bunnahabhain Moine 22-year-old Pedro Ximenez Finish. The Great British Gins box takes a journey through traditional styles and the evolution of gin in the UK and features premium releases from Bombay Sapphire, Tanqueray and Plymouth Gin. Whilst the craft gins range, starting with the South West Specialists collection, features less well-known regional craft spirits such as Wrecking Coast's Clotted Cream Gin, Papillon Gin and Atlantic Distillery's 'Ring of Fire'.
Always eager to expand their collections, Azu is looking forward to exploring the exciting world of non-alcoholic spirits after tasting a selection of Warners 0% Botanic Garden Spirits, in addition to expanding their whisky and regional craft spirits collections.