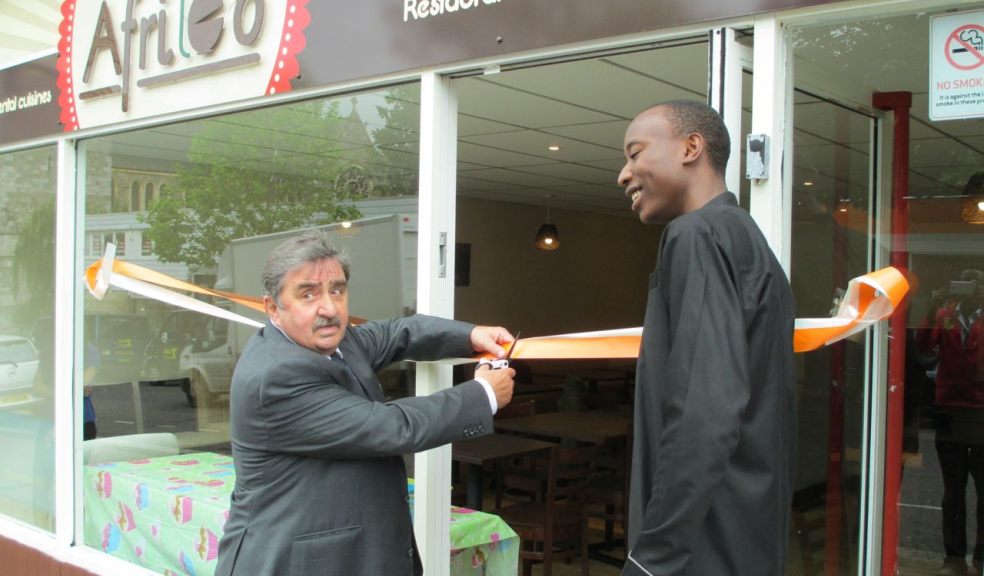 Delicious and mouthwatering Afro-Caribbean cuisine in Exeter?
Afriteo Restaurant, a subsidiary of Afriteo Enterprise UK, opened its doors today on Exeter's South Street, spicing up the city's food scene with its authentic Afro-Caribbean and continental cuisine. It is, as far as we are aware, the first and only of its kind in Exeter and possibly even Devon.
Restaurant proprietor Tochukwu E. Onu says: "It is in our belief that everyone who likes trying out food from around the globe will enjoy our delicious and mouth-watering dishes, which have been tailored to suit the taste buds of everyone. With our unique Spice-o-meter concept, which allows every customer to have the opportunity to determine what spice level they are comfortable with - like we say in-house at Afriteo Restaurant, 'it does not have to be spicy to be tasty'."
Afriteo Restaurant was officially opened today by Exeter City Council Leader Pete Edwards, who said "It is wonderful to be able to open this new restaurant, which brings another element to the city's diverse range of restaurants and cafes. The food has been delicious and I wish it every success for the future."
Guests at the launch were invited to try out some of the dishes from spicy rice dishes to curried chicken and a must-try fried plantain with hot and sour tomato sauce, just some of the dishes that will be on offer. At the launch the food was cooked by Tochukwu's Mother, who is a very talented cook and clearly where Tochukwu gets his inspiration from, although she is not expected to be working at the restaurant beyond the launch period. The cuisine may be especially welcomed by the city's Afro-Caribbean population, but will appeal to anyone who enjoys international cuisine.
Tochukwu, or Toch to his friends who turned up in force to support his new venture, had the full backing of his enthusiastic family and provided a very warm welcome to guests at the launch event.
With the success of the recent Respect Festival in Exeter's Belmont Park, where people could try out myriad international including Afro-Caribbean cuisines, the launch of the Afriteo Restaurant could not be better timed.
Tochukwu continues, "Our arrival at this time will mean that this beautiful city of Exeter is not left out of the recent food revolution of great tasting Afro-Caribbean spices, sauces and cuisines sweeping across the nation as evidenced in one of the most recent success stories of Reggae Reggae sauce and many of its various food items by Mr Levi Roots. Our carefully selected food menu mean that we are able to cater for both vegetarians and non-vegetarians alike as well as providing healthy alternatives in our continental dishes."
The restaurant will be open over the weekend, and should have a full complement of staff from Monday onwards.
Telephone: 01392 204815