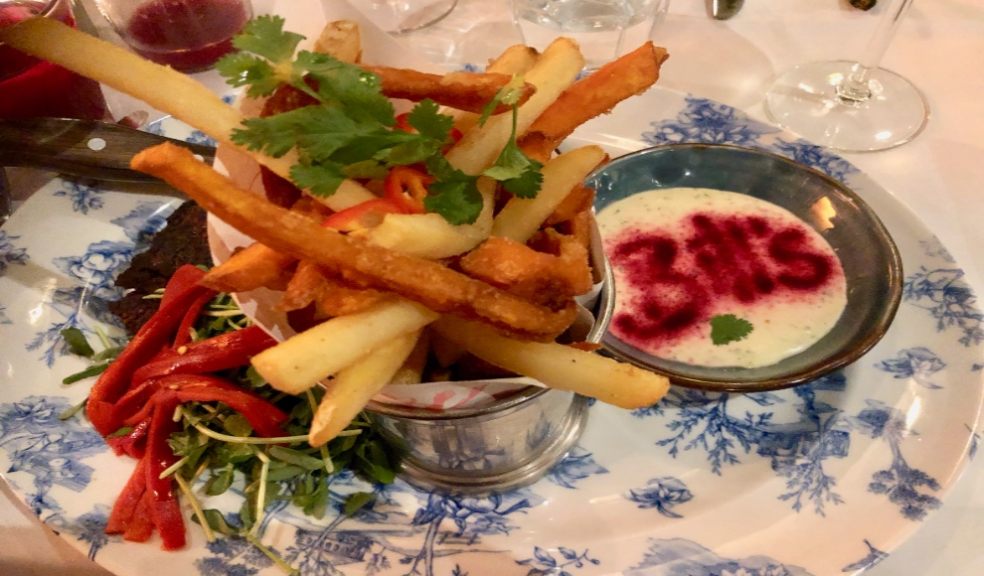 Bill's Exeter Veganuary Menu review
Let's get a couple of minor niggles out of the way first.
Niggle number one: Our starters were delivered to the wrong table, where a pair of casually-dressed young chaps gleefully accepted them, despite the fact the food wasn't what they ordered.
You'd be right to expect that annoyed me no end but I, in fact, forgave the minor misdemeanour, because one of the recipients was my old mate, Radio Exe DJ Ashley Jeary, who looks like he could do with a good meal, or two, or maybe three.
Niggle number two: After waiting 20 minutes for our starter, the wrong soup was served to my dining partner meaning yet another delay. Luckily I had ordered a sourdough, humus and 'candy-striped' beetroot concoction …which was meant to be served cold.
Now that I've got that off of my chest (although I have a long memory young Jeary), let's turn your attention dear reader to the reason for our visit.
Bill's – an ever-popular Exeter haunt which has survived the slings and arrows of  the city's restaurant invasion – is serving up what it calls its Veganuary menu.
The month-long offering features eight starters, five mains, three desserts and a breakfast.            
To be frank, as someone who enjoys a juicy steak and who views kale, carrots and cabbage as the support acts for a headline Sunday roast, the ingredients failed to whet my appetite.
But I approached this culinary adventure with an open mind and went straight in for … a bread starter.
To be fair it was topped with kale, beetroot, celeriac, red onion, humus and pomegranate seeds and each mouthful was a zingy, refreshing, palate-cleansing delight.
The revelation for me was the kale…. It wasn't the hardcore, boil-resistant variety you find in the local supermarket but delicate little fronds the size of pea shoots.
In all, the dish got my thumbs up but if I was to find fault it would be that my plate was too small meaning I was constantly retrieving stray ingredients from the table.
My dining partner had both of the soup choices placed before her within a five-minute period due to the earlier mix up but only tried one, the sweet potato and ginger offering, rather than wild mushroom.
It was smooth, yet spicy with the ginger adding a hefty background heat. Mopped up with chunky focaccia it was the perfect winter warmer.
For our mains, I decided upon the Carrot, Cashew Nut and Mushroom Wellington and my partner chose the Bill's Beetroot Steak.
This time they arrived at the right table with not one, but two apologies about the starter, one from our waitress and another from the manager.
I meanwhile, cast my best Paddington hard stare in the direction of young Jeary and his mate.
Our mains were unexpectedly hearty and filling.
The Wellington was packed with flavour, and texture, and was presented with a side of broccoli and a most welcome jug of gravy.
The beetroot steak was a decent size and had a nice spice kick however, it was somewhat odd in concept and, unlike my main course, a tad underwhelming.
We washed our meals down with two of the fresh, pressed juices on offer, the highlight being my Ginger Fireball Shot, which also contained garlic, cayenne and oregano, which gave my seasonal sniffles a brief respite.
So filling were the main courses that neither of us could squeeze in dessert… a choice of Sticky Toffee Pudding, Frozen Amaretto Parfait and Coconut Icecream or Lemon Sorbet.
That said, the meal itself, especially, as this is the view of a meat lover, was surprisingly enjoyable.
Whether we would choose any of the dishes over the standard menu is debatable but it's a welcome option, especially for those on a New Year health kick.