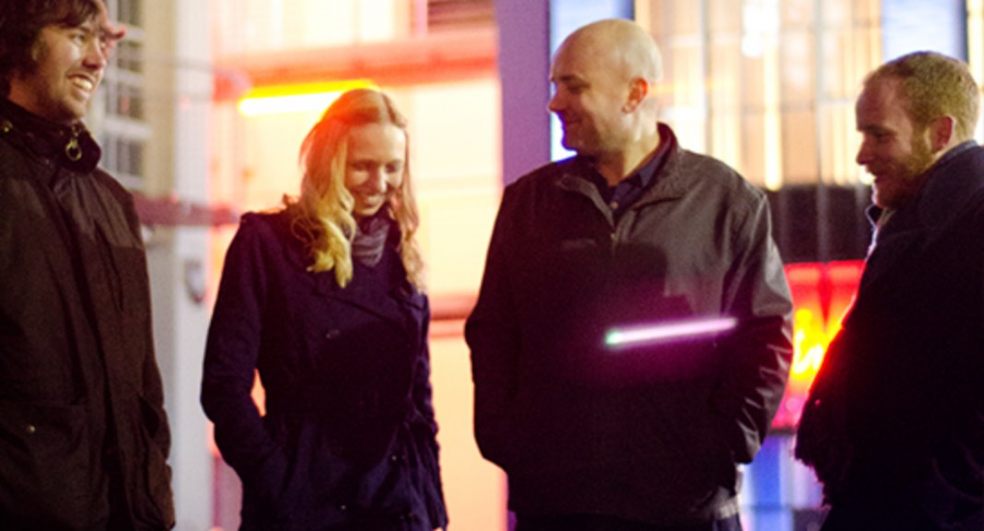 Your guide to What's On this weekend
Your guide to what's on in and around Exeter this weekend (22-24 March).
THEATRE
Our Trace
Friday, Exmouth Pavilion
She's out and about!! Our very own internet sensation, multi award winning, Comedienne, Our Trace! Up to 7 million people worldwide viewed her live comedy clip on Facebook, resulting in everybody wanting to see more of this extremely, funny woman in her posh frock!" https://www.ledleisure.co.uk/exmouth-pavilion 
The Comedy About a Bank Robbery
Friday & Saturday, Exeter Northcott
Ocean's Eleven meets the Marx Brothers in this dynamite new comedy now enjoying its third year in the West End! A priceless diamond has been entrusted to the city bank, an institution so corrupt that even the security guards are on the take. Can it be safely stored or will it all go horribly wrong? https://exeternorthcott.co.uk/calendar/the-comedy-about-a-bank-robbery/
The Vicar of Dibley
Friday, Saturday & Sunday, The Blackmore Theatre, Exmouth
The arrival of a new vicar in Dibley shakes up the parish council of a sleepy English village. Is Dibley and its inhabitants ready for the wind of change that is Geraldine? All of your favourite characters from the hugely popular TV Series will appear on stage to create a performance that will remind you just how much you all laughed. http://blackmoretheatre.co.uk
Music Hall Tavern
Saturday, Exmouth Pavilion 
The UK's premier comedy drag show is back for its 6th year with a brand new hilarious fabulous glamorous show for 2019! Whatever your age, come along and join Mrs T and the "girls" from MHT this Spring for a truly magnificent night of dazzling costumes, side splitting laughter and a cast of unique characters singing and dancing all night long.   A feel-good night that will not only entertain and amuse you, but will leave you with unforgettable memories of the funniest night out of the year!   www.ledleisure.co.uk/exmouth-pavilion
Rachel Parris – It's Fun to Pretend
Sunday, Exeter Northcott 
Viral sensation Rachel Parris, star of BBC's The Mash Report, presents a comedy show packed with stand-up, song, sketch, and inevitably a sideways swipe at society. In this tour show she showcases some of her best bits, from her trademark comic anthems, to her all-too relatable, bittersweet stand-up, alongside brand new material looking at the insane events of this year. https://exeternorthcott.co.uk 
MUSIC
Urban Folk Quartet
Saturday, Exeter Phoenix
The Urban Folk Quartet's distinguishing features have much less to do with the traditional idea of genre. Yes, this is fiddle-led music that draws heavily from celtic dance forms and traditional song but from there on in it is unlike any folk band you have ever heard.  https://www.exeterphoenix.org.uk
An evening with Velvet & Stone and Emily Davies
Saturday, St Nicholas Priory, The Mint, Off Fore Street, Exeter
A stripped back, intimate evening of music with Velvet & Stone and Emily Davies at the enchanting St Nicholas Priory. There will be a pop-up bar, previews of new songs and it promises to be a really special evening. Tickets are limited. https://www.wegottickets.com/event/463686
Exeter Children's Orchestra's Spring Concert 
Saturday, 6.30pm, St Thomas Methodist Church, Cowick Street, Exeter
Exeter Children's Orchestra features children aged 7-18 from all over Devon coming together to play spectacular music to rival professional orchestras. This all-inclusive group will be performing a wide variety of music from film scores to traditional classical pieces. https://www.exeterchildrensorchestra.co.uk/spring-concerts
Nick Harper
Sunday, Exeter Phoenix
Nick Harper is one the UK's best kept musical secrets. Those who have witnessed the spellbinding, one-man show will tell you this. A childhood growing up surrounded by the musical prowess of some of the 60's most revered songwriters and musicians, not to mention being son of Roy Harper, along with 20 years of crafting songs & touring the land has spawned a truly one-off, original guitarist and songwriter who stands alone as a UK great, to be cherished & revered. https://www.exeterphoenix.org.uk
Booby Socks and Blue Jeans
Sunday, Exmouth Pavilion
Bobby Socks & Blue Jeans is proving to be the most exciting new production on the theatre circuit. Unlike other shows featuring the music of the 50's and 60's, what makes Bobby Socks & Blue Jeans so unique, is that each hit recording star and there are over 40 featured, is superbly impersonated by the remarkable talents of a West End cast of extremely talented singers, musicians and dancers, who brilliantly bring back all those wonderful memories of the most exciting time in music.  www.ledleisure.co.uk/exmouth-pavilion
EVENTS
Banff Mountain Film Festival (Blue)
Saturday, Exeter Corn Exchange
Experience an extraordinary collection of short films from the world's most prestigious mountain film festival.   Follow the expeditions of some of today's most incredible adventurers, see amazing footage of adrenaline packed action sports and be inspired by thought-provoking pieces shot from the far flung corners of the globe. https://www.exetercornexchange.co.uk
Topsham Community Market
Saturday, Matthews Hall, Topsham
The Topsham Community Market runs from 8.30am till 1pm every Saturday. There is a good mix of food stalls, antiques, clothes, jewellery and craft stalls.
Basketball Play Off Finals Day
Sunday, Exeter College, Victoria House, Exeter
Take the family to a great free event in the centre of Exeter, with six of the best teams in Devon competing in 3 Finals at Exeter College on the show court. It's a 500 seater court right in the centre of Exeter, and you will be thrilled at the fast moving sport. During the day there will be free to enter shooting competitions for junior supporters (with prizes). Tip off times: 11am Inter Division Play Off Final; 1pm Ladies Division Final; 3pm Division I Final. The day runs from 10.30am to 5.30pm. www.exeterdistrictbasketball.org
Bride: The Wedding Show
Saturday & Sunday, Westpoint, Exeter
The newest show to the portfolio of two-day events, the spring edition of Bride: The Wedding Show at Westpoint Exeter is guaranteed to wow its guests. Meet a huge array of prospective wedding suppliers face to face while getting ideas for your dress, flowers, stationery, cakes, transport, venue, photographer, menswear and lots more. https://www.bridetheweddingshow.co.uk
EXHIBITIONS
Tree of Life
Killerton House, Broadclyst, near Exeter
The ancient relationship between people and trees is reflected in the historic and ongoing use of trees as a raw material for clothes and shoes and as an inspiration for textiles and dress design. Follow the exhibition from the root of the tree to the branches seeing items drawn from the collection that have been inspired by trees. The exhibition runs until 2 November. Normal admission applies. www.nationaltrust.org.uk/killerton
On Paper
From Saturday, Thelma Hulbert Gallery, Elmfield House, Dowell Street, Honiton
On Paper, from the Arts Council Collection, showcases the work of acclaimed 20th-century and contemporary artists who work with paper. Looking beyond the mark-making of drawing to consider the material itself, the exhibition explores how artists have used paper as the focus of their work in creative and unusual ways. Open Tuesday – Saturday, 10am-5pm, the exhibition runs until 18 May. https://www.thelmahulbert.com