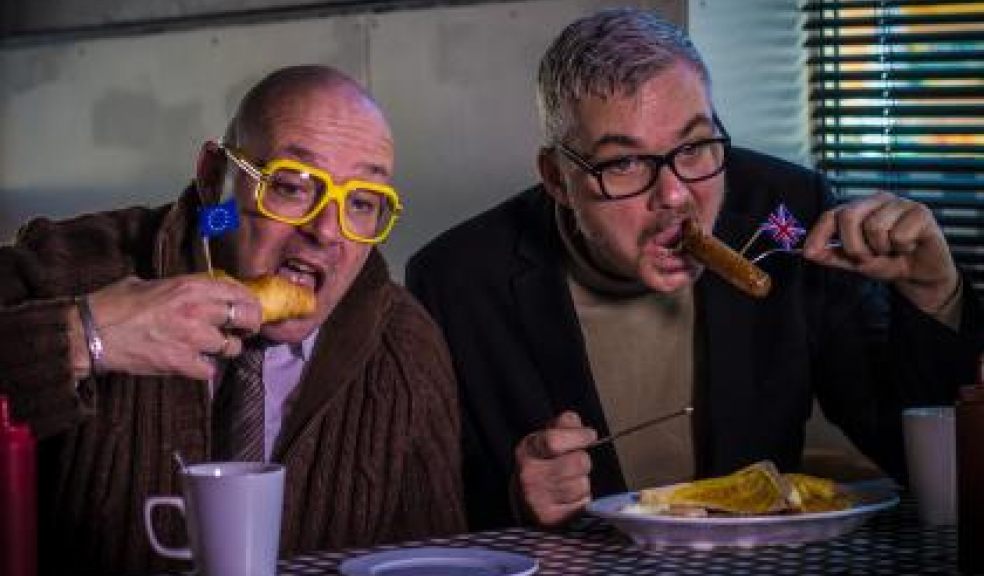 Your guide to What's On this weekend
Your essential guide to What's On in and around Exeter this weekend (3-5 February).
THEATRE
The Brexit Club
Friday, Cygnet Theatre, Exeter
An original tale of intolerance, alienation and Findus crispy pancakes! It's the 23rd June - the day of the Euro Referendum and just another lunch time in the works canteen for cousins Len Silver and Melvyn Gould and their colleagues, but beneath their love of haute cuisine and jovial banter there's trouble brewing. Sid Vishnu's lentil Dahl and Don Beattie's bangers and mash are emblems of a nation divided!Substance and Shadow Theatre present a black comedy that will have you chewing over the remains of Brexit and deciding on a full English or continental! Tickets £8. https://cygnettheatre.co.uk
The Jungle Book
Friday & Saturday, Barnfield Theatre, Exeter
Follow the adventures of Mowgli a young man cub, raised by a family of caring wolves and befriended by Baloo the bear and Bagheera a black panther, who teach him the laws of the jungle. The vengeful tiger, Shere Khan, Tabaqui, a cunning jackal and a troupe of troublesome monkeys, are among the many dangers Mowgli must face in his quest to find his true identity. Exploring themes of loyalty, love, honour, courage and tradition, through creative storytelling, much humour, this vibrant production will delight audiences of all ages. Saturday matinee 2pm. Tickets £11.50, £8.50 conc.  www.barnfieldtheatre.org.uk
Ruddigore
Friday & Saturday, Northcott Theatre, Exeter
The witch's curse: one that forces any man who bares the title of Baronet of Ruddigore to commit a crime every day, or die. Surely this curse won't come back to haunt Robin Oakapple (a simple farmer) as he tries to woo the virtuous Rose Maybud. Unless, he is revealed to be Sir Ruthven Murgatroyd, the rightful Baronet of Ruddigore, who faked his own death to escape the accursed title. With the help of his trusty manservant Old Adam, Robin will have to face challenges from some of the people closest to him.   This supernatural operetta will have you laughing from start to finish. Saturday matinee 2.30pm. https://exeternorthcott.co.uk
Exeter Comedy Club Feb 2017
Friday, Exeter Corn Exchange
Celebrating 20 years of Exeter Comedy Club events at Exeter Corn Exchange.   Tickets £13 or £20 to include a pizza. https://exetercornexchange.co.uk
MUSIC
Dub Pistols
Friday, 7.30pm, Exeter Phoenix
They're back! The Pistoleros are riding into town. Over an 18-year career the Dub Pistols have worked with heroes like The Specials, Busta Rhymes, Horace Andy, Madness and Gregory Isaacs. They've burned through different members and hundreds of thousands of pounds on assorted capers and hedonism, and done — in the words of dapper frontman and prime mover Barry Ashworth, a ducking, diving South London graduate of the Summer of Love generation who started a band because he loved Happy Mondays and never looked back. www.exeterphoenix.org.uk
Jangle's Third Birthday
Saturday, 10pm, Exeter Phoenix
Celebrating three years of wobbly basslines and scatty amens with Phatworld vs Superior Cornrows.  Shosh, Audiomission, Iller Instinct, Ali Monsta, The Jangle Kru & more. 10pm-2am. Tickets £11.  www.exeterphoenix.org.uk
EVENTS
A la Ronde Grand Opening
Saturday, Summer Lane, Exmouth EX8 5BD
Join the Deputy Mayor and Town Crier as the quirky sixteen-sided house gets ready to open for 2107. https://www.nationaltrust.org.uk/a-la-ronde
Big Fish Little Fish Family Rave: Camp Bestival Tour
Sunday, Exeter Phoenix
Pop Stars & Rock Stars themed family rave with headline DJ Brent Aquasky, plus local legend Hatchett and resident Little My play (grown up) dance music on the multi-sensory dancefloor with glitter cannons, bubbles and giant parachute dance. There will be   craft tables, play area, baby chillout space with mats and ball pool, face painting, Camp Bestival Photo Booth, licensed bar, free transfer tattoos and glowsticks, plus free CrushedUK crushed fruit pouches to take away at the end and lots more!  Pop Stars & Rock Stars fancy dress optional (but encouraged). Tickets and full details can be found here. 
Mum2mum market nearly new sale
Sunday, 10.30am, America Hall, Pinhoe, Exeter
Buy top quality pre loved baby, children's and maternity goods at a fraction of their high street price – all great brands in top condition. Over 20 stalls brimming with bargains, free goody bags for the first 100 people through the door, refreshments and cake stall as well as free parking. 10.30am-12.30pm.  £2 on the door, kids free.  More details here.
Super Bowl Li Party
Sunday, 10pm, Walkabout, Exeter
The annual Super Bowl makes its way to Walkabout for the biggest NFL party of the year! Bookings: walkaboutbars.co.uk/SuperBowl
EXHIBITIONS
Queen Victoria in Paris: Watercolours from the Royal Collection
RAMM, Queen Street, Exeter
This exhibition shows forty four watercolours of Queen Victoria's remarkable visit to Paris in 1855. The exhibition runs until 23 April.  http://rammuseum.org.uk
Get Fresh Exhibition: New SouthWest Designer-Makers
Devon Guild of Craftsmen, Riverside Mill, Bovey Tracey
A biennial exhibition showing work by 15 new or emerging designer-makers from the South West. The exhibition celebrates the diversity of new makers whilst providing a debut platform for their craftwork. Free, open daily 10am-5.30pm, the exhibition runs until 5 March. www.crafts.org.uk
South West Academy Winter Exhibition
From Saturday, Thelma Hulbert Gallery, Dowell Street, Honiton
Artists of the South West Academy bring together a new body of work focusing on paintings, photographs, prints and ceramics. The exhibiton runs until 25 February.  www.thelmahulbert.com
Commemorating the First World War: Comforts for Soldiers
RAMM, Queen Street, Exeter
Queen Mary led a drive on the home front to knit warm woollen garments, 'comforts' for those on active service. Surviving garments are rare, and this small display showcases objects from the museum's collection. Patterns and advertisements are shown alongside a part knitted pair of socks, as well as examples made from the original instructions.  The exhibition runs until 17 May. http://rammuseum.org.uk
The Beauty of Light on Dartmoor
Dartmoor National Park Visitor Centre, Princetown
An exhibition by international award winning photographer and film maker Jonathan Scott. Jonathan has travelled the world and has had his work featured by the likes of National Geographic, the Discovery Channel, Google, the BBC, ITN and many more.  The exhibition is open until 5 March 2017.