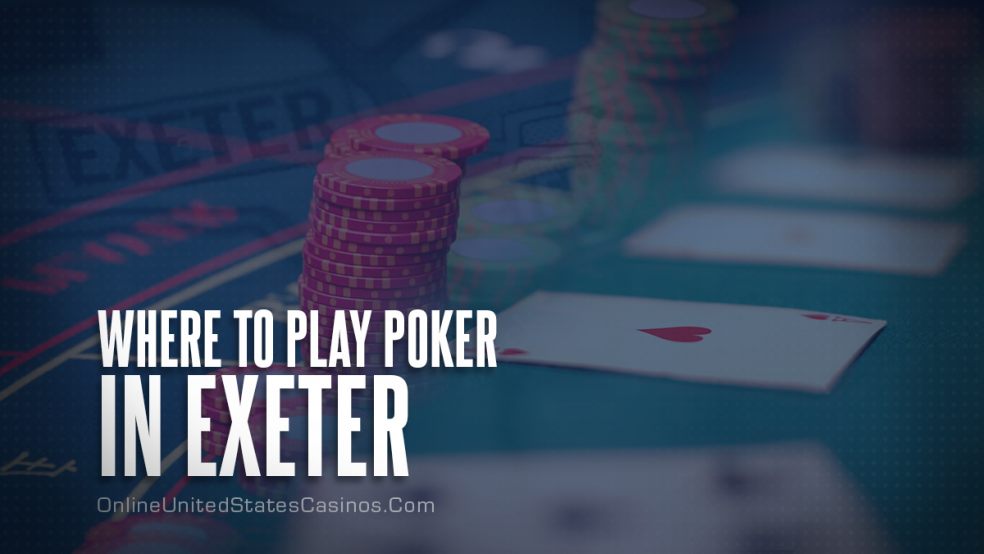 Where to play poker in Exeter
Exeter offers a wealth of entertainment and gastronomy to thrill visitors to this quaint and historically-rich city located on the River Exe in south-west England. Whether you're keen on discovering the city's fascinating history that includes a Norman Cathedral, historic quay, and canal, or the dramatic surrounding countryside and nearby beaches, you're in for a treat. The gothic Exeter Cathedral draws crowds in their droves, with the heritage site one of the West Country's most visited places and an absolute must-see.
The city offers the splendid Exeter Racecourse surrounded by impressive countryside and prides itself on being one of the United Kingdom's most progressive tracks. Fans of poker and other table games have the opportunity of discovering exciting casinos located across Devon.
The best poker Devon has to offer
Poker players looking for poker rooms and tournaments at brick-and-mortar casinos have several choices, although they'll have to wait up until 17 May 2021 before they can hold their cards close to their chests again. The UK government's plan to reopen the economy prescribed that bingo halls and casinos only reopen their doors on the much-anticipated Monday, while betting shops will reopen as early as 12 April 2021.
There is an alternative to waiting. Online poker websites and online casinos are both legal and reputable purveyors of poker tournaments, live poker complete with croupiers, numerous poker variants, and naturally a vast selection of video poker.
Genting Casino – Plymouth
Located in the heart of Devon, Plymouth holds the title of the English Riviera. This boutique casino is close to the county's iconic waterfront. The Genting Casino is 36 miles from Exeter and offers a wealth of entertainment. The bustling casino features a wide selection of table games, including blackjack, several types of poker. Players can also look forward to slots and even electronic roulette.
Grosvenor Casino – Plymouth
A short walk from the Genting Casino towards the Theatre Royal Plymouth will take you to the city center, where you'll find the Grosvenor Casino, complete with a fantastic restaurant, excellent bar, plus sports and entertainment lounges. Players can choose between a good variety of slots, an exclusive poker room, and table games, including roulette and blackjack. Once the casino reopens, poker players have the opportunity to join regular poker tournaments available from Tuesday to Saturday.
Genting Casino - Torquay
Players that prefer a shorter drive should consider the Genting Casino located in Torquay, a mere 17 miles from Exeter. The casino is considerably more modern than other casinos in the area and caters to the players who know what they want. The casino also offers various exciting games such as slot machines, electronic roulette, three card poker, blackjack, and card room poker. Poker players can also look forward to Texas Hold'em and Omaha poker.
Incredible poker tournaments
Poker tournaments at physical casinos are temporarily on hold. However, players can still enjoy the thrill of playing casino games from the comfort of their homes on their desktops or mobile devices. More than 30.2 million British online casino accounts are currently active, with more people taking advantage of the online perks. Signing up at an online gambling site offers several benefits, such as convenience, fantastic poker bonuses, and the ability to play live casino poker.
With live casino games, dealers host numerous table games in a film studio. The footage live streams to the online casino, where a graphic interface facilitates interactions and the display of bets and results on the player's screen. Live casino games offer a unique social element that many players that are accustomed to land-based casinos miss.
Poker fans can also sign up at online poker websites that exclusively feature poker variants and nothing else. These niche sites offer incredible welcome bonuses, reload bonuses, and special promotions that are too good to pass by.
Online poker is the way to go
With all of England's gambling venues shut since the start of the third lockdown on 5 January 2021, gambling online has become an increasingly popular alternative. The UK online casino market has experienced dramatic growth since the pandemic restricted land-based casinos from operating, with the number of people gambling online steadily rising from 10,5 million.
Online gambling sites offer an incredible variety of poker games in every shape and form, highly-competitive bonuses, and numerous poker tournaments every week. What more could poker players demand?
About the author
Hein Coetzer is passionate about writing. As a casino writer for OnlineUnitedStatesCasinos.com, he enjoys using his skills to provide insightful articles for people to read.