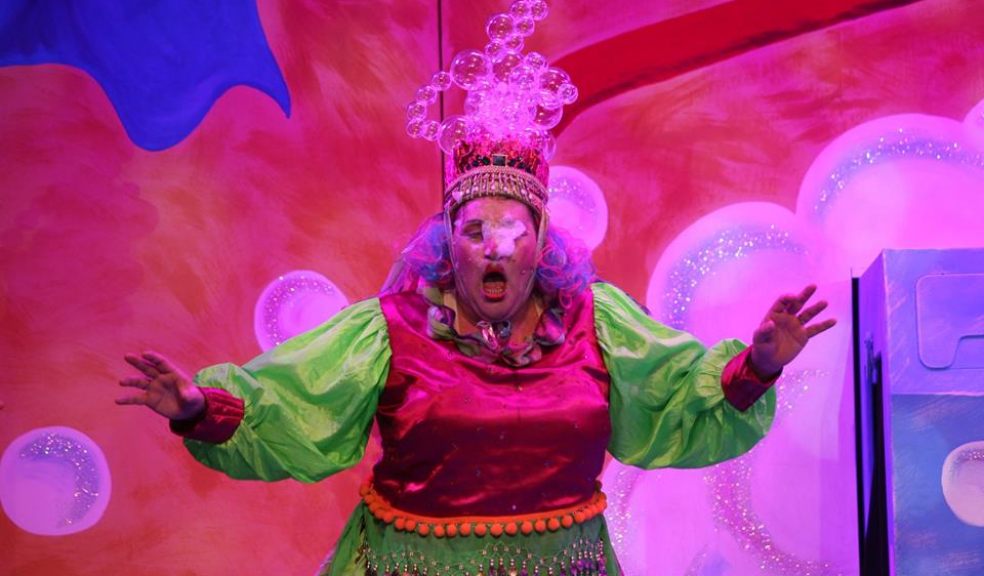 Double the Trouble - Double the Fun!
Panto at Exeter Corn Exchange has a reputation for bringing a novel approach to the classic storylines.  This year, Devon favourite: Daniel Page ('Billy Elliot', 'Hairspray') is playing TWINS in the exotic and magical 'Aladdin'!  He promises "Double the fun and double the trouble" as he is playing Abanazer and also Widow Twankey!
It's a plot twist which will allow Daniel to let out his naughty side as much as his damely nature!
Daniel explains, "I played Abanazer in 2012 and it was great fun- my baddies are never scary- I play the villain like Humpty Dumpty having a bad day.  There was a moment in the show where Princess Jasmine was very mean to me- and the audience actually gave me an "aah".  I love trying to get the audience to like the naughty characters, such as the Ugly Sisters or Queen Malificent in 'Sleeping Beauty'.  But I can't resist playing the Dame either.  So, this really is the best of both worlds.
Director Ian Berry is also very happy with the arrangement.  "Daniel brings his trademark high-energy and camp chaos to everything he does- so that means we get twice as much of the craziness in 'Aladdin' as he plays both twins.  Needless to say, the quick changes are quite a challenge!  We have made it clear to Daniel, though, that just because he plays two roles doesn't mean he gets two salaries!"
Meanwhile, like a very glamorous Doctor Who, Matt Finegan who plays Genie also has 3 "regenerations"- including some time as a lady genie!  He's a dead ringer for Jodie Whittaker!
In a show packed full of splashy musical numbers and very messy slop scenes, Matt and Daniel re-unite in a double act that the Express & Echo hailed last year as 'Exeter's own Ant & Dec have audiences in tears of laughter'.
Audiences are lapping up the show which has received rave reviews from the local media.  Daniel adds, "My favourite bit of the show doesn't even involve me- which is clearly very surprising!  The gasp you hear from the audience when the magic carpet appears really gives you a tingle.  It's the kind of thing that makes Christmas special!"
ALADDIN runs at the Exeter Corn Exchange 8 December 2018 to 1 January 2019- more details can be found at www.exeterpanto.co.uk