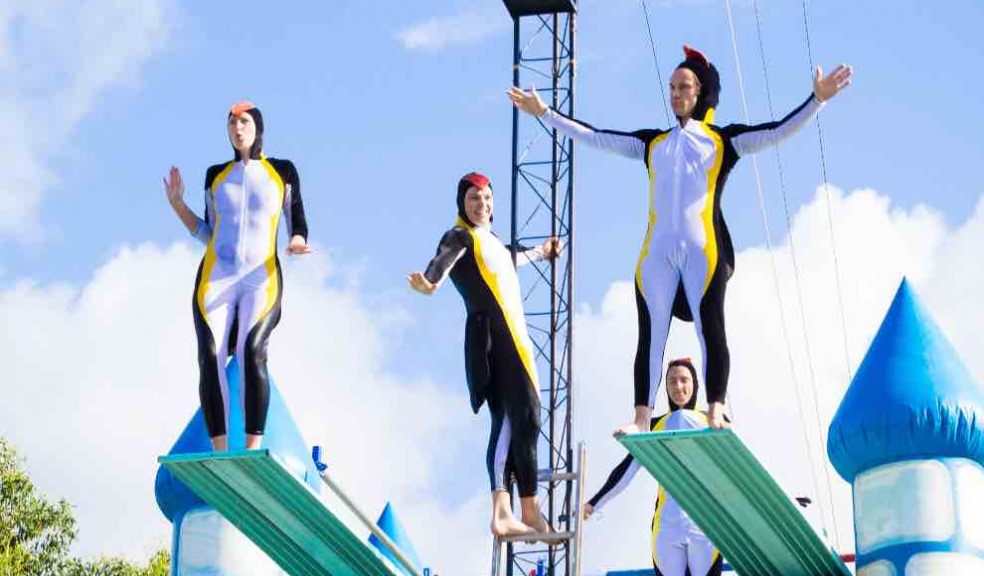 Brand new Hydro High Dive Show returns to Crealy this summer
Crealy's breath-taking Hydro High Dive show is returning to the popular family theme park and resort this summer.
Back by popular demand, the brand new fireman-themed show features aerial stunts and dives from a team of professional, international divers.
Divers in this year's show will be fighting fires and trying to help a frantic woman rescue her stranded baby, whilst performing hair-raising stunts into a small pool less than three metres deep.
Watch in astonishment as the Crealy Brigade performs Olympic style dives, synchronised dives, comedy dives – and fly through the air ignited in flames – from heights of more than 25 metres into the pool below.
Crealy's general manager Josh Haywood says: "This year's show is going to be the highlight of our summer at Crealy. It features an international team of professional divers and it's packed full of aerial dives and stunts with the added addition of flames, making it bolder and even more breath-taking than previous shows."   
The High Dive team is a collection of the world's best show divers, who are regularly found performing at venues worldwide. Most of the performers have worked for Brown Entertainment in the past, travelling around the USA and to China for different shows with some of the divers taking part in a high diving act at the Famous Chimelong Circus.
The show will be performed at 11.30am, 1.30pm and 3pm every Monday to Saturday from Monday July 22 until Saturday August 31.
Josh adds: "The Hydro High Dive show is a must see for all visitors to Crealy this summer. There is so much fun to be had across the park – and with our seven days for the price of one offer, we are offering fantastic days out for great value."
For more information or to book tickets visit www.crealy.co.uk