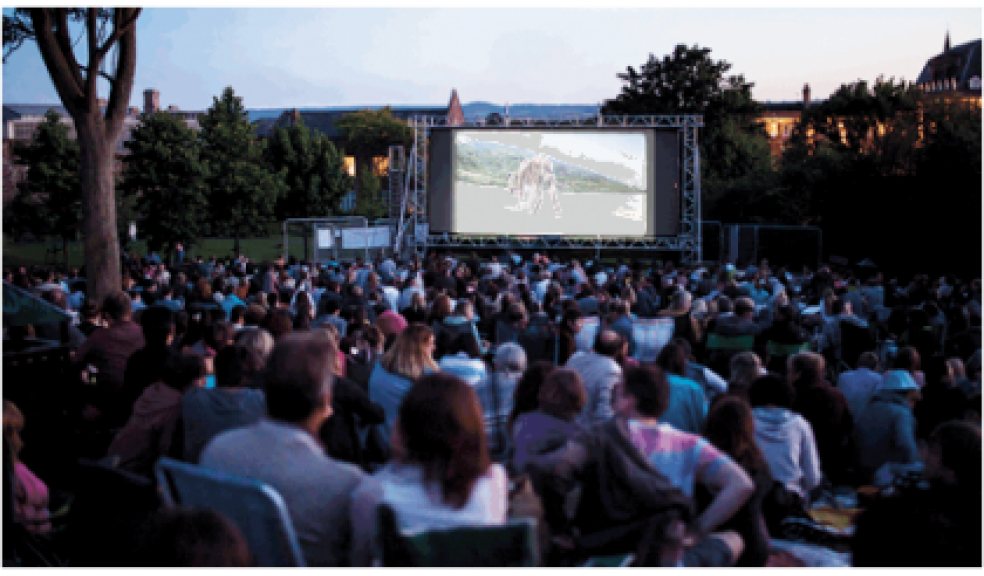 Your guide to What's On this weekend
Your essential guide to What's On in and around Exeter this weekend (11-13 August).
CINEMA
Big Screen in the Park
Northernhay Gardens, Exeter
Friday – Rogue One: A Star Wars Story (12A)
Saturday – La La Land (12A)
Sunday – Donnie Darko (15)
Gates open 7pm, film starts 9pm. Tickets £6 in advance, £7 on the gate. http://www.exeterphoenix.org.uk/category/big-screen-in-the-park/
Open Air Cinema
Powderham Castle, Kenton, near Exeter
Friday: The Italian Job (PG)
Saturday: Grease (PG)
Bar and food stalls open from 7pm, film from 9.30pm. Tickets £12.50 in advance, under 12s £8.50.  https://www.eventbrite.co.uk/d/england--torquay/events/
THEATRE
Roy 'Chubby' Brown
Friday, Exmouth Pavilion
The man with the helmet is still shocking audiences in those few venues that will have him back! Strictly adults only. https://www.ledleisure.co.uk/exmouth-pavilion
Sidmouth Play Festival
Friday & Saturday, 8pm, Manor Pavilion Theatre, Sidmouth
The Birds by Conor McPherson. Tickets: Adults £17/£16, under 16s £8. Box office: 01395 514 413. www.manorpavilion.com
MUSIC
The Blackheart Orchestra
Friday, Exeter Phoenix
Award-winning British songwriters, composers and multi-instrumentalists Chrissy Mostyn and Rick Pilkington are The Blackheart Orchestra. One of the must-see bands of 2017, the pioneering folktronica duo blend musical styles seamlessly sidestepping boundaries to create music huge enough to fill a cathedral. Always producing something beyond all easily marketed genres, their multi-instrumental sonic landscapes have always been too unpredictable and adventurous for the mainstream. Tickets £10 (£8), seated.  www.exeterphoenix.org.uk
Exeter Railway Band
Saturday, Exeter Quay
A selection of brass music played by Exeter Railway Band in The Transit Shed, 11.30am-1.30pm.
Disco – Let's Go!
Saturday, 10pm, Bike Shed Theatre, Exeter
DJ Lau-Rax is back, after an absolutely smashing first night at the Bike Shed Theatre last month. She will be serving up some top 70's & 80's disco tunes you'll know and love, as well as some rarer treats she has up her sleeve for you all! £1 on the door. www.bikeshedtheatre.co.uk
EVENTS
Gareth Steenson's Testimonial Match
Saturday, 2pm, Sandy Park, Exeter
Exeter Chiefs Championship XV face the Classic Lions.  Bringing back many of the heroes who cemented Exeter's place in the Premiership for the first time back in 2010, this promises to be an occasion to remember. Tickets are available here. Following the final whistle, supporters can continue their match-day experience by staying on late with the ever-popular Danny's Disco, whilst the players themselves will be mingling in the Exeter Suite.
Coffee and Crafts by the Quay
Saturday, The XCentre, Commercail Road, Exeter Quay
The popular craft fair and coffee morning organsed by Headway Devon returns. There will be local craft stalls to browse selling a huge range of beautiful items from cards and gifts to bath products, jewellery and textiles along with plenty of homemade treats and hot and cold drinks with indoor and outdoor seating, 11am-3pm, free entry. Call 01392 211822 or email holly@headwaydevon.org.uk for more information.
Devon County Antique Fairs
Saturday, The Matford Centre, Matford Park Road, Marsh Barton, Exeter
The largest Saturday only fairs in the county, regularly attended by both trade and thousands of visitors. Matford is a wonderful opportunity to buy or sell. 10am-4pm. Entry 9am to 10am £4.50; 10am-4pm £3.50, accompanied children under 16 free. www.antiques-fairs.com
Dawlish Carnival Week
Saturday & Sunday,  Dawlish
Dawlish Carnival week is one of Devon's largest seaside carnivals, taking place over 7 days during August. Lots of free fun and entertainment for the whole family throughout the week. The Grand Carnival Procession is on Friday evening. The route runs through the town centre, the fun starts at 7.30pm.   http://dawlishcelebratescarnival.co.uk
Mind Body Spirit Fayre
Sunday, Matthews Hall, Fore Sreet, Topsham
Mind Body Spirit Fayre. Various stalls, therapies, readings and on-site café, 10.30am-4.30pm. Free admission. 
Exmouth RNLI Open Day
Queen's Drive, Exmouth
Exmouth RNLI will open their doors to the public to look around and hear about the work of their volunteers. There will be stalls etc, 10am-4pm, free entry.
EXHIBITIONS
Echoes of the Past
The Custom House, Exeter Quay
From the elegant drawing rooms of the past to the spare bedrooms or garden sheds of today, ladies have always occupied their spare moments in various pastimes such as painting, embroidery, beadwork, decoupage, shellwork and pressed seaweed to name but a few. 'Echoes of the Past' is an exhibition presented by three local artists founded upon drawing room pastimes of the Victorian era. This demonstrates that many of these skills are still practiced today, 21st century ladies are no less busy than their Victorian sisters. Further details avaialble by calling 07763 226452. Open 10.30am-4.30pm, until 12 August.
The Summer Show
Devon Guild of Craftsmen, Riverside Mill, Bovey Tracey TQ13 9AF
This year marks the 62nd annual Summer exhibition of selected pieces by Devon Guild Members. The show features a diverse range of contemporary craft from across the South West. You can also gain an insight into what makers do all day with diary snapshots of Members' everyday lives displayed alongside the exhibits. Open daily until 10 September, 10am-5.30pm. Free entry. http://www.crafts.org.uk
Hannah Murgatroyd: Landscape as a Peopled World
Exeter Phoenix
Hannah Murgatroyd's works can be seen as island spaces of the imagination; painted and drawn worlds inhabited by protagonists who spring from a history of the body, as told through high art, popular culture and personal narrative. Her images often explore a moment of desire; one that is owned equally by men and women. The exhibition runs until 2 September. Open 10am-5.30pm daily. www.exeterphoenix.org.uk
Sea Life: Glimpses of the Wonderful
RAMM, Queen Street Exeter
Catch a glimpse of the magic and mystery of the world under the sea. Dive in, and delight in the wonders of aquatic life. Through a playful mix of historic objects, film, illustrations, live creatures and contemporary craft, the exhibition combines science and art to inspire a greater appreciation of Devon's glorious coastline for visitors of all ages. The exhibition runs until 17 September, open Tuesday to Sunday, 10am-5pm.