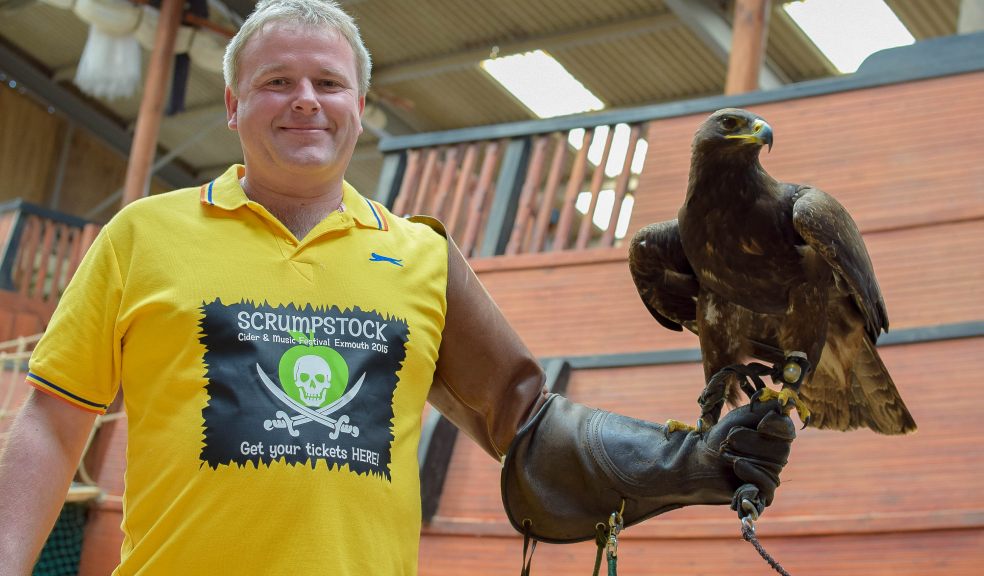 Festival brings together the best of Devon
Scrumpstock Festival is set to become an annual event as it brings together musicians, entertainers, leisure businesses, causes, town dignitaries, community groups and food, drink and bespoke goods producers from Exmouth and around Devon for a weekend at Exmouth Rugby Club.
Brian Steffens from Dawlish has just joined the musical line-up. He is the father in law of Caz Steffens, the founder of the Snooky Trust, a charity that helps young adults in the Dawlish area, which is benefiting from the festival proceeds.
Dave Oliver of Devon's Rattlebox Theatre, whose puppets shows will appear at Scrumpstock, will also be performing in his music group TriCorn Shonkey. This four-piece band of musicians and actors weave their own musical tapestry of shanties, jigs and reels about press gangs, sea voyages, highwaymen and smugglers in full costume.
There will be Tramps Leisure Hire from Ilfracombe who bring a bouncy castle, trampoline set, big slide and obstacle course to the festival for family entertainment, alongside Captain Coconut and Devon Face Painting who are also from North Devon. Tony Ridge started Tramps Leisure Hire in Braunton fourteen years ago and then moved to his current bigger premises in Ilfracombe.
The just-launched Posh Kebab Company comes from Hannah and Duncan Hobbs of Tiverton's Partridge Farm Meats, who breed and butcher Aberdeen Angus cattle, Oxford Down sheep and Large Black and Saddleback pigs. Hannah says: "High animal welfare is paramount and every steak used in the posh kebabs is traceable back to individual cows and sheep from Partridge Farm".
Exmouth's own theatre troupe will be mingling on the afternoon of Saturday 16th May. The Exmouth Players, whose production of Stepping Out by Richard Harris runs from 15th-20th June at the Blackmore Theatre at 10 Bicton Street, is a registered charity that allows the theatre to be used for and by the community.
The Exmouth Players aim to attract more young members by choosing plays that appeal to all age-groups. Trevor Brice says: "We believe all age groups should be given the opportunity of taking part, whether on stage in a play or helping out back-stage.  It is certainly great fun."
Exmouth-based Polly Anderson will be demonstrating various circus skills on Friday 15th May to show what can be done with juggling, hoops, diablos and other items.
World of Country Life will be present with a family of goats in their information gazebo alongside Hawkridge Birds of Prey who will bring Buster the Eagle, also based at Sandy Bay in Exmouth.
Pirates looking for a compass or skull and cross bones on their satchels or a custom-made leather eye-patch will find MythWorks of Brixham at the festival. James of MythWorks says they are a small, family-owned business who are regulars at Brixham Pirate Festival and, "have been leather workers on a not-for-profit basis since about 2006.  As well as making the leather goods we sell on our stall we hold leather-working workshops for local community organisations such as Play Torbay and CentrePeace."
Devon of course has its cider and amongst producers from as far away as Scotland, local producers at the festival include main provider Venton's plus bottles on sale from Hunt's, Yarde, Green Valley and Tricky Cider with Sandford Orchards providing the fizzy cider.