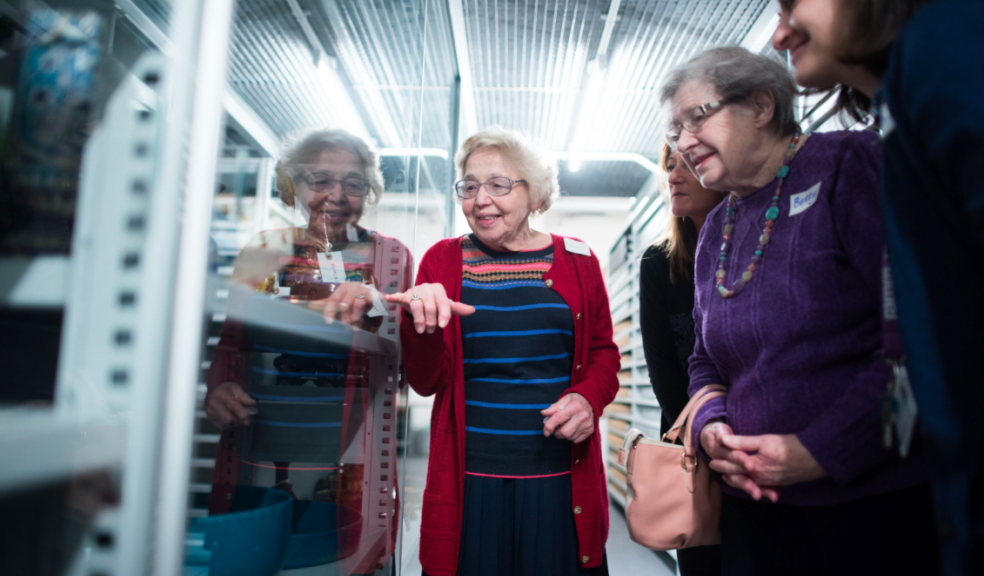 RAMM celebrates Dementia Awareness Week
Exeter's Royal Albert Memorial Museum (RAMM) is celebrating Dementia Awareness Week (Sunday 15 to Saturday 21 May) with a dementia-friendly art session and a slideshow highlighting the museum's monthly programme of events.
RAMM aims to be a welcoming museum to all its visitors. Its dementia-friendly programme – Living Each Season – provides regular opportunities for people with memory problems and their carers to do something enjoyable together.
Photographs projected in the courtyard will bring to life the steps being taken alongside local partner organisations to make Exeter a dementia-friendly city.
RAMM's monthly dementia-friendly sessions are suitable for people with mild to moderate memory problems, accompanied by a friend, relative or carer. The May session, art-making inspired by spring, is on Thursday 19 May.
Nature and the seasons feature regularly in the programme, which uses the museum and its treasure trove of objects to stimulate the mind, encourage conversation and nourish the individual.
Future sessions include a tour of the International Garden Photographer of the Year exhibition on Wednesday 22 June and, on Thursday 7 July, a chance to handle a variety of summer-themed objects ranging from a stuffed duck to a summer bonnet.
The next art-making is on Thursday 4 August, followed by an art exhibition tour on Wednesday 28 September.
These two-hour sessions start with refreshments. Illustrated take-home information sheets help conversations continue afterwards.
Tickets normally cost £15 for two (including companion), but the Norman Family Charitable Trust has provided limited funds to allow a free first session. Numbers are limited to ensure the best possible experience. Call 01392 265305 for details.
Tickets can be obtained online and in person from RAMM's Garden Reception or by phone on 01392 265858 during opening hours, Tuesday to Sunday, 10am to 5pm.