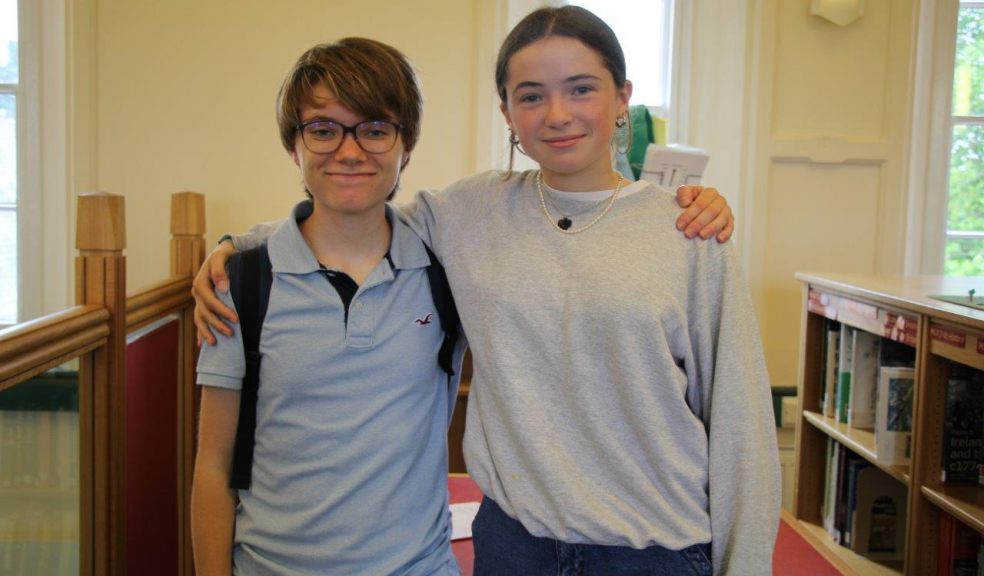 Year 11 prepare for the sixth form
The community of Exeter School, the city's largest independent school, pays tribute to Year 11 pupils on their fortitude and resilience during a pandemic.
This year's cohort of young people, supported by their families, teachers and pastoral staff, have tackled the challenges of the past two years with characteristic energy and enthusiasm.
Exeter School Head Louise Simpson said she could not be more proud of all that pupils had achieved in their two years of GCSE study despite the many changes and unpredictable elements of the Covid-19 pandemic.  
"There is no doubt that they have faced challenges like no other Exonians before them and we are delighted with such excellent results across the board. These GCSE results will open the door to sixth form study and we are delighted that they are so well prepared for their A Levels at Exeter School where they will enjoy the enrichment, academic challenge and great pastoral care that underpins our excellent academic results year on year," she said.  
Pleasingly, top results were achieved equally by girls and boys at the co-educational day school.
One of the top performers Freddie scored eleven grade 9s and joins his brother Oliver in academic prowess; Oliver's three A* grades at A Level mean he will read modern and medieval languages at Sydney Sussex College, Cambridge. 
Freddie said: "I am really grateful to the school for putting in place the support structures which allowed to achieve my results."
Phoebe achieved nine grade 9s, one 8 and one 7. She said: "It has been a strange time but I could always speak to anyone and felt like I was in the best place possible to take my GCSEs."
Phoebe has spent the summer taking part in summer league hockey training run by Exeter School development coach and alumnus Graham Skinner. She hopes to be selected for the 1stXI team in the sixth form as well as continue singing in the school choir and playing the clarinet in the orchestra.
Toby said that while it had been hard to keep up his motivation during lockdown, the teachers were always available to chat to or email.
"I am looking forward to the sixth form as it is a brilliant opportunity and a big change from the lower end of the school," he said.
Amber said all her teachers were incredibly supportive during her GCSE years.
"The pre A Level courses gave me insight into my subjects, I am going to study English literature, music, classical civilisation and history."
'Cello and piano player Amber is looking forward to the school orchestra, 'cello ensemble and strings group as well as the school music tour to Barcelona in summer 2022.
Sporty Ed was selected for the West of England Hockey U17 Regional Performance Centre for the 2020/21 season. He achieved seven grade 9s, three grade 8s and one grade 6. He goes to study biology, chemistry, maths and history in the sixth form.
He thanked the teachers for preparing him so well.
Siblings Jasper and Lily received their GCSE and A Level results this week.
Both agreed that Exeter School was very supportive during their studies.
Lily said her sixth form experience was very good even throughout the lockdown.
"I studied English literature, history, politics and music and am looking forward to studying history at King's College London."
Ms Simpson said: "Every boy and girl has done their best and they must be really proud of all they have achieved, and the tenacity and determination that they have applied to their studies in the most challenging of circumstances.
"Our pupils have had a different experience this year, with public exams cancelled for a second year running. There has been an alternative assessment process in place, where pupils have had greater opportunity to show their performance across different pieces of evidence, resulting in a holistic grade. We are very proud of the achievements of all of our pupils, during what has been a challenging and unpredictable year."