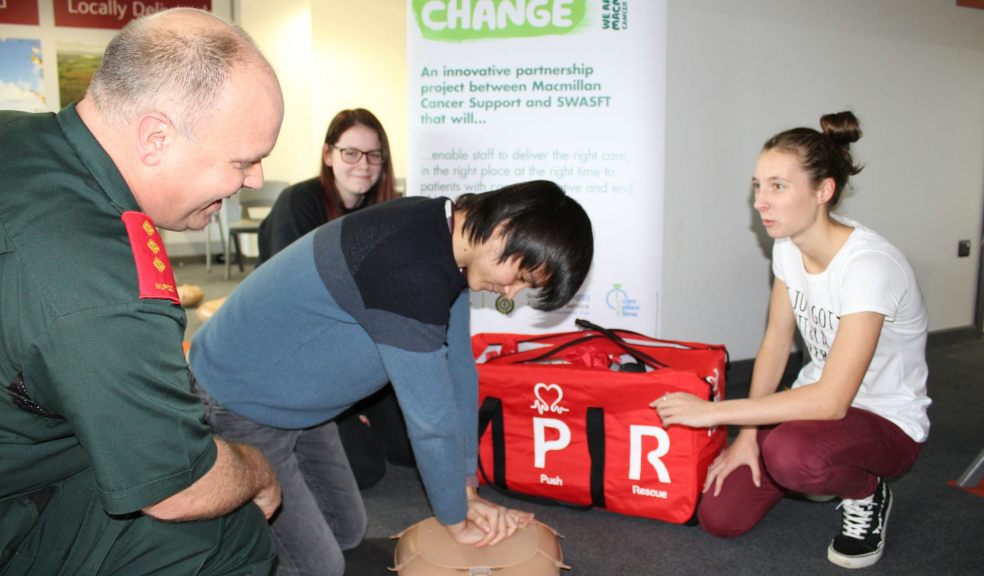 Pulses are raised as South Devon UTC students support Re-Start a Heart Day 2018
Students and staff at Newton Abbot's pioneering technical college have received a valuable lesson in how to save a life as part of a national initiative by the Resuscitation Council. 
South Devon University Technical College (UTC), hosted an interactive CPR training session to mark Restart a Heart Day 2018. This year the Resuscitation Council (UK) partnered with the British Heart Foundation, British Red Cross, St John Ambulance and Yorkshire Ambulance Service to help train as many people as possible in the UK.
Throwing themselves into the vital training, students and staff spent the day in the college's Challenge Arena and learnt essential skills to shape them into future lifesavers including the correct way to perform CPR and what steps to take in critical, life-threatening situations. The training session was led by Jonathan Bradley, Cancer Care Facilitator (Dorset, Devon and Somerset)
South Western Ambulance Service NHS Foundation Trust, a charity that not only helps millions of people affected by cancer but also trains paramedics in palliative care. Graham Gordon from the Devon Air Ambulance Trust also presented information about their role in emergency responses across the county.
Students were given permission to attend the session in non-school uniform in return for a £1 donation. A total of £250 was fundraised from the day which will now be donated to each of the three charities;  the Devon Air Ambulance Trust,  British Heart Foundation and Macmillan Cancer Support.  
Claire Plumb, Principal of South Devon UTC, said: "We were keen to get the whole school involved in Re-start a Heart Day 2018 as it was a great opportunity for our students and staff to learn life-saving skills. Shockingly, if you suffer a cardiac arrest outside of a hospital, you have less than a one in ten chance of surviving. At South Devon UTC, we feel that it is incredibly important that all of our students, as well as staff, are trained in CPR to help improve this statistic nationwide."
Simon Gillespie, Chief Executive of the British Heart Foundation, said: "The British Heart Foundation is committed to creating a nation of lifesavers. Since 2014, 4 million people across the UK have been trained in CPR with the BHF and we offer free CPR kits to secondary schools. It doesn't stop there though. We want everyone to know how to save a life. We are continually looking for new ways to show the public that stepping in and doing something is far better than doing nothing." 
South Devon UTC is currently recruiting students for the 2019/20 academic year. Young people with a flair for science, engineering, technology and the environment due to start Y10 or Y12 in September 2019 should contact the college as soon as possible for more information. The next South Devon UTC Open Evening takes place on Tuesday 27th November, between 5pm-7pm. Register your interest to attend the event by calling 01626 240201.