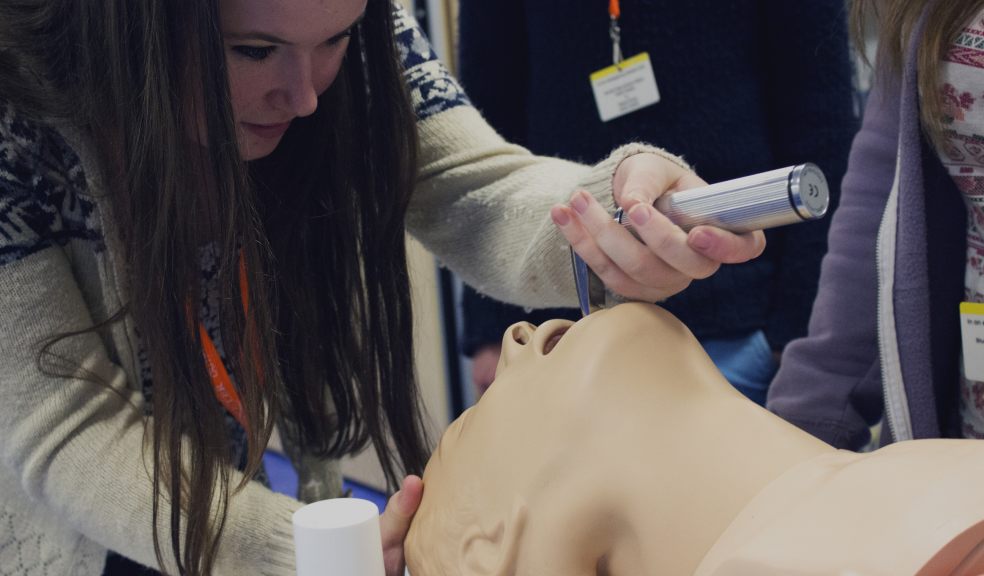 Youngsters get an insight into Medical School
School children from Devon and Cornwall were given a hands-on insight into life as a medical student as part of a programme designed to encourage Westcountry youngsters to consider a career in medicine. It comes as a report by the Medical Schools Council highlights the need for Medical Schools to engage with schools to address the fact that most Medicine applicants come from a small minority of schools.
The University of Exeter Medical School hosted 27 children from Helston Community College and Torpoint Community College (Cornwall), Petroc College and Ilfracombe Academy (North Devon). The Year 12 pupils spent a day experiencing a typical teaching session and using high-tech simulation equipment to learn about real-life scenarios, such as how a doctor would protect a patient's airway and basic life support skills.
The session, at the Medical School headquarters on the University's St Luke's Campus and Clinical Skills Resource Centre at Heavitree Hospital, is part of an ongoing programme designed to improve awareness, raise aspirations and support progression to higher education among under-represented groups in local and regional schools and colleges. The Medical School is building long-term relationships with schools in order to support students through all stages of their education.
The Exploring Medicine Day follows a successful event involving Cornish schools at the Truro Campus. It comes as the Medical Schools Council published its Selecting for Excellence report, which revealed that half of UK secondary schools and colleges did not provide a single applicant to Medicine in recent years. The 18-month study concluded that 20% of schools or colleges provide 80% of applicants to medicine, with grammar or independent schools being responsible for about half of all Medicine applicants. The report highlights the importance of Medical Schools expanding their Widening Participation programmes.
Professor Steve Thornton, Dean of the University of Exeter Medical School, said: "Enabling support and access to a wide range of applicants is extremely important to us. Programmes like our Exploring Medicine Day can help to inspire young people that Medicine is an attainable career to people of all backgrounds. It can also provide practical tips on applying to Medical School. This is an area we are continuing to expand, in line with the recommendations from this report."
Becky Lear, Assistant Head KS5, Torpoint Community College, said: "This event gave our students a valuable insight into the demands and pleasures of a career in medicine, as well as a more practical understanding of what might be involved. The day was fun and interactive as well as challenging. Many of our students are worried about the debt of university and worry that it might not be right for them. Days like this help give them the opportunity to find out more and understand the benefits of a university education as well as finding out if this highly demanding career is right for them."
Samantha Ritzen, Senior Tutor, at Petroc College, said the event was "inspiring and engaging", and said: "The staff are exceptionally encouraging and supportive, pushing the boundaries of the students' comfort zones with activities that leave the learners with real insight into their future training. 
"As co-ordinator for the Medics Academy, I am delighted to be working so closely with a local medical school who so actively engages with us in their widening participation programme, and I was particularly pleased to be taking our first year students to the medical school in the same week as our second year students were invited for their interviews, motivated to apply from the previous year Exploring Medicine Day."