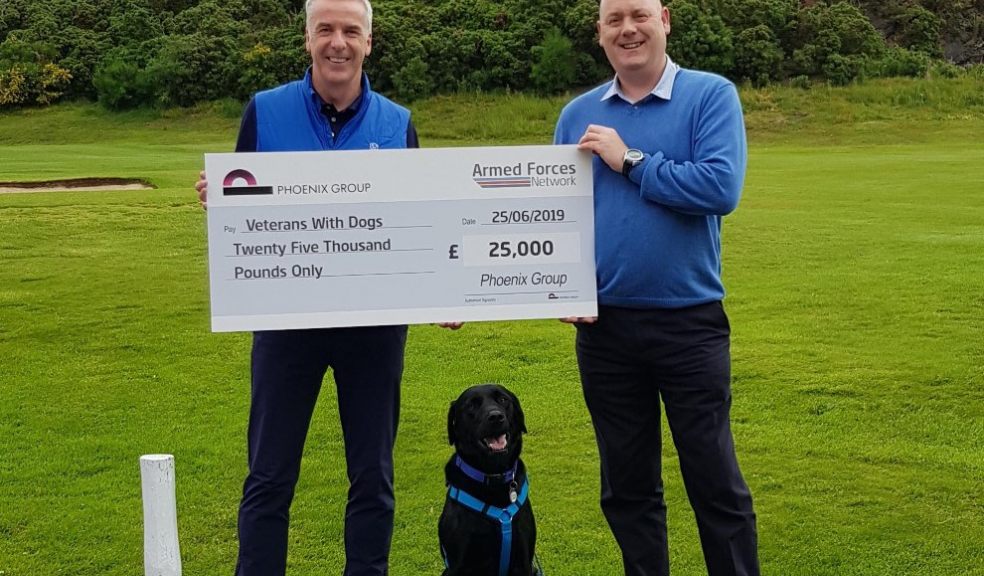 Veterans With Dogs chosen by Phoenix Group's Armed Forces Network as its charity of the year
Veterans With Dogs is delighted to announce it has been chosen by the Phoenix Group's Armed Forces Network as its charity of the year for 2019. The company has donated £25,000 to the charity to buy, train and fund a fully qualified assistance dog throughout its working life and the Armed Forces Network is also holding a number of fundraising events throughout the remainder of the year.
Phoenix Group's Armed Forces Network recognises the valuable contribution that former members of the armed forces and reservists can make to organisations and their communities. The employee-led network aims to build greater understanding, and to create a supportive and inclusive environment for those making the transition between military and civilian working life. Phoenix Group is recognised for having one of the best Reservist policies in the industry and has signed the Armed Forces Covenant, pledging to support the Armed Forces Personnel and their families at work. 
Veterans With Dogs trains and provides assistance dogs for current and former members of the British Armed Forces with service-related mental health conditions using its unique PALS (Partner Animals Life Skills) training programme. The training is a combination of home support and residential courses, with annual assessments thereafter to maintain the fully accredited assistance dog status. The dogs that undergo this training are always 'on shift', providing the veteran with 24/7, 365 days of assistance. They not only change the lives of the veterans - in some cases, they save them too.
John McGuigan, Customer Director and Executive Sponsor of the Armed Forces Network at Phoenix Group said: "We're delighted to be partnering with Veterans With Dogs, a charity that helps veterans with Post-Traumatic Stress Disorder, and other mental health conditions, to enable veterans to live more independent lives.  We are very aware of the challenges veterans may face in making the transition to the workplace and are very proud of our vibrant Armed Forces employee network which has a number of events planned for the rest of the year to raise vital funds for the charity. We're very much looking forward to getting involved in activities in support of Veterans With Dogs."
Commenting on the announcement, Craig MacLellan, CEO of Veterans With Dogs said: "When we heard that Phoenix Group's Armed Forces Network had selected our small organisation to be its charity of the year we were absolutely delighted.
"Since establishing the charity we have helped over 90 veterans but, unfortunately, the need for our services is growing. The money that the Armed Forces Network has already donated means that we can help a veteran by providing them with their own assistance dog which will make a big impact on their quality of life. We are incredibly grateful for the Network's support and for any future funding which will be able to help change the life of other veterans."
Phoenix Group's Armed Forces Network has held a range of fundraising events with more planned, including a Charity Golf day, a sponsored marathon, bake sale and raffle, a visit from Veterans With Dogs to its offices in Edinburgh, and a winter fundraiser.