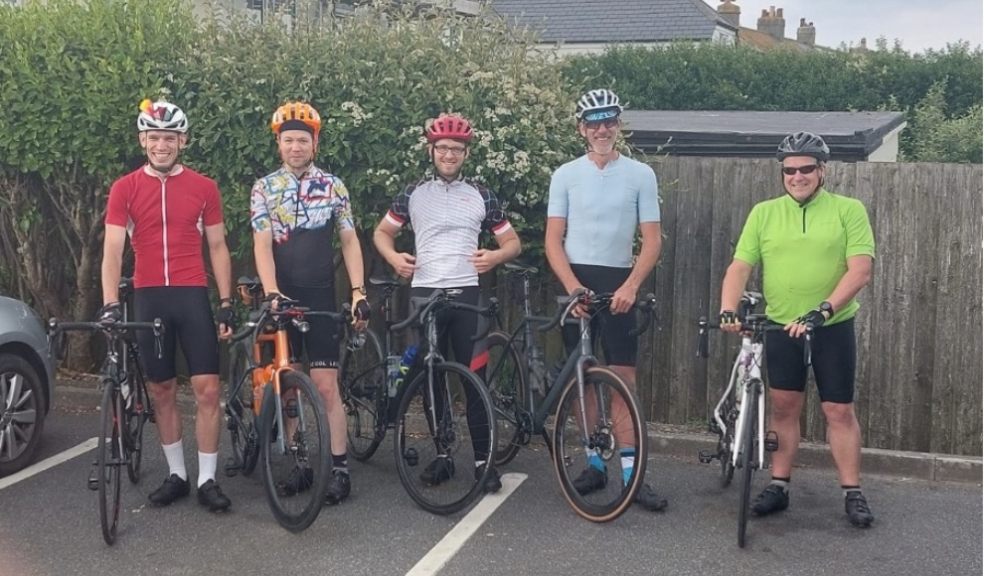 National Highways cyclists complete South West challenge to support mental health charities
A team of cyclists from National Highways have completed a gruelling 251-mile bike ride over 24 hours to raise funds for two mental health charities.
On June 23rd/24th, five members of the company's South West team safely navigated the 251 miles on winding and hilly roads from Penzance in Cornwall, through Devon, Somerset and South Gloucestershire, to Tewkesbury in Gloucestershire.
The 24-hour fundraising effort, in aid of the Samaritans and the Lighthouse Construction Industry Charity (Lighthouse Club), took the riders from Penzance along the A30 and up and across local country roads through Dartmoor to Exeter and across Exmoor to Bristol before the final leg of the journey to finish near junction 9 of the M5 at Tewkesbury.
Terry Robinson, one of the intrepid quintet and a South West Engineering Team Manager for National Highways, said: "It was a magnificent effort, tough but great fun and I, for one, wouldn't have made it had it not been for all the support we received from our National Highways colleagues and friends.
"We only had the one minor technical issue and completed the distance safely in just 12 minutes over the 24 hours, and so far we've managed to raise over £3,000 for the charities thanks to people's generous donations.
"We've all become very aware of the growing issue of mental ill health, both professionally and personally, and recognise the importance of charitable organisations for their support and interventions.
"The construction industry has one of the highest incidences of mental ill health, we work closely with the Samaritans on a national and regional basis, and after a chance conversation, we thought we could do something to raise awareness and vital funds for the two charities."
Joining Terry on the charity effort were National Highways engineers Jack Mason and James Richards and project managers Ian Cole and Mike Webster, while a team of volunteers from the company supported them at various stages across the 24 hours.
The cycling challenge followed the fundraising effort of colleague Stacey Smithson-Grey, who took part in last year's UltraChallenge9 event for MIND.
Stacey, a Control Room Operator at the Regional Operations Centre in Bristol, took part in nine endurance events across the country, ranging from 25k to 100k, and raised more than £8,500 for the mental health charity in the process.
Sam Gale, Corporate Partnerships Manager at Samaritans said: "Thank you so much to Terry and the whole team from National Highways for taking on this incredible challenge to raise vital funds for Samaritans.
"Every 10 seconds, Samaritans responds to a call for help. It's thanks to phenomenal support from our partners such as National Highways that we can continue to be there for those facing their darkest hour, 24 hours a day, 365 days a year."
And Bill Hill, CEO of the Lighthouse Club, said: "The Lighthouse Construction Industry Charity is the only charity that provides emotional, physical and financial wellbeing support to the construction community and their families.
"We provide a 24/7 helpline which provides a range of free and confidential support for members of the construction industry, along with other support services, and we would not be able to offer this level of support without fantastic fundraising such as this challenge taken on by the National Highways team"
Anyone wishing to donate to the 24-hour fundraising effort can go to the JustGiving account at https://www.justgiving.com/crowdfunding/NHCharityCycleSamaritansLighthouseClub