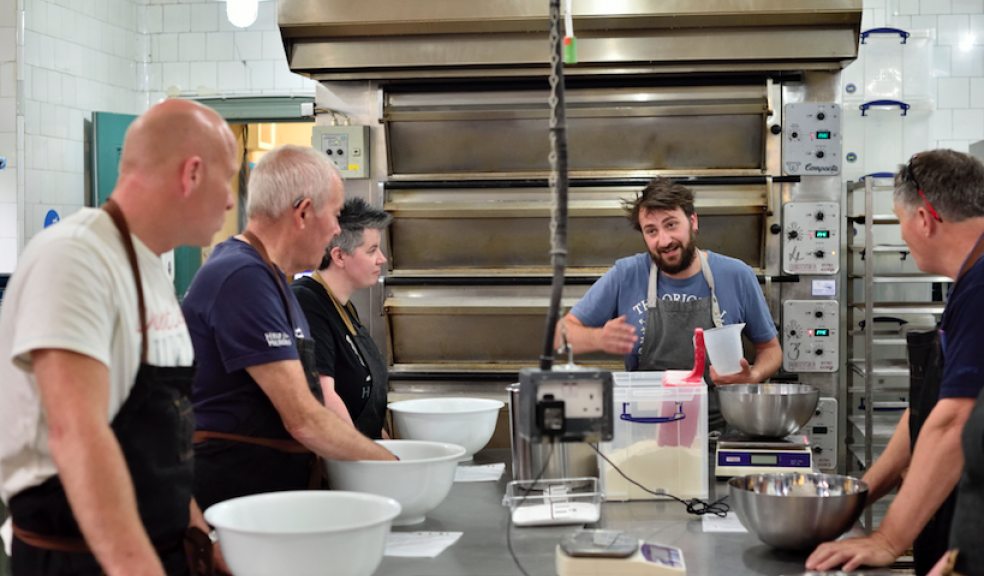 Local veterans Rise to the Baking Challenge for Help for Heroes
As the nation prepares to Bake for Heroes, six novice bakers have been discovering the benefits of baking for their wellbeing thanks to Help for Heroes' Plymouth Recovery Centre and the Column Bakehouse in Devonport.

Veterans took part in a baking masterclass and over the course of an afternoon learnt how to make focaccia bread, a baguette and a classic British bloomer as well as acquiring the skills to make bread at home.  Using simple ingredients; flour, water, yeast and salt; they mixed, kneaded and rolled dough into the three loaves. These were left to prove before being baked to perfection.

They had expert guidance from the artisan bakery's Chef Manager Jon Denley. He says it was great to be able to give something back to the local community: "It's really good to be working with Help for Heroes and their veterans to teach people to create nicer, healthy food at home. Alongside the nutritional benefits of making your own fresh bread, the whole process is very therapeutic, it's very good for relaxation."

It comes as Help for Heroes is encouraging the great British public to roll up their sleeves and head to the kitchen to help raise money for the Charity in the annual Bake for Heroes event. As well as raising money to help support wounded, injured and sick veterans, serving members of the Armed Forces and their families, they will be helping their own mental health.

It's been shown that, as well as being a relaxing activity, baking can actually help wellbeing. In 2017 a study carried out by Sustain's Real Bread Campaign and the NHS, saw patients with mental health issues take part in a number of bread-making workshops. It was found that 100% of those who took part felt happier, more creative and had a sense of achievement. 92% said they had regained a sense of purpose. The majority of responses also showed they felt relaxed and felt less anxious, and enjoyed socialising as part of a group.*

Army veteran Sharron Malpass, from St Austell, says baking helps her manage the pain from her injured wrist: "I find it therapeutic. When I'm baking I don't feel the pain. I'm just stood there and my mind has been taken away. I've tried bread-making at home on many occasions and it hasn't risen but I was trying to do it with two hands and I can't. Today I've found a way of doing it one-handed which is really good."

Former Royal Navy sailor Emma Burns from Cullompton, who has mobility issues, said: "I tend to find that kneading and that process that needs repetition is like meditation. It's been a really good day where it's been really cathartic and meditating through the medium of beating the living daylights out of flour and water." 

Bake for Heroes is a nationwide call for Britain's bakers to host a bake sale at home, work or school to raise money for Help for Heroes during Armed Forces Week 23 June – 1 July.

To sign up for a free fundraising pack visit www.h4hweb.com/bake  or call 0300 303 9888.
Help for Heroes offers support throughout the year from its Recovery Centre in Plymouth and community locations across the South West. To get support or give support visit www.helpforheroes.org.uk.

For more information about the Column Bakehouse visit: https://columnbakehouse.org/

Photos: Fotonow.