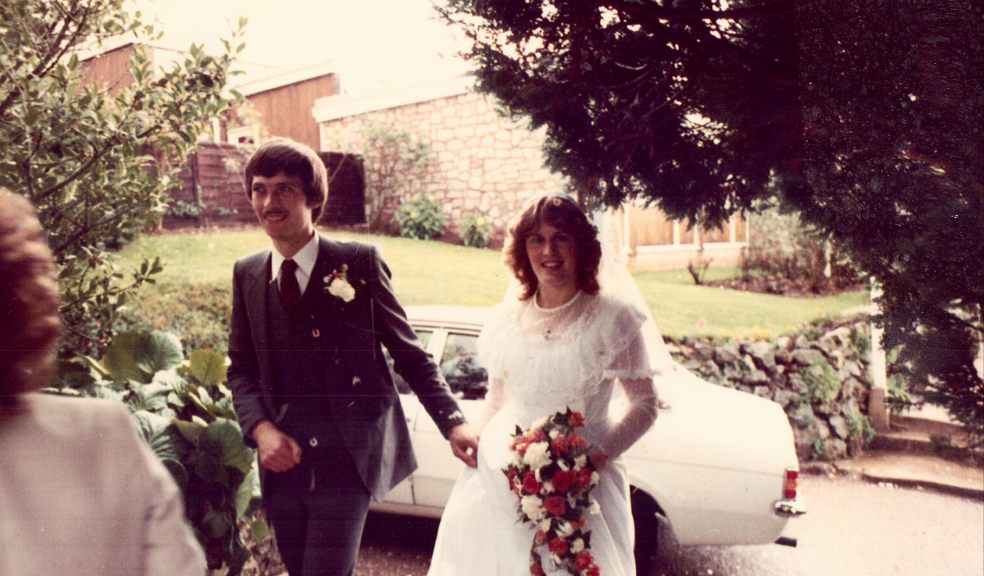 Hospiscare supporters take to the skies to boost funds
Hospiscare supporters will be taking to the skies above East Devon on Saturday 18 August for a morning of skydives at Dunkeswell Airfield to raise funds for the charity, which supports adults with terminal illnesses in Exeter, Mid and East Devon.
The skydivers will be in the capable and experienced hands of Skydive Buzz for what promises to be an adrenaline-filled and exhilarating experience.
Hospiscare volunteer and first-time skydiver, Shirley Botfield from Exeter, will be jumping in memory of her late husband Keith, who died of mesothelioma at the Exeter hospice, Searle House, in 2013.
Shirley explained why she wanted to test her nerve in this way: "It's five years since Keith died, and I've just turned 60. It seems a good time for a challenge, but more importantly I want to do it for Hospiscare. I don't think I can give enough back to them – when Keith was ill, and afterwards too, we couldn't have coped without their support.
"Keith and I were together for 38 years, from the age of 17. When we met he told me he was a chippie, and I thought that meant he worked in the local fish and chip shop!" Shirley recalled.
Keith was in fact a highly skilled carpenter who took great pride in his work and also used his skills for home improvements, including building an extension to the family home.
"Family meant everything to Keith," said Shirley. "He loved being a father, he was a great Dad, and he wanted to create a lovely home for Anthony, Becky and me. He would do anything for anyone, was a loving and caring man, and I know I was lucky to have had that time with him."
Mesothelioma is associated with exposure to asbestos, and Keith's diagnosis in August 2011 came as a shock to the family, not least because Keith had rigorously avoided exposure. Sadly, it appeared that he had come into contact with asbestos early in his career while working on a school building site, before the danger was known.
A course of chemotherapy kept Keith's condition stable for some months, during which time he was well enough to attend his daughter's graduation. Eventually, though, as his wish was to be cared for at home, the family needed to call on Hospiscare's Community Nurse Specialists to help.
In late 2012, however, Keith began having breathing difficulties and in January 2013 was admitted to the ward at Searle House. Shirley described their experience of the hospice: "We were very apprehensive about going there, but from the moment we walked into the reception we were enveloped by a feeling of love and caring, and it came from every member of staff we met.
"Keith's twin brother Ian and his family, and friends too, came along to spend precious time with Keith. Anthony, Becky and I stayed there for several nights, as well. Nothing was too much trouble for the staff and they made the hospice a home from home for us.
"Knowing that Keith felt secure and had the best possible care took a huge pressure off us. It was such a relief to put aside our roles as carers and go back to being family again. It meant that during those last ten days with Keith we were able to sit and chat, reminisce – and laugh, too. It may seem strange to say, but it was a time of joy, love and happiness. It was a gift, really."
Soon after Keith died, Shirley began volunteering at the Searle House day hospice.
"I do patients' nails and give them hand massages, help with serving meals and often just sit and chat with them, if they want. It's very rewarding, but it's time for me to do more. Doing the parachute jump is my way of making sure that other families who need it can be surrounded by the love that we felt."
Alongside Shirley, providing moral support and raising funds for Hospiscare, will be daughter Becky and many of the family members and friends who supported Shirley and her family during Keith's illness.
Those wishing to join them in this thrilling and worthwhile challenge have two ways of doing so:
Self-fund: pay £250 plus £25 deposit which will cover the cost of your jump, and all funds you raise will come direct to Hospiscare.
Jump for free: pay a £50 deposit and raise £345 cover the cost of your jump with the funds you raise. (£250 to jump and £145 sponsorship to Hospiscare).
To sign up, or for more information go to www.hospiscare.co.uk/events/skydive-for-hospiscare or phone 01392 688020.
Hospiscare provides outstanding specialist care for adults with terminal illnesses, and support for their carers and families in Exeter, Mid and East Devon.  A gift to Hospiscare in your Will helps to ensure the future of the charity for generations to come.