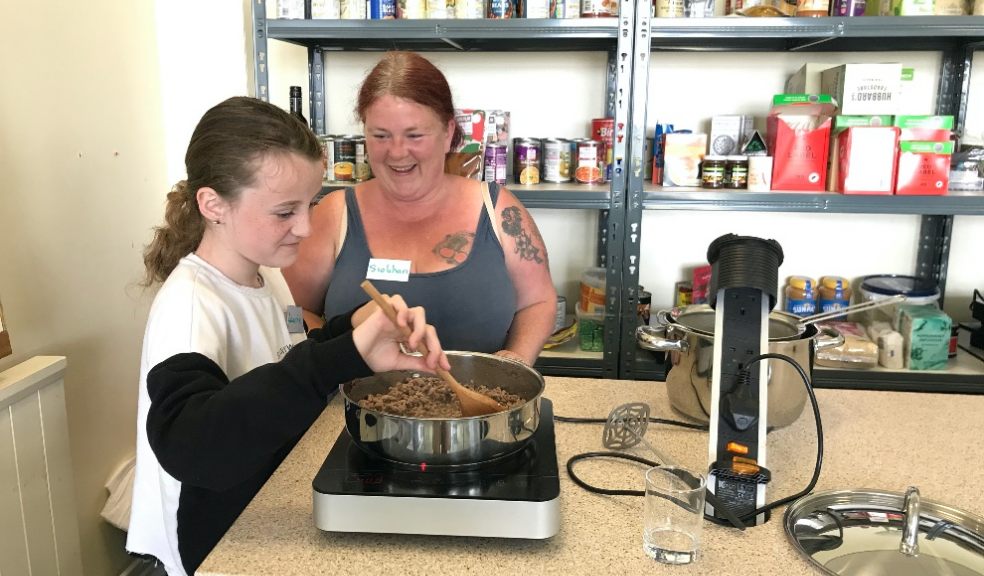 Care home residents help local families cook up a treat at Westbank
Local people of all ages have taken part in a community cookery event organised by the Devon-wide health and well-being charity Westbank Community Health and Care 
Residents from Exeter care home Cumberland Grange joined local families in the kitchen at Westbank's community hub in Exminster, where they prepared a healthy two-course meal together. 
The idea behind the Ready, Steady, Cook-style event was to bring together people of different ages and backgrounds to share a fun experience and learn (or refresh) their skills in the kitchen. The three generations of cooks prepared fresh produce supplied by Fareshare South West and Fareshare Go produce donated by Tesco Exeter Vale, whose Community Champion led a session teaching families how to make a nutritious meal using a few simple ingredients. 
After enjoying a communal lunch of good old spaghetti bolognaise followed by a fruit crumble, the group discussed how to budget to feed a family.  
Siobhan Clifford, who took part with her daughter Laurie, said, "We were really keen to cook here together. Laurie has started to cook at home for the family once a week, so this is great. It's also mother and daughter time together, away from her siblings, and we're enjoying it."
Brian Edwards, a resident from Cumberland Grange, said, "I was never a good cook but I like stirring food! I'm enjoying this so much, you have no idea. I love the community feeling of it. I used to be involved in various community projects and it's taken me back to that time in my life."
Maureen Harris, another Cumberland Grange resident, added, "I've never done anything like this with a group. I used to cook with my own family a long time ago, but now everything is prepared for us at the care home. It's great to see the children cutting up fresh vegetables with their mums around to help them. They're doing a marvellous job."
Julie Broad, who took part with her son and daughter, Faith and Jordan, said, "We're all enjoying it - Jordan is in charge of the spaghetti. Because of my work, I leave food prepared for the children when they come in but we don't often get to cook together. Here they're both working together, which doesn't happen often with siblings! It's interesting having the older people here too. They've been saying how they used to do things and they seem to be really enjoying it."
Westbank was founded in 1986 to provide health, care and support to the local community. It now has over 600 volunteers who support a wide range of services across Devon. These include Westbank's award-winning Devon Carers and Neighbourhood Friends services, and activities like community cooking initiatives, food banks, health walks, diabetes prevention programmes, bereavement cafes and groups to combat loneliness - to name but a few. Westbank continues to grow and expand its services, providing care and support where they are needed.
As these photos show, the recent community cookery event was a great success and much fun was had by all!