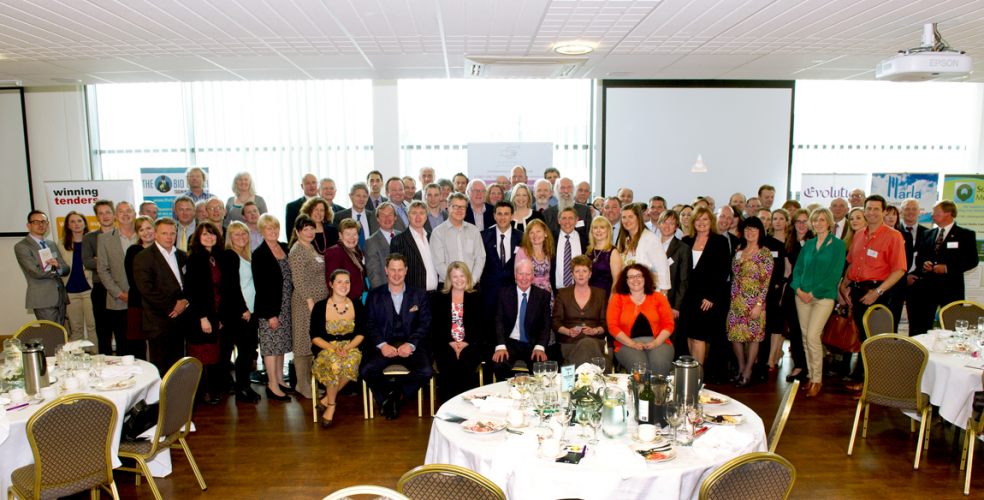 Business Network (SW) celebrates 20th Anniversary with original founder-members
A South West networking organisation celebrated its 20th anniversary at an organised lunch held in Exeter. Nearly 100 members of the Business Network (SW) joined current owner Sean Humby together with special guests, founder members Jim and Jackie Enright.  Magician and original Business Network (SW) member Mark Leveridge acted as MC for the event held at Sandy Park.
Sean Humby took over the business in 2007 and today has 149 members across the South West region with membership retention of 89%.  The turnover of £85,000 is up by 13% on last year's figures.
Sean Humby, Director, Business Network (SW) Ltd says: "As it's such a special milestone in the exciting 20th year of the launch of Business Network in the UK, I felt it important to add a little extra to the regular monthly lunch in May to celebrate with the members who are a key part of its on-going success. I was delighted that Jim and Jackie, the founders, could join us and for them to meet so many original members and, of course, new ones. Jim left me a great legacy and proven formula which proves time and again that networking really works and is the modern day marketing tool to grow your business. Since I took over the business in 2007 it has grown from strength and in membership and expanded into other regions."
Jim Enright gave a presentation to the members on how he introduced the organisation to the UK in 1993. The concept of monthly lunch meetings with local business owners and decision makers to network at central venues was the brainchild of Terry Buchanan, a New Zealand based marketing manager. Jim had been appointed the Managing Director of Canon New Zealand and found that the introductions made at the networking meetings helped him to grow the business.
Jim Enright – founder of Business Network (SW) says: "Terry was an entrepreneur and came up with the concept of this very successful business at a time when networking was not well-known or wide-spread.  It proved very successful in New Zealand and when Jackie and I returned to the UK we decided to set up our own organisation and Terry came on as a partner.  It was launched in Exeter in 1993 with 80 attendees and 57 new members signed up on the day. I was delighted to be part of the 20th Birthday celebrations with Sean at this special anniversary lunch and to meet so many of the original members who are still with the organisation today - a testament that it really works!"
The inaugural business lunch was held in Exeter at Mercure, Southgate Hotel in Exeter on 25 May, 1993 and following this successful launch, new networks were established across the South West at Torquay, Plymouth and Bristol. Following this period the first franchise was launched in Croydon and within the next 3 years Jim was actively involved in the launch of 80 new networks across the UK. 
In December 2005 on the birth of their first grandchild, James, Jim and Jackie decided to retire and later sold the SW business to Sean Humby who is supported by his wife Jane and daughter Megan. 
Says Jim: "Business Network is successful because it is run by professionals for professionals.  It was important therefore to select someone who was a confident speaker, a good leader, outgoing and caring.  Sean was the natural choice and he took over on the 30th August 2007 a date we remember well as our second grandson Oliver was born.  Sean really cares about his members and is always looking for opportunities to help them do real business.  I wish Sean every success for the future growth of the organisation and thank him for inviting Jackie and I to be part of this milestone celebration of his business."