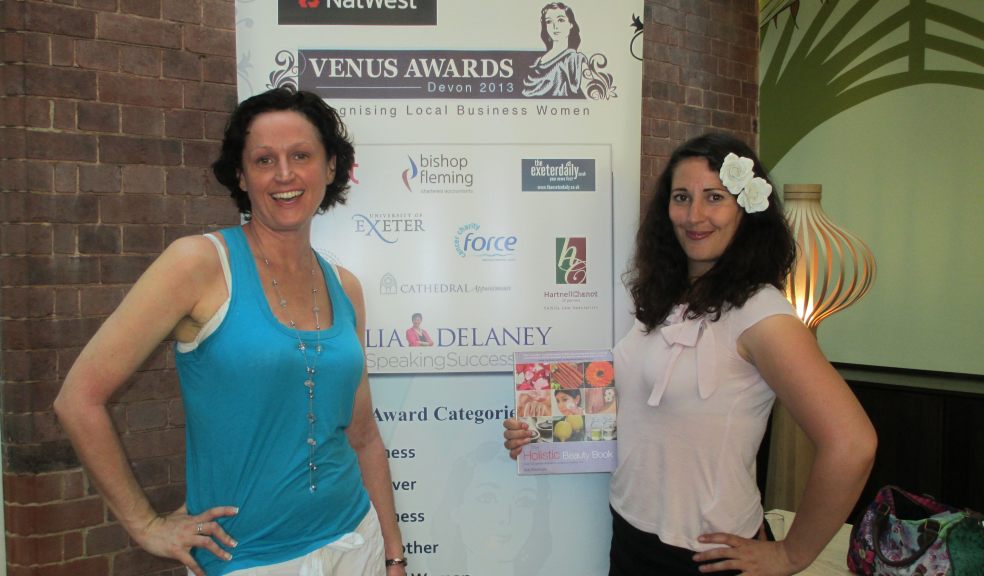 Afternoon Tea at the Magdalen Chapter for Devon's brilliant businesswomen
Devon finalists in NatWest Venus Awards, dubbed 'The Working Women's Oscars', have been treated to afternoon tea at the luxurious Magdalen Chapter Hotel in Exeter. The event, which was also attended by several members of the local media, was held to give to give the finalists an opportunity to meet each other and their sponsors. 
The awards were launched in March and the finalists where whittled down, by the judges and in some cases, public vote, from thousands of nominations to just 42 finalists – 12 of whom will be announced as winners at the grand awards ceremony at Exeter University in September. The event is being filmed by a crew from Channel Four.
The host for the event, Celia Delaney from Exeter-based company, SpeakingSuccess, says: "The excitement has been building throughout the awards process and I now get an email every day from someone who has taken part to say how thrilled they are and how much it is already impacting their business… and that's before the winners have been announced!"
The founder of the awards, Tara Howard, says: "Be it nurture or nature, we often underestimate what we can achieve in the business world.  The awards reaffirm to local business women that they are on the right track and provides a confidence boost that may be the first rung on a ladder to endless possibilities.  I often have women coming up to me saying 'this has changed my life'. To think something as simple as an award/recognition can make such a difference is humbling!   That is why the plan is to expand the awards across the country.  The awards ceremonies for Devon and Brighton are taking place in September, while we are also launching in Bristol and Birmingham at the same time! We are on the search for a national sponsor so we can take Venus Awards to as many local regions across the whole country as possible – and then who knows?"
Below is a list of the finalists for the NatWest Venus Awards Devon:
Bishop Fleming, Entrepreneur of the Year
Anne Walker MBE (International Dance Supplies
) Jo Rees (Salt Media Ltd) and Sarah Cressall (The Creation Station Ltd)
Cathedral Appointments, Employer of the Year
Mariam Badavi (Purity Boutique Spa Ltd
), Anne Walker MBE (International Dance Supplies) and 
Jacqui Batterbee (Batterbee Thompson & Co Ltd)


Fidelius Insurance, High Achiever of the Year
Vannessa Priddis (Hartnell Chanot & Partners), 
Olivia Champion (Scientist at Exeter University) and 
Sally Taylor (St Lukes Hospice, Plymouth)
Hartnell Chanot & Partners, New Business of the Year
Katie Jones (Choccie Bar
), Ros Debenham (Radiance MediSpa
) and Star Khechara (School of Holistic Cosmetology)
Heart, Business Mother
Alana Carroll (Gravitas Recruitment
) Julia Bramble (BrambleBuzz) and 
Janette Davey (You and Your Baby)
Home Based Business of the Year
Janet Carter (Autism Life Resources), 
Julia Bramble (BrambleBuzz
), Carol Willcox (Juice Plus), 
Sara Delphi (Sara Delphi
) and Lisa Singleton (Zebra Design)
Lifetime Achievement
Debbi Moore (Big Wave Media), 
Alexis Bowater (Bowater Communications), 
Sandhy Robinson-Jones (Chameleon Design), 
Julie Hawker (Cosmic
) and Jackie Bligh (TaxAssist Torquay Paignton and Exeter)
NatWest, Small Business of the Year
Jacqui Batterbee (Batterbee Thompson & Co Ltd), 
Rebecca Montford-Gard (Eden Day Spa) and Jo Rees (Salt Media Ltd)
Networker of the Year
Sarah Holmes (Bond Dickinson), 
Ann Swinnen (British English Consulting Service Ltd), 
Glen King (Glen King Marketing), 
Linda Cleaves (LC Mortgages) and 
Debbie Manners (ND Media)
The Exeter Daily, Employee of the Year
Tracey St Anton (Boswell Farm Cottages), 
Morag Rowse (Beaconville Nursing) and 
Samantha Durston (Thomson Reuters)
The Old Bag Company, Inspirational Woman of the Year

Anna Petherick (Bizzaz Hair), 
Glynis Lidster (Welcome Hall Ltd) and 
Cathy Debenham (YouGen Ltd)
CBCS Green Business of the YearClare Callender (Green Funeral Company), 
Sonia-Marie Hall (Surplus WEEE
) and Cathy Debenham (YouGen Ltd)

The Awards Ceremony at Exeter University will be a black tie affair with ladies in long glamorous gowns.  A great chance for the important men and women of the Devon Business Community to network while enjoying fabulous food and drink at what has been dubbed by Channel 4, which is filming the event, as the "Working Woman's Oscars". To buy your tickets and be part of the event first hand visit www.devon.venusawards.co.uk]
For more information about the Magdalen Chapter click here.