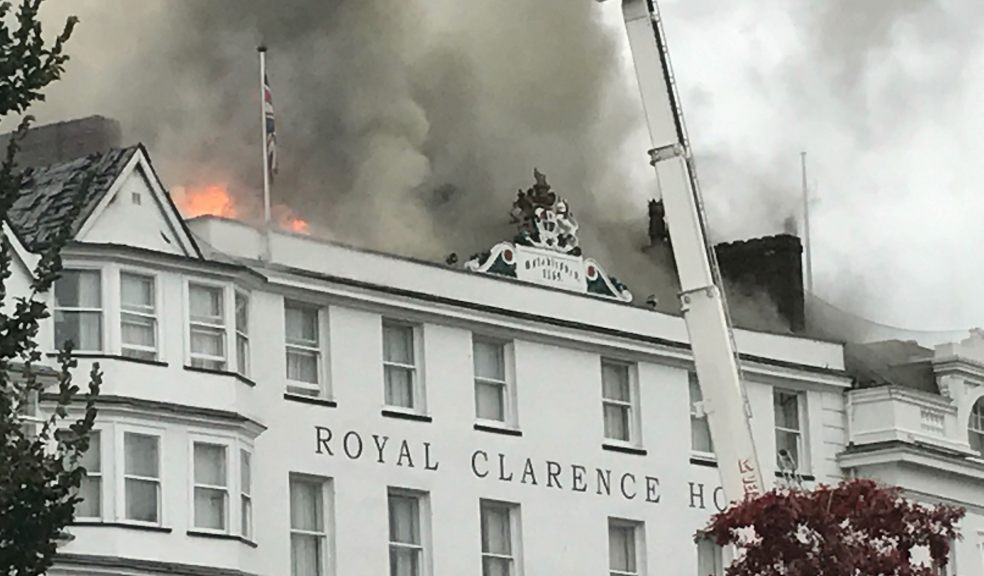 Smoke billows from Exeter hotel roof after major fire spreads
Firefighters are battling to save Exeter's historic Royal Clarence Hotel after fire spread to its roof.
Crews have been tackling a major blaze, which is believed to have started at an art gallery in Cathedral Close, since 5am today (28 October).
Police are in attendance to support Devon & Somerset Fire & Rescue Service personnel while they continue work in relation to the fire at The Gallery on Exeter's Cathedral Green.
Road closures are in place at the junction of High Street and South Street, South Street and the Cathedral Green, on Queen Street at the rear end of Tesco and on Bedford Square at the junction with High Street to allow the fire service to complete its work and for the safety of the public.
A police spokesperson said: "It is hoped to open High Street to pedestrians and public transport as soon as possible, but this is dependent on the fire service safely completing its activities at the scene of the fire on Cathedral Green."
It is likely that Cathedral green will remain cordoned off and not accessible to the public for some time.
Police were alerted by the fire service at 5.20am on Friday 28th October to a large fire affecting  'The Gallery' building on Cathedral Green in Exeter.
The Royal Clarence Hotel was evacuated as a precaution, and all staff and residents are accounted for.
It is not known at this time how the fire started.
No injuries are reported.
There is likely to be traffic disruption due to road closures while the emergency services continue to deal with the incident.
Exeter City Council has urged people to avoid the area of Cathedral Green while the emergency services deal with the fire.
See also: http://www.theexeterdaily.co.uk/news/business-daily-local-news/major-bla...