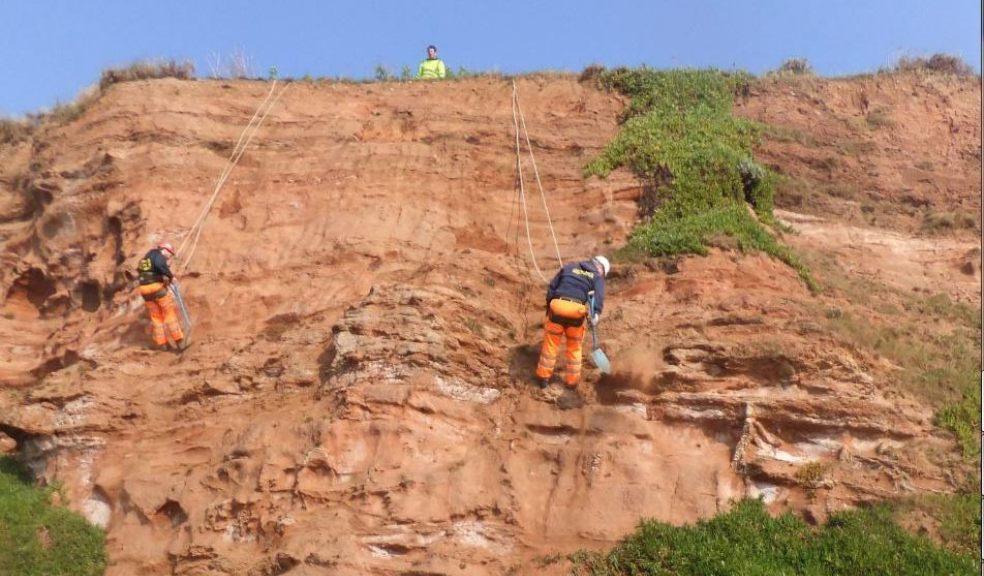 Public safety around cliffs a priority for EDDC
East Devon District Council has almost completed its annual cliff inspections at Sidmouth's Connaught Gardens, Beer's East Beach and East Cliff at Budleigh Salterton.
As a matter of emergency, Seaton West Walk cliffs were done earlier in the year, due to a recent cliff fall. It is anticipated that all the inspections will be finished by mid April.
East Devon inspects ten cliff sites across the district on a regular basis and the purpose of the inspections is to ensure the safety of the public by identifying any unsound areas of cliff face, which are then removed or dealt with by other interventions. Any loose material identified during the inspections is removed by light scaling with hand tools.
Sections of loose material can also be secured with rock netting and larger, potentially unstable, sections can be entirely re-profiled if necessary. Catch fences can also be installed below sections of cliff. In areas where water seepage is identified, weep holes (small openings that allow water to drain from within) are a possible intervention.      
As a precautionary safety exercise, these cliff inspections are invaluable, as they highlight defects in the areas adjacent to the cliffs, which may not otherwise be easily identified. For example, the 2014 cliff inspection at Connaught Gardens revealed a potentially dangerous section of wall to the south east of the gardens, which was removed following damage caused by the 2014 storms. Planning permission has been granted to replace the wall with railings in a two-stage process.
The replacement has taken some time due to uncertainties as to whether the wall was listed (it was not) and the volume of other repairs to essential coastal infrastructure, which had to be prioritised following the 2014 storms.
The first part of the replacement process  -  the installation of a concrete plinth – has now been completed and stage two, the fabrication and installation of the new railings will commence shortly.
The footpath below the railings (which runs between Jacobs Ladder and Millennium Walk Way) is currently open, but will be closed while stage two works are being carried out.
Celtic Rock Services have been appointed to carry out the inspections and the railings replacement. They underwent a formal tender process before being chosen for the two projects.
Councillor Iain Chubb, East Devon District Council's portfolio holder for the Environment said: "Our annual cliff inspections are a vital part of our ongoing work to ensure the correct management of East Devon's extraordinary and beautiful stretch of coastline. The cliffs form an important part of the Jurassic Coast World Heritage Site and it is our duty to preserve this environmental heritage in a timely and sensitive manner for the benefit of all."
Photos: Celtic Rock Services