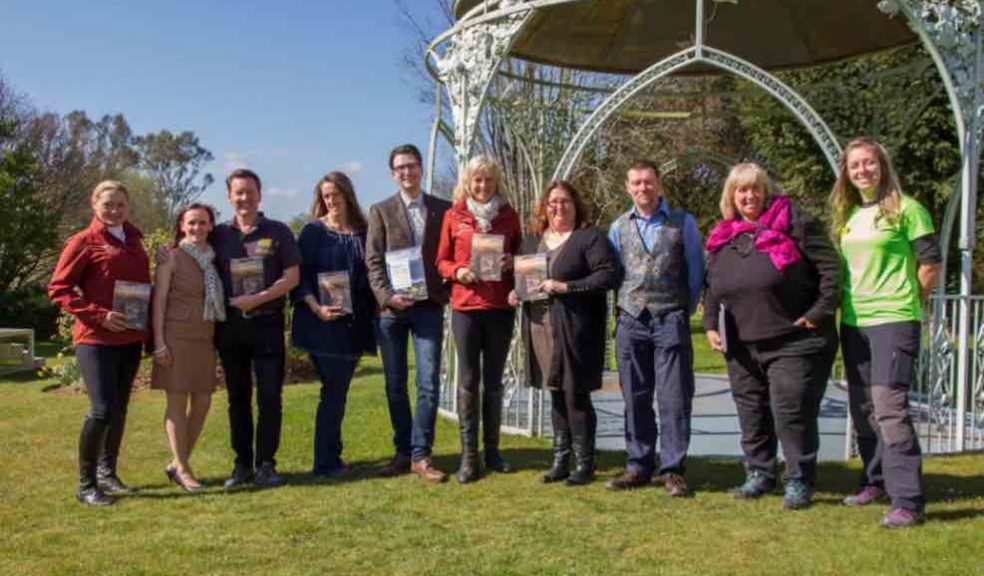 New immersive tourism experiences launched on Dartmoor
A suite of new experiences aimed at inspiring more international tourists to explore the extraordinary landscapes and culture of Dartmoor National Park have been unveiled at a public event at the Moorland Garden Hotel. They form part of the English National Park Experience Collection – a selection of over 70 immersive visitor experiences across nine National Parks in England funded by VisitEngland's Discover England Fund.
 
Research suggests that when people travel they no longer want to just 'see' a place. They want to live it, breathe it, touch it and become part of it. The new collection offers outstanding visitor experiences in some of the country's finest landscapes. Each experience has been carefully selected, developed and curated to tell the stories of Dartmoor National Park, and the people that care for it.
 
During the course of the 12-month project, Dartmoor National Park Authority held a series of workshops to help local tourism providers identify the most authentic and compelling experiences, and train them in how best to engage the international travel trade.
 
Rebecca Martin, Visitor Services Manager at Dartmoor National Park Authority, said: "The project showcases the special qualities and iconic aspects of Dartmoor through hands-on experiential tourism. The high-quality experiences bring together the best aspects of life on Dartmoor, including its cultural heritage, iconic features and inspirational landscape."
 
"We have been working with a number of businesses on Dartmoor who are able to benefit from new overseas markets which in turn, supports sustainable tourism on Dartmoor."
 
The seven experiences available on Dartmoor are:
Gems of Dartmoor – This workshop is an extraordinary opportunity to learn about the hidden gems of Dartmoor and the fundamentals of great photography, enabling you to capture the unique scenery of Dartmoor National Park. Vivid colours and atmospheric sunlight go hand-in-hand so that the moor is ablaze with an astonishing vibrancy, perfect for creating dramatic photographs. Visit destinations that are off the beaten track and learn how to frame and capture stunning images under the expert guidance of a local photographer.
Wild Ponies, Wild Land – Walk with 'Dartmoor's Daughter' through a stunning landscape and along part of the historic Haytor Granite Tramway. Hear stories of the quarrymen, tram-pulling ponies, and nearby legends, and keep a look out for a semi-wild pony herd in their natural habitat. Then visit the Dartmoor Pony Heritage Trust (DPHT) and enjoy an hour's hands-on experience with Dartmoor heritage ponies – grooming, hoof-picking, and walking on a lead rein. Find out about the lives and work of the farmers who keep the ponies on the 'Commons' of Dartmoor.
Walk through Dartmoor's Myths and Legends – Enjoy a walk through a landscape that is rich in history, stories and myths with a guide who can tell personal tales of living and working on Dartmoor. Be transported back to a time where pixies, ghosts and witchcraft were part of daily life on Dartmoor. Enjoy lunch in a traditional pub, which is said to be haunted and has a fire that has been burning nearly 200 years.
Hound of the Baskervilles – Follow in the footsteps of the great writer, Sir Arthur Conan Doyle, and discover the real story behind The Hound of the Baskervilles. Find out about the various people, locations, myths and legends that inspired this most famous of detective stories. Visit three churches, each with unique stories to tell, and learn about the people in the communities who helped to create the story. Then prepare to explore the dramatic landscape of Dartmoor and visit relevant locations from the novel.
Ancient Stones and Ancestors – Step back in time on this guided walk and experience the history and mystery of Ancient Britain and its people. Dartmoor has one of the highest concentrations of Bronze Age relics across north western Europe. Awaken your senses and imagine what it might have been like to live thousands of years ago as we walk between majestic granite tors to enjoy stunning views, visit ruined settlements, ancient stone rows, circles and standing stones. All whilst foraging wild edibles along the way as our ancestors might have done.
Discover Dartmoor on Horseback – Explore Dartmoor's varied terrain on horseback with experienced guides, enjoying a blissfully tranquil ride across wide open moorland and ancient woodland. The perfect horse riding experience isn't just about riding; it's about the landscapes, the quality and condition of the horses, the comfort and relaxation at the end of the experience and the exquisite food and wine that make every lunchtime special. It's these finer details that make all the difference and this horse riding experience on Dartmoor will exceed expectations.
Cycle the Granite Way – This is a spectacular cycle ride through rural Devon with fantastic views of Dartmoor and the surrounding countryside. The Granite Way runs along Dartmoor's old Victorian railway, offering a unique way to see the dramatic granite landscape of Dartmoor, as well as iconic bridges, castles and sites of geological interest. Relax after your ride with a traditional English Cream Tea.
 
Supporting accommodation providers include the Moorland Garden Hotel, Two Bridges Hotel, The Ilsington Country House Hotel and Spa, Bovey Castle and The Edgemoor Hotel.
 
Sarah Fowler, Sustainable Tourism Lead for the nine English National Parks and Chief Executive of the Peak District National Park Authority, said: "This brand new collection of experiences has been designed to harness the growing demand for experiential tourism; alongside quality accommodation they will be easy to book options for the overseas travel trade. From travel agents, tour operators, wholesales or guides, there is something in the mix for most buyers' upcoming schedules or brochures, helping to support hundreds of businesses across our National Parks".
 
See the newly launched English National Park Experience Collection website for information about the full range of experiences: www.nationalparkexperiences.co.uk