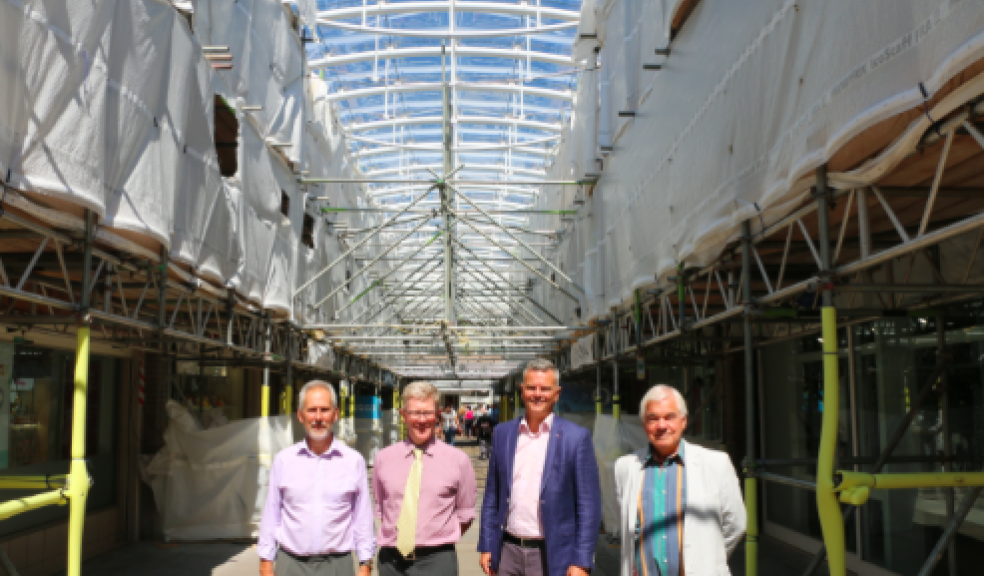 Glass canopy and colourful new look unveiled in Newton Abbot
An exciting stage of regeneration in Newton Abbot town centre has been unveiled as a new glass canopy and colourful render welcome visitors to Market Walk shopping centre.
In September 2017, Teignbridge's Full Council approved a major investment package for Market Walk shopping centre. Councillors unanimously supported the £2million upgrade scheme to modernise the shopping centre and create an open and spacious place to visit and shop.
Work on Market Walk has seen the removal of the existing concrete entrance structure at Courtenay Street while existing shop fronts have been transformed with a range of colours and materials for added distinction. The work has transformed the look and feel of Market Walk shopping centre, making it brighter and lighter for an enhanced shopping experience that will attract locals and visitors to the heart of the town.
To allow more natural light in and create an open feeling, a glass roof runs from Courtenay Street to Market Street alongside glass roofs for shops facing onto Market Square.
Following a competitive tender process Teignbridge awarded the building contract to Classic Builders, a private construction company with offices in Exeter, Plymouth and Cornwall.
During the work all shops in Market Walk remained open for business along with public access to the market and Market Square. Even with such a large scale of work disruption was kept to a minimum and much of the work took place out of hours to ensure public safety.
Cllr Jeremy Christophers, Teignbridge District Council's Leader, said:
"There is no doubt that, across the country, the high-street is rapidly changing. The investment from Teignbridge District Council in the heart of Newton Abbot aims to address a national decline in traditional town centre trade. We are looking to support traders and work alongside private investors to retain Newton Abbot's trading position. The project for the new glazed walkway and colour render is on schedule and I am sure it will be well received by the public. It represents the start of an exciting future for the re-energizing of this shopping centre."
Cllr Gordon Hook, Liberal Democrat Party Leader said:  "Nationwide town and city centre retail is facing challenging times as increased competition from various directions demands a positive response. We all need to support our local shops and ensure the local economy and local employment is supported at every opportunity. Let's all support our town on every occasion!"
Cllr Mike Haines, Independent Party Leader said: "Since becoming the landowner of Market Walk, Teignbridge Council is more able to invest in improvements that will make the town a more attractive place to visit and shop. Ongoing problems with town centres due to changes in the way we shop have continued since being highlighted in the Portas Report at the end of 2011, so it is vital that Newton Abbot is further improved as a shopping and social destination thereby boosting its vitality for the benefit of residents in the district."
Cllr Timothy Golder, Teignbridge District Council's Executive Portfolio Holder for Economy, Skills and Tourism, said:
"This milestone marks the excellent progress that is being made by Teignbridge District Council with its rejuvenation of Newton Abbot town centre. It illustrates the commitment of the council in ensuring that the town is a dynamic and vibrant hub for residents and visitors alike."
In 2016, the £13 million acquisition of Newton Abbot's Market Walk shopping centre was the largest investment in Teignbridge's history and gave Teignbridge a greater ability to positively influence the future development of Newton Abbot's central shopping district as well as regular and reliable source of income.