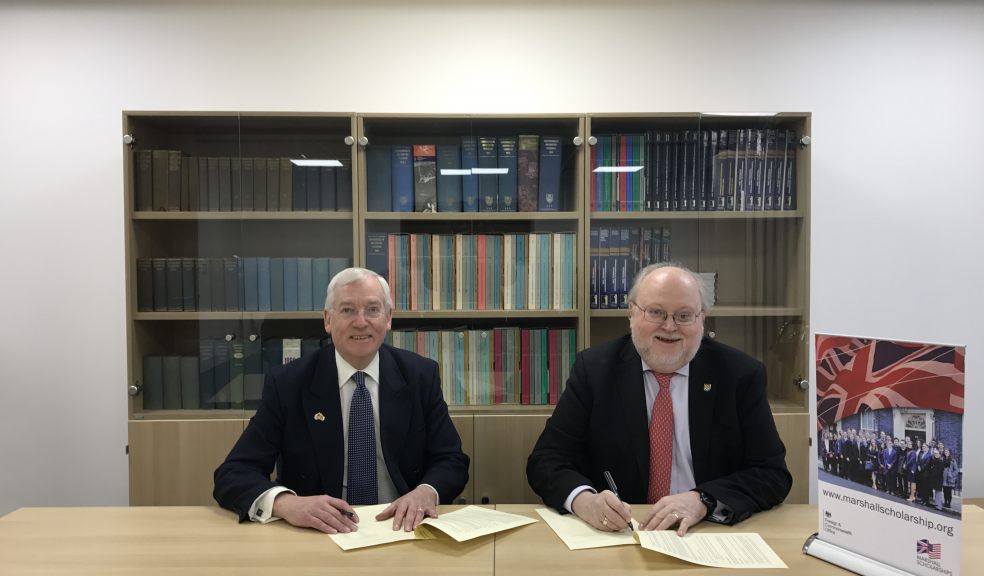 Exeter to offer prestigious scholarship for American students
The University of Exeter has entered into an important strategic partnership, designed to enable America's leading students to embark on postgraduate studies at one of the UK's leading universities.
As part of the partnership, Exeter will meet the cost of tuition fees for up to two students over the course of their studies, while the Marshall Commission will cover the students' maintenance and travel costs.
The partnership was formally confirmed at a special signing ceremony, presided over by the Professor Sir Steve Smith, the Vice-Chancellor and Chief Executive of the University of Exeter and Christopher Fisher from the Marshall Commission, at Woburn House, London, on Friday, 27 January 2017.
Professor Sir Steve Smith said: "I am absolutely delighted to formalise this agreement between the University of Exeter and The Marshall Commission.  The University is honoured to have the opportunity to welcome some of the most talented students from the United States to our campus, and we look forward to showcasing the world-class research and internationally excellent education that Exeter has to offer."
The Marshall Commission works closely with a higher education career and counselling organisation, the National Association of Fellowship Advisors (NAFA) and it is anticipated that becoming a Marshall partner will make NAFA more likely to recommend the University of Exeter as a destination for postgraduate study.
As a partner, the University is also permitted to invite current Marshall Scholars to visit for presentations, workshops and other events.
The Marshall Aid Commemoration Commission have financed American students to undertake postgraduate courses in the UK for over 60 years and are currently partnered with 33 universities. Each year around 40 scholars are selected after a rigorous election process.
Pictured: Christopher Fisher, Chair of Marshall Aid Commemoration Commission and Professor Sir Steve Smith, Vice Chancellor of the University of Exeter.