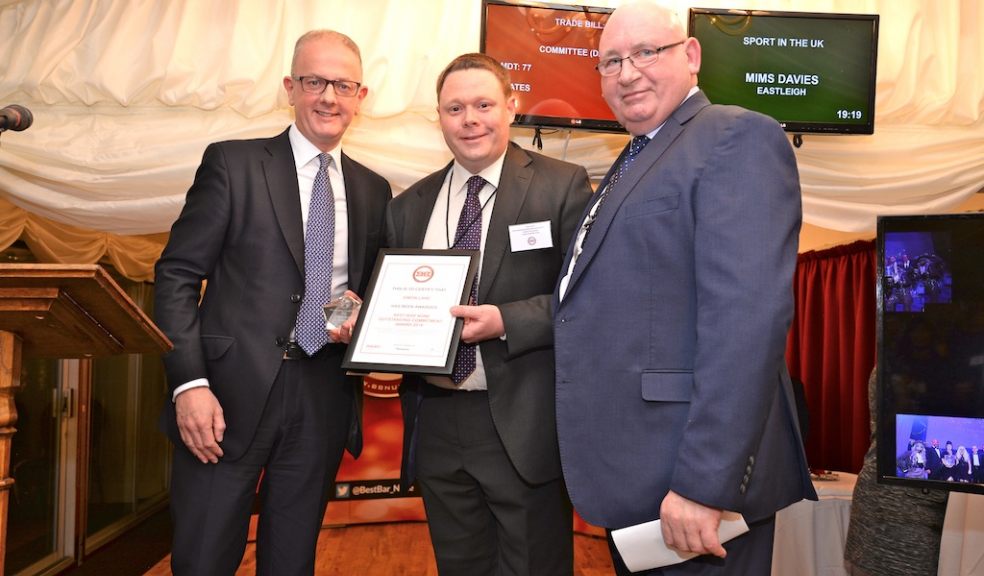 Council licensing manager wins 'Outstanding Commitment Award' at National Best Bar None Awards
Simon Lane, Licensing Manager at Exeter City Council, was presented with the 'Outstanding Commitment Award', winning £250, at this year's prestigious National Best Bar None Awards. Mr Lane received the award during a special parliamentary reception, which took place at the House of Lords on Monday 4th February. 
Backed by the Home Office, Best Bar None has been working collaboratively with the alcohol industry, local authorities and the police for over 15 years. It promotes responsible drinking and higher professional licensing standards in bars, pubs, hotels, clubs and entertainment venues in over 70 towns and cities across the UK.
The National Awards are the highlight of the Best Bar None calendar. The competition carries a prize fund of over £5,000 split across three categories: 
'Best Overall Scheme', presented to the scheme that has had the biggest impact on the local area (£3,000)
'Most Innovative Scheme', awarded to the most creative concept or initiative introduced to make a difference in the local area (£1,000)
'Best New Scheme', open to any scheme that has been running for less than 18 months (£1,000)
The 'Outstanding Commitment Award' is presented to individuals who have shown commitment above and beyond what would normally be required in support of their own local Best Bar None scheme, or nationally. 
Exeter's Best Bar None scheme was launched four years ago, and since then Simon Lane has been at the heart of its success. Not only has he ensured the continued growth and development of the scheme, he also voluntarily travels to, and speaks at, numerous Best Bar None events across Devon and Cornwall. He also sits on the BBN National Standard Review Group and brings his expertise of licensing and regulation to that table.
National Coordinator for Best Bar None, Mick McDonnell, said: "Simon is thoroughly deserving of this award. He completely embraces the ethos of Best Bar None and without his support, the Exeter scheme would not be as successful as it is."
The category winners are:
Plymouth - Best Overall Scheme – Winner
Sheffield - Best Overall Scheme – Highly Commended
Wrexham - Most Innovative Scheme - Winner
Barnsley - Best New Scheme - Winner