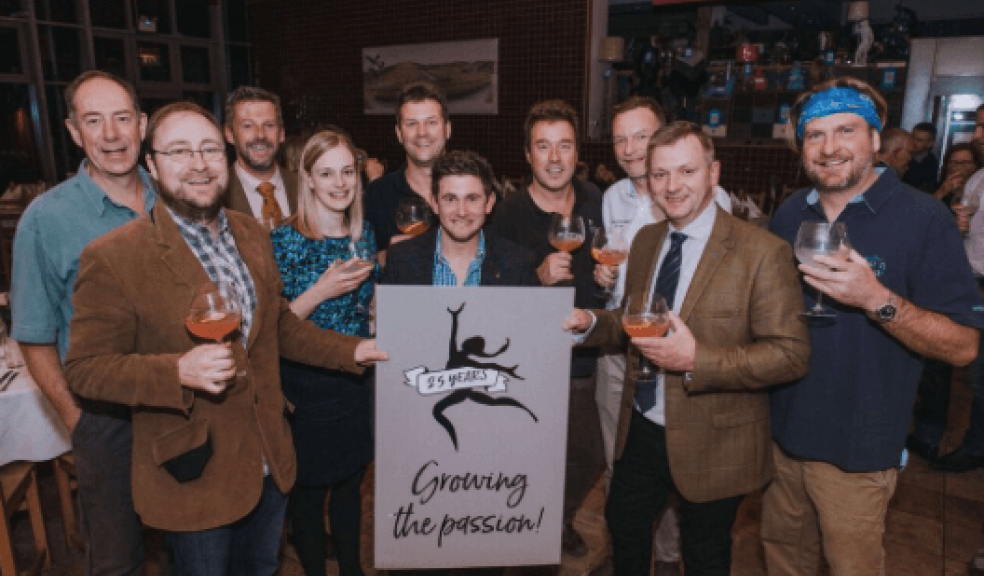 Growing the passion with 'World's Best' food and drink heroes
Devon foodies gathered in the Darts Farm restaurant for the annual Darts Farm Food Heroes dinner this month. Hosted by the three Dart brothers, Michael, James and Paul, this sell out event honoured Devon's local food and drink heroes and continued Darts Farms 25th year celebrations.
James Dart comments: "We're fortunate to be surrounded by some of the world's best food and drink producers, our Food Heroes Dinner is the ideal time to celebrate the seasonal produce they offer. Devon's geography is perfect for food production; not just the landscape, but the soil and the coastline." James continues: "Many of our wonderful producers such as Quicke's, Sharpham and our butchers have worked with us for 25 years. New producers such as Sutton Lucy Dairy are also hugely important, we enjoy watching these brands grow and look forward to the next 25 years with these exceptional suppliers."
After an exclusive tasting of Salcombe Gin's limited edition sloe and damson 'Guiding Star' gin, guests enjoyed a delicious 4-course feast prepared by head chef Paul Mathews and his team. Each course was paired with a local wine or cider. Sharpham unveiled their young and vibrant New Release for 2018 during the starter of fresh Brixham lobster and crab from The Fish Shed or Ticklemore's Devon goat's cheese with Darts Farm beetroot terrine. Darts Farm home reared roast beef sirloin with seasonal vegetables from the farm followed, matched with Sharpham Pinot Noir 20187. Vegetarians were not forgotten with a stunning dish of Darts Farm roasted seasonal vegetables with pearl barley and wild mushrooms.
The puddings were outstanding with a choice of caramelised apple tart with toffee sauce and clotted cream from award-award-winning Sutton Lucy Dairy or Willies Cocao rich chocolate mousse matched with Kingston Black Aperitif. The exceptional cheese board from Quicke's, Sharpham, Cornish Blue and Hillside biscuits and chutney were accompanied by Sandford Orchards Ice Cider.
Michael comments: "The food and drink heroes entertained us with fascinating speeches throughout the evening. We were delighted cider legends Nick Pring and Chris Coles of Green Valley Cyder could attend. Recently they handed over their historic cider press to Barny Butterfield of Sandford Orchards at our 'Celebration of Cider' event. Barny will continue the legacy of artisan cider making." 
Michael Dart comments: "Apples are integral to Darts Farm's heritage and have played an important role over the past 25 years from selling our home grown apples in store to pressing apples for artisan cider making. To celebrate our 25th year, we are currently planting 25 heritage varieties of Devon apples on the farm."
Cider making has long been one of the prides of Darts Farm, and in recent years with Green Valley Cyder, establishing a reputation as a major player in the authentic cider world.  On the retirement of Chris Coles, who ran Green Valley as a joint venture with Nick Pring, Barny Butterfield of Sandford Orchards was invited to take over the business, protecting the cider making tradition at Darts Farm and ensuring the future of such iconic ciders as Dragon Tears, Stillwood and St George's Temptation, as well as the Green Valley Farm cyders. All will be made using the same techniques, recipes and indeed apple varieties as before.
Celebrations and events continue in the run up to Christmas. Book a ticket for the Darts Farm Festive Indulgence Evening (5th December) a glittering gala (tickets £8.50) of tastings and demonstrations with special guest Michelin starred chef, Michael Caines MBE, with background music from a local school choir. The Christmas Skills Night (19th December) has been designed to take your festive entertaining to the next level, with brilliant, practical workshops on everything from stuffing the turkey to adding razzle-dazzle to your Christmas table.
Further information about Darts Farm visit www.dartsfarm.co.uk, call 01392 878205, follow on Twitter @dartsfarm or 'like' on Facebook.