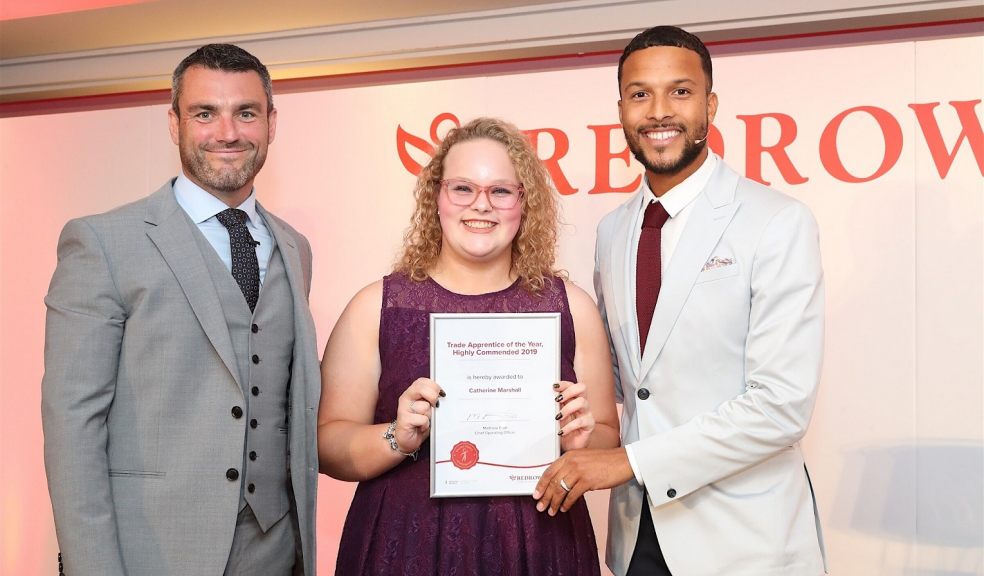 Young adults in Exeter are now considering a career in the construction industry
Now 24% of young people would consider a career in construction with the same amount of young people (24%) in Exeter receiving information on careers in the sector
47% of 16-21-year-olds in Exeter would consider applying to an apprenticeship scheme regardless of the sector
However only 12% of young adults said that they had received high quality careers guidance from an educational establishment
Leading UK housebuilder Redrow recently launched its annual report on perceptions of apprenticeships and careers in construction. It reveals that most young people would now consider applying for an apprenticeship, and the majority of parents have discussed an apprenticeship role with their child. 
Now in its fourth year, Redrow's report analyses the barriers to entry-level recruitment into the construction and the housebuilding sector, as well as Redrow's recommendations to overcome these. Redrow once again canvassed 2,000 parents and young people, as well as over 100 of its own apprentices, and benchmarked the findings against previous years.
The results reveal that, although misconceptions about construction roles remain, they are improving. Fewer young people (35%) and parents (55%) in the Exeter area now believe a career in construction is dominated by men, compared with previous years. Nationally fewer young people believe that a career in construction involves mainly manual labour (40%). This year, a high percentage of young people from Devon's capital city (47%) stated that they would consider applying for an apprenticeship scheme or are already partaking in one.
Perceptions have also changed amongst Redrow's apprentices. This year, 59% believe that there is no stigma associated with being an apprentice. This is the highest proportion in four years – and 21 percentage points higher than in 2018.
However, the number of young people considering a career in construction is at its worst for four years (48%), due to inadequate advice offered in schools and parent's misconceptions, which then inform careers-focused discussions with their children.  
Careers advice at school
Overall, young people in Exeter are receiving inadequate advice in the classroom. When asked, only 12% stated that they had received high-quality information and advice on a wide range of careers at school and feel well-guided.
However, 24% of young people based in Exeter did receive information that directly related to a career in construction and across the South West region 23% of young people said that they had received this information.
Parental influence
Parents are the number one influence on their child's early career decisions, but they are still lacking the appropriate knowledge to provide careers advice. When asked, 60% of parents stated that they had never discussed the prospect of undertaking a career in construction with their child. This is 12 percentage points higher than last year (48%).
However, when it comes to apprenticeships in general, parents are, in many cases, happy to support their child. A significant proportion (70%) stated that they have discussed the prospect of undertaking an apprenticeship with their child – this decreases to 41% in the Exeter region, and 49% in the South West a whole.
Catherine Marshall, a painting and decorating apprentice at Redrow's Potters Lea development in Kingsteignton, Newton Abbot is a prime example of an individual who has had a positive experience as an apprentice. Catherine was recently named as a regional highly commended apprentice at Redrow's Apprentice Excellence Awards.
 When asked about her apprenticeship, Catherine said; "I found out about Redrow's apprenticeship scheme at a company day I visited when I was in college. From this I was able to do some work experience at the Bishop's Court development in Exeter.
"The apprenticeship has been a massive learning experience for me, meeting different Redrow employees that specialise in various trades as well as enhancing my skills as a painter and decorator. It's an honour to have been nominated and won an award at Redrow's Apprenticeship Excellence Awards, to be recognised in this way is hugely inspiring as I build my future in the house building sector."
Lee Hawker, Managing Director at Redrow Homes South West, commented; "We are thrilled to be attracting a new generation of talent in the South West. Our apprenticeships offer a unique type of training and nurture the skills of those individuals to help make them the business leaders of the future.
"It's great to see that there is a vast appetite for not just construction roles but apprenticeships in general. We have countless apprentices working across various departments and developments in the South West and can't wait to keep encouraging young people to apply and have a career within the construction and property industry like Catherine." 
Redrow's recommendations for driving increasingly positive perceptions of apprenticeships and careers in construction:
A more collaborative approach between schools, government and parents
Introduce an apprenticeship living wage
Revise assessment of Maths and English skills to an applied assessment
To find out more about Redrow's apprenticeship scheme please visit https://www.redrowcareers.co.uk/apprenticeships-graduates-work-experience/apprentices/.