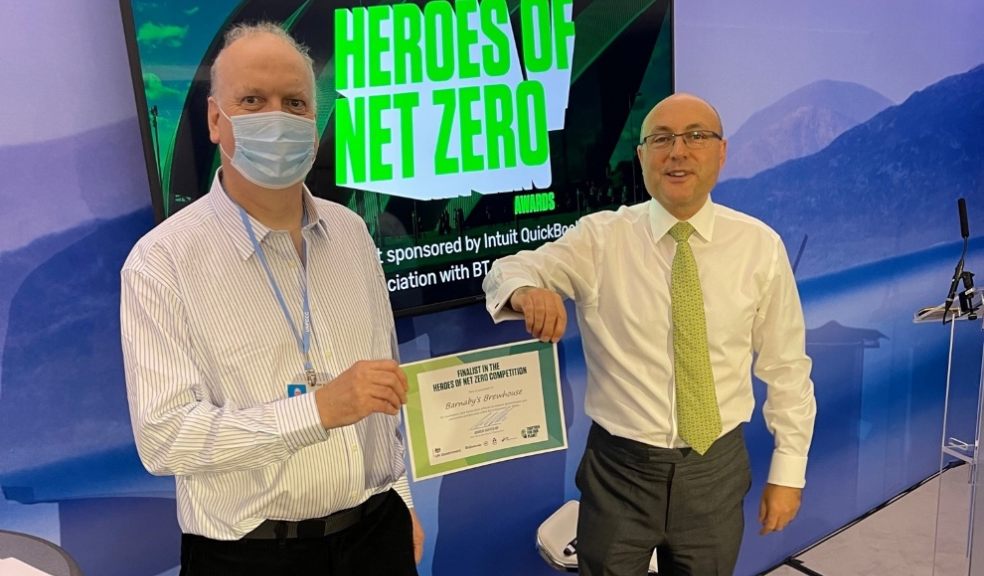 Together For Our Planet campaign announces Devon's award-winning green small business
A Devon brewery business has been announced as a finalist in the Heroes of Net Zero competition held at a special awards ceremony hosted by Intuit at the COP26 international climate change summit in Glasgow.
More than 160 businesses entered the competition, making a commitment at the UK Business Climate Hub to achieve net zero by 2050, in line with the government's own climate commitment.
The brewhouse, based in Staverton, Devon, was shortlisted in the micro business category for demonstrating a range of measures taken on their journey to net zero, including using technology to recapture and reuse by-products from the fermentation process and renovating and building the brewery with reclaimed and repurposed materials.
Barnaby Harris, Director of Barnaby's Brewhouse, said: "Being a Hero of Net Zero is a huge shot in the arm for us. We feel it has validated the hard work we have put into taking an innovative approach to truly sustainable, carbon-neutral, production, focussing on local markets.  
"We are delighted because this will help us to fast track the development of our own innovations as well as inspire others to seek out new and more environmentally friendly ways of doing business."
Barnaby's Brewhouse won over the competition judges for thinking inventively about how to reuse excess and by-products from their brewing process and energy supplies whilst increasing the amount of beer they can create. The judges felt they were a great example for other businesses in the beer and alcohol sector.
The specialist brewery produces premium organic lagers and ales that are free from additives and vegan friendly in bottles, casks, and kegs. They also have a 'mini-cellar' offering, allowing customers to serve beers from reusable kegs and avoid packaging and additional transport costs.
The Heroes of Net Zero competition is part of the government's Together for Our Planet campaign, run by the Department for Business, Energy and Industrial Strategy.  The competition was supported by BT, SSE and NatWest Group, who contributed a prize package worth £4,500 for the winners in the micro business category, PPE manufacturer Design Abled, of Stanmore, in Harrow.
The panel of expert judges included the government's Net Zero Business Champion Andrew Griffith. He is today due to present Barnaby's Brewhouse and other Heroes of Net Zero finalists with awards and celebrate their green achievements at COP26 at the Scottish Event Campus. The event will be live streamed from 11.45am on the UK government's YouTube channel. 
UK Net Zero Business Champion, Andrew Griffith said:  "I am delighted to be celebrating The Heroes of Net Zero today at our special COP26 event. Representing a diverse range of industries and locations, the finalists spotlight the actions that UK businesses of any size can take to cut their own emissions and help us build back better." 
Chris Leahy, Global Corporate Affairs Leader at Intuit QuickBooks said:  "UK small businesses will continue to play a critical role in building a more climate-positive future and we are proud to have sponsored these awards to showcase the winners' great achievements.  We will continue to work closely with SMEs, to support them as they commit to carbon reduction through our partnership with Together for Our Planet."
Gabrielle Ginér, Head of Environmental Sustainability at BT said:  "I am very pleased to see that so many small businesses have signed up to net zero targets. The winners showcased innovative and inspiring ways of reducing their impact on the climate and environment. I hope they will serve as exemplars for many more small businesses to take climate action."  
Nikki Flanders, Managing Director of Energy Customer Solutions at SSE said: "The Heroes of Net Zero competition has been a great opportunity to celebrate success and inspire businesses across the UK to take action. We're excited to work with winners Design Abled and VMI.TV, helping them to further accelerate their journeys to net zero with our Energy Manager consultancy."
James Close, Head of Climate at NatWest Group said: "It is inspiring to see small and medium size enterprises doing so much to commit to a net zero future. Not only is it good for their businesses, it's also good for their customers and the planet and sets a great example to others."