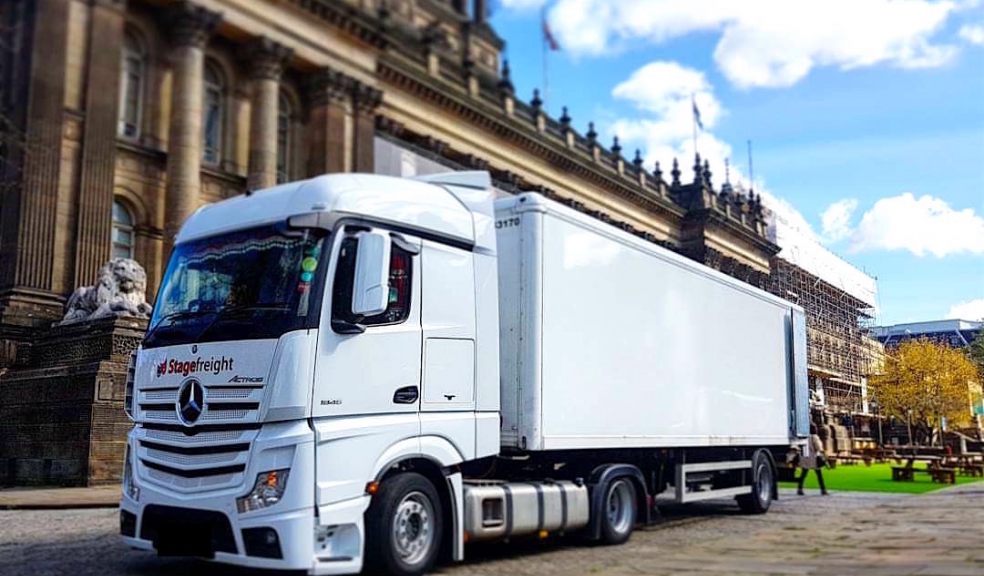 New Production Partnership Means The Show Goes On For Exeter Event Professionals
Stagefreight Ltd. is very proud and excited to announce entering into a new UK-wide network partnership with production management company, Touring Solutions.
This gives the event transport specialists based in both Leeds and Exeter a new and unique opportunity to offer complete production services to clients (current and future) that will include:
Production & Tour Management
Air & Sea Freight (including personnel and freight charters)
Same Day Carnets
Secure Storage
Backline Hire
Tour Buses
Splitters & Gear Vans
CAD & Design
Audio Visual
Specialist Car Transportation
Founder of Touring Solutions, Paul Southernwood, says: 
"Our ultimate goal is to ensure every audience member leaves in awe at the spectacle they have witnessed and we give our artists and their management exactly the same level of experience behind the scenes. The partnership with Stagefreight Ltd and other production services specialists enables Touring Solutions to offer these production management services to tours and events of all backgrounds and sizes, from the arenas and stadiums to the intimate clubs & venues. " 
Director of Stagefreight Ltd, Ian Uttley comments: "We have been to every conceivable corner of the globe and on every type of budget. Our transport logistics skills, and in particular our theatre, music touring and live event transport services, will enable Touring Solutions to offer clients across the entire world hassle-free equipment and event transportation that's on time, every time. 
Stagefreight South's Ross Hemsworth says: "For Stagefreight this is a big part of our 2020 business plans. We're rapidly expanding this year, and this new partnership comes just after opening of our new depot, Stagefreight South, in Exeter. The Stagefreight South depot services the South West, Wales and the South Midlands. The new partnership means we can offer even more production expertise to all our UK and European event and conference clients." 
Touring Solutions bring all these disciplines together with the aim of becoming the bridge between all the technical disciplines and the artists, managers, booking agents and record labels to build profitable and stable tours.
Find out more: https://www.stagefreight.com/news/ and https://www.touringsolutions.com/
- ends -
About Stagefreight Ltd
Founded in 1986, Stagefreight provides transport services for events of all shapes and sizes. Approaching its 35th anniversary, the company has particular expertise in music, theatre and exhibition transport, with specialist understanding of TV, theatre, conference and event logistics. Stagefreight's diverse client list includes Opera North, Northern Ballet, English National Ballet, Phoenix Dance Theatre, CBBC and Shone Productions. Past production highlights include Northern Ballet's Victoria, the Joan Baez Fare Thee Well Tour, Opera North's Kiss Me, Kate, CBBC's Peppa Pig Best Day Ever Tour and Shone Productions' 2019 pantomime lineup. The Stagefreight South depot at the Hill Barton Business Park in Exeter was opened January 2020 to service the South West, Wales and the South Midlands. 
Stagefreight has been overhauling its fleet as part of the company's overall green initiative to better meet its environmental commitments. All vehicles are Euro 6 compliant. This commitment gained the company the SME award for Best Eco-Friendly Fleet of 2019. The company invested £5 million in both Mercedes-Benz and Renault eco-friendly cab units, which come with additional safety features and cabin space. It has also been reducing the overall weight of its trailers without sacrificing storage space; today, 16 of its trailers are 8% lighter whilst still holding the standard 44 tonnes.