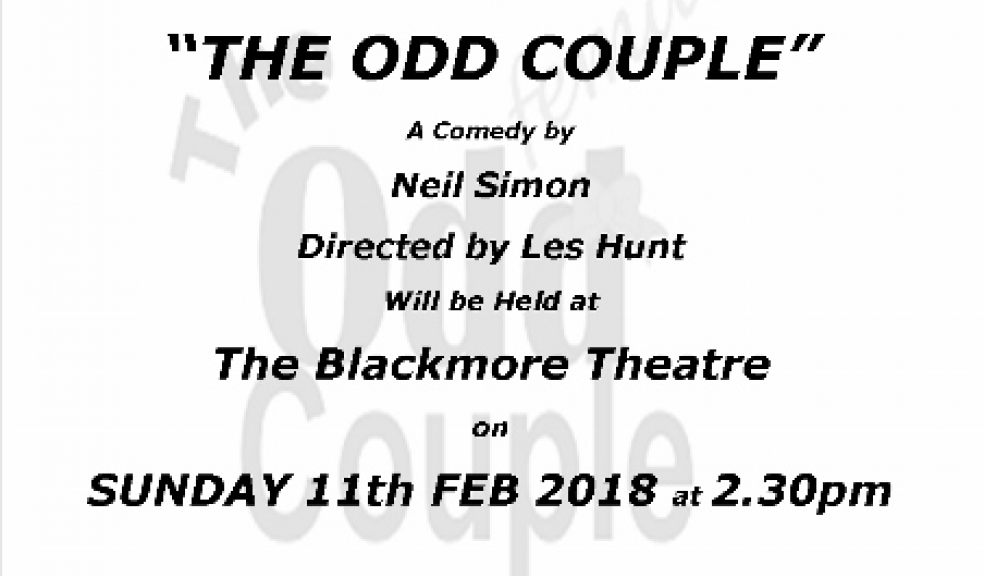 Open Auditions for "The Odd Couple"
OPEN AUDITIONS FOR
"THE ODD COUPLE"
A Comedy by Neil Simon
Director: Les Hunt
Sunday, 11 February 2018 at 2.30 pm at The Blackmore Theatre
Production Dates:  Monday 18 – Saturday 23 June 2018 (including a matinee performance on the Saturday)
These auditions are open to both members and non-members of The Exmouth Players (CIO).  Previous acting experience is not essential.  Age is also immaterial.  Just pop along and live and enjoy the experience.  There are two male parts and six female parts.
Florence Unger and Olive Madison are at it again, that is, in Neil Simon's hilarious contemporary comic classic: the female version of The Odd Couple. Instead of the poker party that begins the original version, Ms. Madison has invited the girls over for an evening of Trivial Pursuit. The Pidgeon sisters have been replaced by the two Constanzuela brothers. But the hilarity remains the same.
"Very funny indeed." - New York Post
All females will need to have American accents.  The two males will need to have Spanish accents.
If you are unable to make the auditions on Sunday, 11 February but would like to be considered, please email publicity@blackmoretheatre.co.uk leaving your name and contact details.  This information will then be passed to Les Hunt who will call you direct.
Scripts will shortly are already available in the Green Room at The Blackmore Theatre in Bicton Street, Exmouth.  These can be collected on any Friday from 7.30pm on a loan and return basis, leaving your contact details. 
For further information including details of the characters, please click on this link: http://blackmoretheatre.co.uk/production/open-auditions-for-the-odd-couple/