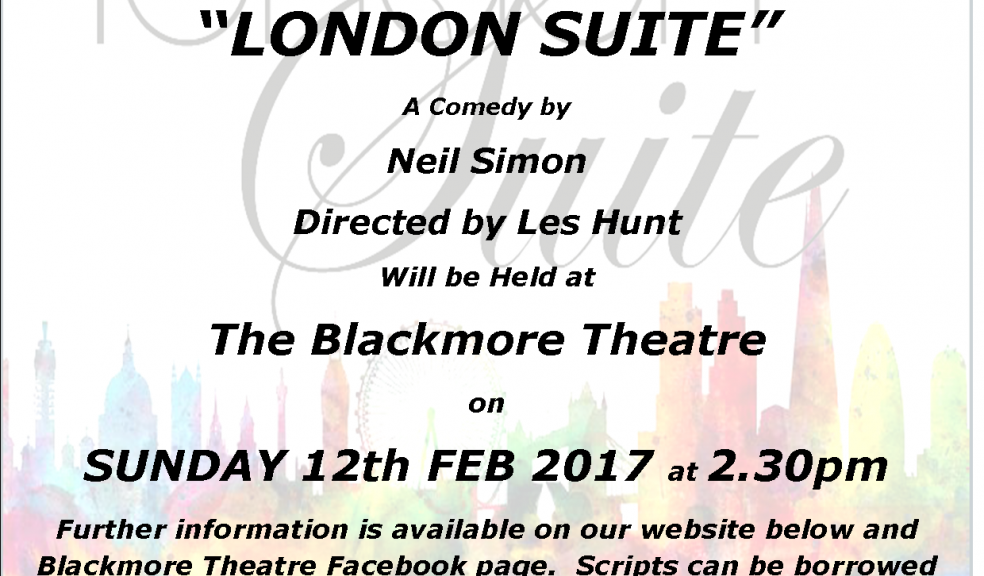 Open Auditions for "London Suite"
Open Auditions for "London Suite", a comedy play by Neil Simon and directed by Les Hunt.
Sunday, 12th February 2017 at 2.30pm taking place at The Blackmore Theatre, Bicton Street, Exmouth
These Auditions are open to you all, regardless of whether or not you are a member of The Exmouth Players or have or have not acted before.  We all have to start somewhere.
Production dates:  Mon 8th to Sat 13th May (including a Saturday matinee).
London Suite consists of the following four plays all of which take place in an old but very fashionable London Hotel:
Act I
Settling Account - 2 males
Going Home - 2 females
Act II
Diane & Sydney - 2 females and 1 male
The Man on the Floor - 3 males and 2 females
A minimum of three males and two males could be cast for all four plays.
If you are unable to attend these auditions but would like to be considered, then please email publicity@blackmoretheatre.co.uk and leave your contact details.  Les Hunt will call you back direct.
Scripts are avaliable in The Green Room at The Blackmore Theatre and be collected on any Friday from 7.30pm on a loan and return basis, leaving your contact details.
Please visit blackmoretheatre.co.uk or the Blackmore Facebook page for further information.