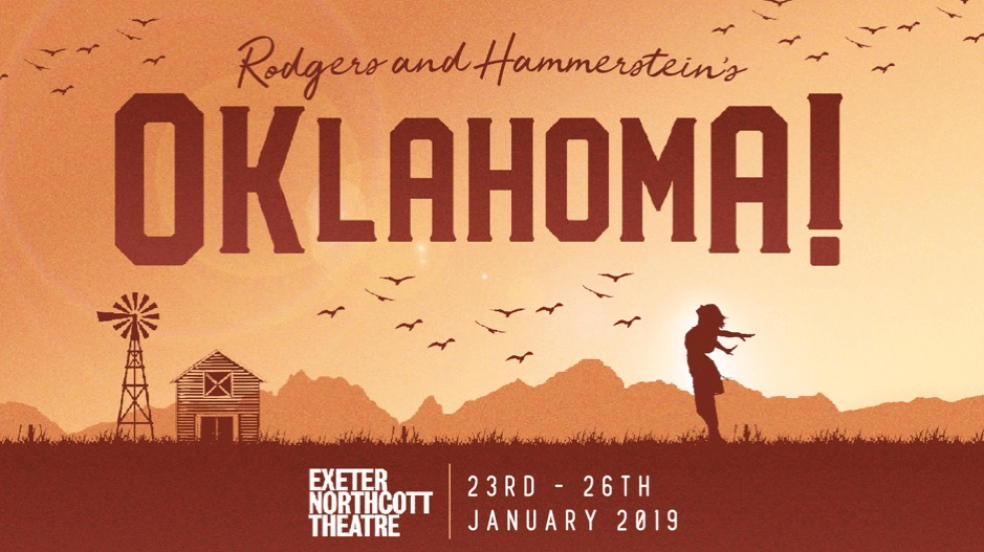 Exeter University Footlights present OKLAHOMA!
Footlights, the University of Exeter's biggest musical theatre society that brought you The Phantom of the Opera (2016), The Producers (2017) and Singin' in the Rain (2018) are proud to present OKLAHOMA! – an illustrious classic propelled by love, community and integrity.
Based on Lynn Riggs' Green Grow the Lilacs, this harmonically rich and wildly symphonic blend of ballet, ballad and barn dance is a musical that takes an unblinking look at a community trapped in the American economic and social underclass.
At the turn of the century in Oklahoma Territory, the spirited rivalry between the local farmers and cowboys provides the backdrop for a love triangle between Curly, a self-assured cowboy, Laurey, a headstrong farm girl, and Jud, her farm hand. Laurey plays hard-to-get with earnest Curly and instead accepts Jud's invitation to the upcoming box social. Tensions rise between the men and capture the interest of the whole town. The path to true love is anything but smooth, but as the road to romance and statehood converge, the town prepares to weather the storm and start a new life in a brand new state: O-K-L-A-H-O-M-A – OKLAHOMA!
https://exeternorthcott.co.uk/calendar/oklahoma/