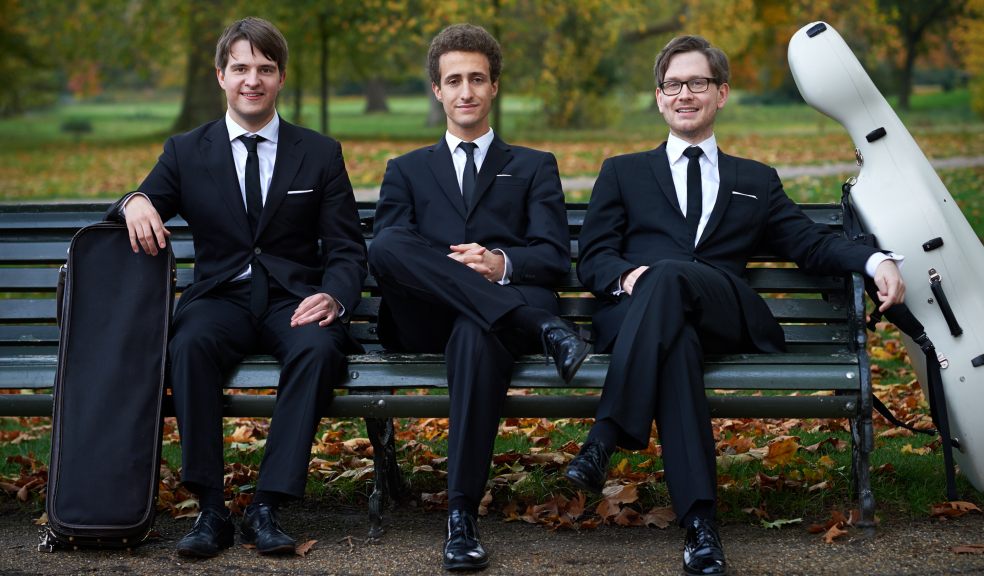 The Busch Ensemble piano trio
For sheer cool, Men In Black has nothing on The Busch Ensemble, one of the UK's leading piano trios. The publicity photos for the trio show three slim young musicians dressed identically in sharp black suits and posing with an air of self possession. Watch them perform and you will witness a dynamic partnership with an electrifying chemistry that has earned them numerous accolades, as well as a number of major awards in Italy and Germany. Arts charity Concerts in the West has arranged for The Busch Ensemble to play at Lower Pulworthy, Highampton, near Hatherleigh on 5 July.
Catherine Hodgson, founder and director of Concerts in the West said: "The Busch Ensemble is one of the finest piano trios in the UK and their performances across both the UK and in Europe has generated enthusiastic responses from audiences. The trio's members are all top class soloists in their own right are graduates of leading music schools. I personally find their performances utterly infectious and an amazing example of harmonious knowledgeable musicianship."
Named after the German born violinist and composer Adolf Busch (1891-1952), The Busch Ensemble was formed by three soloists: Mathieu Van Bellen (violin), Jonathan Bloxham (cello) and Omri Epstein (piano), who met through the Royal College of Music. "We just clicked and that was the beginning of the Busch Ensemble."
The trio has had many competition successes, including winning the Royal Overseas League Competition, gaining second prize and the recording prize at the Salieri-Zinetti International Chamber Music Competition in Italy. They are also recipients of the 2012 Tunnel Trust Award and the Kirckman Concert Society award and have just won 3rd prize at the 2013 Pinerolo International Chamber Music Competition. They have played at the Edinburgh Festival Fringe, the Two Moors Festival, Southrepps Festival and Northern Chords, as well as in the Netherlands, France and Germany.
They were appointed Park Lane Group Artists for 2013 and will be releasing their debut CD this year.
Mathieu van Bellen has performed as a soloist with the Philharmonia Orchestra, European Chamber Orchestra, Camerata Athena, and Holland Sinfonia, and collaborated with artists such as Shlomo Mintz, Roger Vignoles and Walter Delahunt, performing in the Royal Festival Hall, Concertgebouw Amsterdam and Wigmore Hall, as well as in the US and Asia. He has won prizes at the Menuhin, Wieniawski, Prinses Christina and Oskar Back competitions. An active chamber musician, he co-founded the Busch Ensemble in 2010. He plays the ex-Adolf Busch JB Guadagnini violin (made in Turin in 1783).
Cellist Jonathan Bloxham gave his Berlin Philharmonie concerto debut in 2011 to critical acclaim. The winner of the Guilhermina Suggia Gift, Jonathan was born in 1988 in Gateshead and studied at the Yehudi Menuhin School, Royal College of Music and Guildhall and has since performed as a soloist in halls such as Wigmore Hall, The Sage Gateshead and Purcell Room. He has won competitions, including the Pierre Fournier Grant, Royal College Cello Prize and Weiz International Conducting Competition. Jonathan is co-founder of The Busch Ensemble, Artistic Director of the Northern Chords Festival and Festival de Musique de la Vallée du Cougain.
Omri Epstein was born in Israel in 1986. He began his piano studies with Sarah Tal at the Israeli Conservatory and went on to study with Ronald Smith at the Purcell School, with Ruth Nye and Gordon Fergus-Thompson at the Royal College of Music and with Sulamita Aronovsky at the Royal Academy of Music. He has played with the Israeli Symphony Orchestra, has broadcast on Israeli radio and participated in international masterclasses as well as being a winner of prizes at international competitions. Omri performs across Europe and the US both as soloist and chamber musician.
Musical Programme - The Busch Ensemble:
Marine Theatre: Beethoven Variations in E flat Op 44, Mendelssohn Piano Trio No 2 in C minor Op 66, Dvořák Piano Trio in F minor Op 65.
Bridport Arts Centre: Haydn and Dvorak.
Ilminster Arts Centre: Haydn Trio in E flat XV:29, Mendelssohn Piano Trio No 2 in C minor Op 66, Schubert Piano Trio No 2 in E flat D 929
Lower Pulworthy: Beethoven Variations in E flat Op 44, Mendelssohn Piano Trio No 2 in C minor Op 66, Schubert Piano Trio No 2 in E flat

Performance and Box Office Details for The Busch Ensemble:
Saturday 5 July 2014 7.30pm, Lower Pulworthy, Highampton, Hatherleigh, Devon EX21 5LQ. Box Office: 01837 810940 (Salar Gallery, 18/20 Bridge Street, Hatherleigh EX20 3HY. 9am-5pm) Tickets: £14. Town parking available, interval drinks, disabled access.
For further information contact Catherine Hodgson, Director, Concerts in the West. Tel: 01460 53500, email: concertsinthewest@gmail.com or visit www.concertsinthewest.org