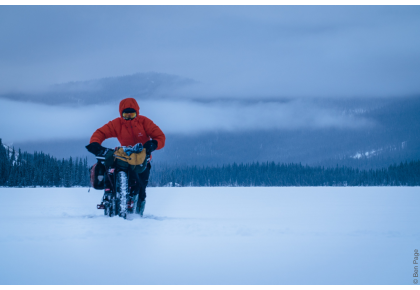 Event Date:
Wednesday, May 2, 2018 - 7:30pm
Banff Mountain Film Festival: The heights of adventure film-making head to Exeter
The Banff Mountain Film Festival World Tour is returning to Exeter this year for four evenings of spectacular stunts, life affirming challenges and inspiring stories, amid awe-striking scenery.
Having kicked off in the UK on 13th January in Edinburgh and travelling the country until 19th May, it visits Devon four times with three dates in Exeter and one in Torquay.
Featuring a brand new selection of the world's most incredible adventure-themed short films, audiences are invited to follow in the footsteps of some of the world's top adventurers, and experience their hard-won footage showcasing mountain culture, extreme sports and the environment.
The films
Films range from Edges, which celebrates 90-year-old ice skater Yvonne Dowlen, to the wacky Surf the Line, in which a group of acrobats ride a surfboard down a 600 metre high zip wire in the rugged French Alps.
One night in Exeter has already sold out – one of the first two in the whole country to do so – which is perhaps partly explained by the fact that one film, Dug Out, is made by film-maker Benjamin Sadd who hails from Dorset. Alongside friend and artist James Trundle, the film follows the pair over two months in the Ecuadorian Amazon, where indigenous hunter Bay Nenquiwi guides their construction of a dugout canoe in order to travel down the river.
Further highlights from the 2018 tour include The Frozen Road, which follows Yorkshireman Ben Page's solo journey across the Canadian Arctic, and In Twin Galaxies, in which a group of intrepid kayakers struggle over Greenland to reach the most northerly river ever paddled.
Festival origins
The Banff Mountain Film Festival is the most prestigious in the world of its kind, and has taken place in the Canadian Rockies every year since 1976. The best films out of hundreds of entries are shown and a selection chosen to go on the annual global tour over nearly 50 countries. The films are narrowed down once again at a national level to best suit audiences, and take in a range of styles, both professional and amateur. Each showing offers a number of films over a couple of hours, and bring together a wide mix of outdoor enthusiasts - including those who wish to be part of it but solely from the comfort of a warm cinema.
Join the adventure
The films celebrate wilderness and human spirit, and the capacity both offer for freedom, fun and finding purpose. Tour Director Nell Teasdale says, "We guarantee the tour will inspire viewers to start planning their own outdoor adventures too!"
The 2018 Banff Mountain Film Festival reaches Torquay Princess Theatre on 20th February, and Exeter Corn Exchange on the 9th and 10th of March, and again on 2nd May. More information is available at www.banff-uk.com.