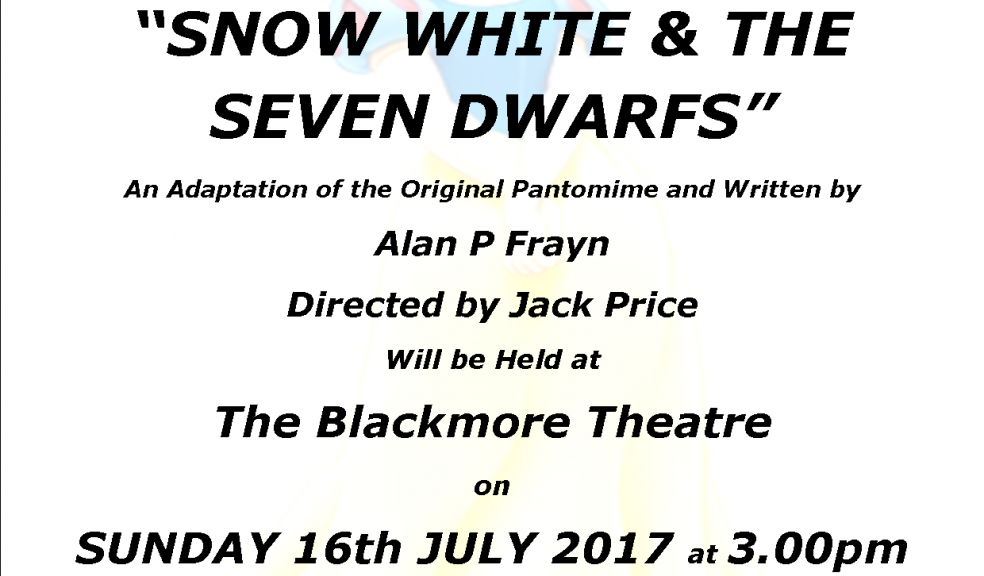 Open Auditions for "Snow White & The Seven Dwarfs
OPEN AUDITIONS For "SNOW WHITE & THE SEVEN DWARFS"
An adaptation of the Original Pantomime as written by Alan P Frayn
Director: Jack Price
Sunday, 16 July 2017 at 3.00 pm at The Blackmore Theatre

Production Dates:  Sunday 10 (Matinee Only) and the Monday 11th – Saturday 16 December 2017 (with both Matinee and Evening Performances on the Saturday)
These auditions are open to both Members and Non-Members of The Exmouth Players, and also to children too.  No prior acting experience is required.
Just pop along and have some fun, and enjoy the experience of it all.
If, however, you are unable to attend these auditions, but would like to be considered for a part, then please email details of your name and contact number to publicity@blackmoretheatre.co.uk.  This information will then be passed on to Jack Price and either Jack or someone will call you back.
Full details of the characters and of the audition pieces can be found on our website – blackmoretheatre.co.uk and/or on our Blackmore Theatre Facebook Page.
Scripts are available now at the theatre on a loan and return basis from 7.30pm on Friday 14th July 2017.
"...The tale of Snow White & the Seven Dwarfs needs no introduction, but the writer of this pantomime, Alan Frayn, has produced a wonderful adaptation that sticks closely to the original story and also introduces some marvellous new characters, together with typical pantomime situations in a delightfully fast-moving show."  (Dereham Times)