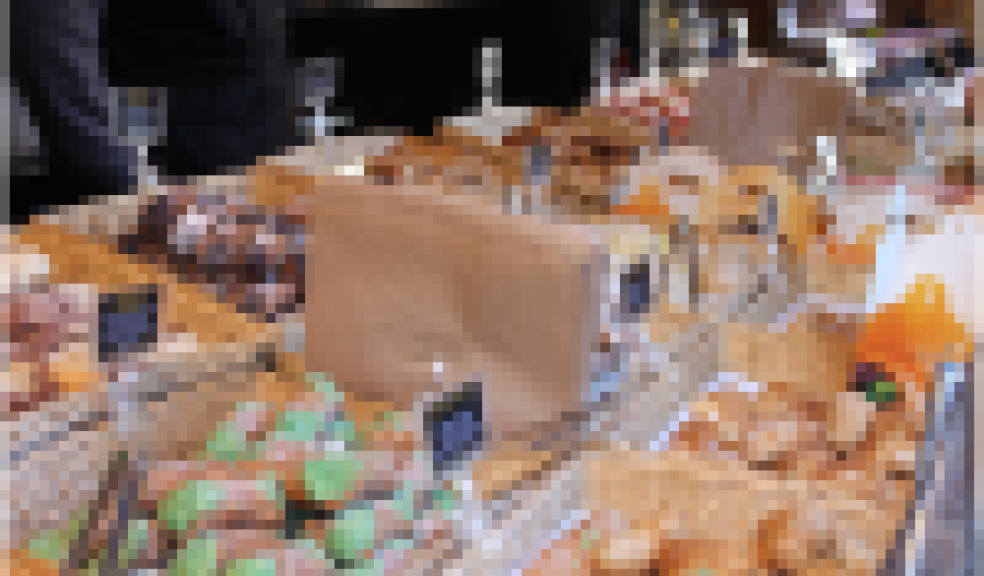 Exeter Christmas Market in full swing
Exeter's Christmas market is in full swing today with dozens of bespoke stalls trading on the Cathedral Green.
A mix of local traders and specialist stalls from overseas are trading in the alpine style market.
Local trader Mary Tempest, 63, won the Market's Pitch-Perfect award designed to promote start-up businesses.
Mary, a local artist, is selling a range of her illustrations of local landmarks and historical sites, with designed key rings and mugs also on sale.
Mary also works for Exeter City Council's tourism department, she said: "my day job is drawing artists impressions for brochures and that kind of thing.
"My bosses Dave Adcock and Dave Lewis have been brilliant. They've let me use equipment, they've given me time of work and support.
"All of the red coat walking guides are coming and doing a few hour shifts for me as well and all my friends and family have been great coming and supporting me
"My son is my resident tecchie and is in my spare bedroom at the moment, which looks like the starship enterprise and he has a machine which can put all of my prints on things like the mugs and keyrings
"There's lots of really lovely gifts here, some of them really expensive but gorgeous and some of them for only £1.50. There's something on my stall for every pocket."
Another local trader in the Market is Craig Daniels of Driftwood, a bespoke art stall which sells a range of household gifts, partly made out of reclaimed materials.
"It started off as a hobby, as a release from the daily grind of the 9 to 5. I got some of my first pieces of work into a gallery and then into another and then it just exploded from there.
"I was able to give up my full time job; I worked at Exeter airport at the time. Then I developed the whole slate range and did my first trade show in Exeter's Westpoint arena which. It was good to keep it local."
Craig's range, which includes clocks and fine cheese plates, is made from locally sourced materials. He continued: "I use the Cornish slate which is unique to the South West.
"I lot of it comes from reclamation yards and I have to go out and handpick what I think is aesthetically pleasing, looks arty or unique."
The market also has a range of food and drink to keep shoppers fuelled on the journey round the stalls.
A firm favourite among shoppers is Camper Coffee Co, a fully restored vintage VW camper van selling high quality coffee brewed on site.
The Van known as 'Rosie' was made in 1964 and is one of the few remaining models in the world. Owned and restored by Gary Williams and Paul Maddick 'Rosie'  is now a fully functioning mobile cafe.
"She's one of only about 120 left in the world and there's only two in the UK, including ours." Said Paul Maddick.
"She was a commercial vehicle singed up to the Austalian Army in 1963 or 1964 and would have been used as a military command unit.
"She's been in Devon for about 10 years, when we found her last year and restored her for the beginning of this year.
"We've been on the festival circuit over summer, we did Boardmasters, then Camp Bestival in Dorset and off the back of that they requested that we go and do Bestival on the isle of Wight in the artists campsite.
"That was quite strange working in the artists campsite we gave coffee to Bonehead from Oasis and DJ Heidi from Radio One. She was quite lovely."
From Crediton, Paul and Gary, are local boys as well and have been searching for a more permanent pitch in Exeter.
"Our coffee is locally roasted by the Littles, a local family and we sell our own blend called the C64 blend, they exclusively roast it for us because we didn't want it to taste like any other cafe in Exeter.
"We wanted to do things a little differently"
The market opened last night and will run until the 19th December.