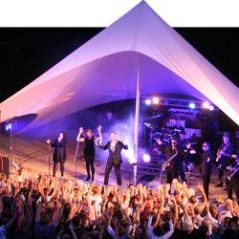 Location
Sheldon Open Air Theatre, Sheldon, Sheldon Lane, Doddiscombsleigh, Exeter, EX6 7YT
Sheldon Open Air Theatre is a natural open air amphitheatre with a woodland backdrop that is located in a delightful, intimate and secluded setting in the Teign Valley, off the B3193. 
All tickets buy you space to sit on a patch of grass on a terrace or bank in the theatre, first come first seated. We don't allow chairs in the main auditorium and recommend you bring a mat or a cushion to sit on. If you are unable to sit on the ground, please phone 01647-253916 and request a chair pass for the disabled access deck (Please bring your own chairs!). We offer free car parking and disabled access.
BBQ food, bar and hot drinks on sale until the end of the interval (or sold out). Free car parking from 6.30pm. Theatre gates open at 7.15pm. Performances run from 8pm – 10pm. A magical, family friendly experience never to be forgotten.
We will stage the concert if safe to do so – come prepared.  In the event of rain, the concert will go on unless weather conditions make it unsafe. Sheldon regulars bring a waterproof mat, waterproof clothing, sturdy boots and an umbrella. If you decide not to attend, then Early Bird and Advance tickets (both basic and enhanced types) are forfeit without refund/transfer option. If you have purchased a Premium ticket then you can get a full refund as long as you notify the Sheldon office before 10am on the day of the concert.
If a concert is cancelled because the Artist cancels then a full refund will be made for all ticket types, including Early Bird Basic. 
If a concert is cancelled because of bad weather or Covid restrictions, there are no refunds or transfers available for the Basic Early Bird or Advance tickets. Enhanced Early Bird or Advance tickets will be refunded.
Premium tickets will be refunded in full whatever the reason for cancellation of the concert.   
Please see the FAQ section of the theatre website for more details on tickets prices and returns/transfer options.
Content by Sheldon Open Air Theatre