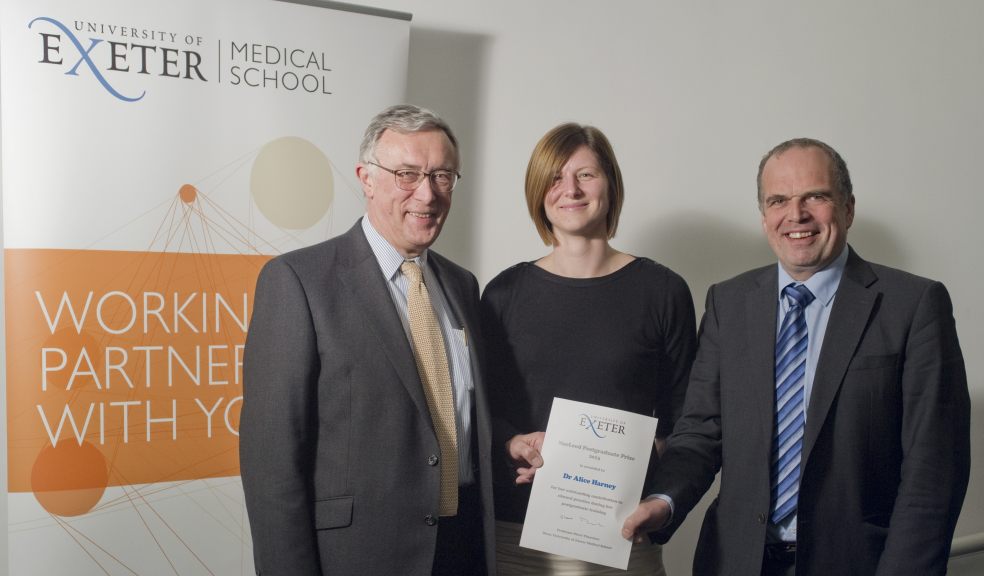 New innovation helps monitor diabetes treatment
A GP's innovative measures to support patients with diabetes has been recognised by a prize set up in memory of one of the pioneers of health education in Devon.
Dr Alice Harney received the MacLeod Post Graduate Prize at the University of Exeter Medical School, after she designed a care plan card which allows nurses and GPs to easily review the needs of the patient. The cards have been adopted at College Surgery in Cullompton, Mid Devon, where Dr Harney has also set up a diabetes support group.
Dr Harney received £300 because judges deemed her achievement to be an outstanding example of clinical practice. She said: "I'm delighted at this award, which recognises a simple but effective measure which has made a big difference in my own practice. Diabetes can involve complex treatment, but this card, held by patients, gives a simple summary of the vital components of diabetes monitoring.  It helps us involve patients in their own care and take some responsibility for the lifestyle changes which can help prevent the complications of diabetes.  We have had excellent feedback from patients and health practitioners, and I have recently heard that it is going to be rolled out across the whole of Devon."
Dr Harney's prize was awarded from the fund set up in memory of Ken MacLeod, a consultant physician (Diabetes & Endocrinology) at the Royal Devon and Exeter Hospital, who died in 2009, aged just 47. He was the Exeter Locality Associate Dean, Director of Clinical Studies and Reader in Medicine at the Peninsula College of Medicine and Dentistry, which has become the University of Exeter Medical School and Plymouth University Peninsula School for Medicine and Dentistry. 
Ken MacLeod was instrumental in setting up the Medical School in Exeter, and he envisaged and initiated the development of a new research, innovation and learning centre which has subsequently taken shape as a £25M building funded by the NHS, PCMD, University of Exeter and the Wellcome-Wolfson Partnership.  This will house a large research, postgraduate and clinical skills facility.
The award was presented at an annual lecture in his memory, and this year's guest speaker was Professor Chris Welsh, Director of Education and Quality at Health Education England, who gave a presentation on the organisation's new approach to workforce, education and training.
Dr David Mabin, of the University of Exeter Medical School, said: "Ken McLeod was a remarkable man, and it's fantastic that his memory lives on in this way. He was an innovator, and I'm sure he would have applauded Alice Harney's initiative, which is helping to streamline the care of people who have diabetes."
Anyone who wants to donate to the fund can set up a standing order to the account, using the reference MacLeod Memorial Fund. The account number is 42538246 and the sort code is sort code 56-00-63.
Alternatively, send a cheque to Sue Durrant, Peninsula Foundation Administrator, Development Office, 212b Hepworth House, Plymouth University, Drake Circus, PL4 8AA