What is it like to be a student in Exeter
Well, this is the guide for you to explore the best of this city.
Exeter is a city in South West England, located on the River Exe - from which it takes its name — built by the Romans, who called it Isca Dumnoniorum (the local British tribe). After the Romans left, in the 17th century, Anglo-Saxons moved into the area, and the name changed to Exeter. Exeter is derived from the Celtic word exe, which means water, and the Old English word ceaster, which meant Roman fort.
Exeter, the capital city of Devon, has an estimated population of 128,900. Exeter is voted the best UK city for quality of life (Arcadis Investigating Britain: Cities Built for the Future 2018). In the city are unique historical landmarks and gothic architecture, including the ancient Romal city wall, Exeter Cathedral, beautiful historic castles, and Exe Bridge ruins.
One of the top 10 safest cities in England (Times Higher Education Student Experience Survey 2018), ranked 3rd in the Russell Group for overall student satisfaction (The National Student Survey 2018). The city's population is majorly student-based, allowing for a fun, exciting and friendly atmosphere.
Exeter is known for its high quality of life and low crime rate. The city also ranked 27th out of 95 universities on the Complete University Guide's 2015 crime table.
Number of students from 2014 to 2018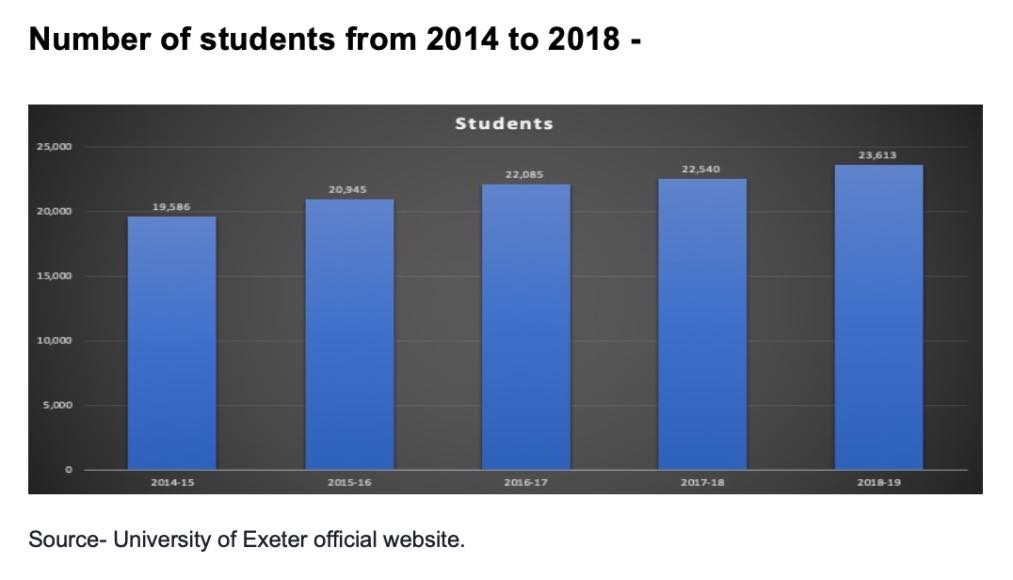 Want to know what the city has to offer? 
Well, Exeter is an ancient city, one of the oldest in England. You will find many hidden gems to uncover excellent and delightful food and hangout places. In one of the most vibrant, historically interesting in England, You won't be tired of exploring. Are you excited already? 
Here are the top things you can do in Exeter:
1) Did you know about the relation between Exeter and Harry Potter?
Do you know JK Rowling studied as an undergraduate at Exeter University? Some places in and around Exeter inspired her, including the Black Horse Inn in Longbrook Street and Gandy Street. You can head to Gandy Street; one of the most beautiful roads in Exeter. You will find many food joints - perfect for a little date, or you can head to Red Panda at 29 for delicious tofu bowls, bao buns, and other delights! The firehouse is particularly popular amongst students and is said to be the inspiration for Exeter alumna J. K. Rowling's fictional pub The Leaky Cauldron.
2) Admire stunning Exeter architecture heritage.
Exeter Cathedral is a gothic cathedral dating back 900 years. It is an excellent example of Gothic architecture. The cathedral also boasts the most extended unbroken Gothic ceiling in the world. The Cathedrals of England calls it "the Decorated cathedral par excellence." Frommer's England agrees, adding that Exeter Cathedral is "one of the prettiest churches anywhere." If you are one of those who love to explore historic architecture, then this is the best place to go when you are in Exeter.
3) Remember, Good coffee can make your whole day better. 
There are various independent cafes and good-vibe coffee houses in the city. You can head to the Glorious Art House (120 Fore Street), Camper Coffee Co. (McCoys Arcade), and The Exploding Bakery (Central Station Buildings) to have the best coffee experience. 
4) Who doesn't love celebrating festivals?
Love food, music, local brews, arts and crafts, activities and shopping? Exeter offers everything you want. Exeter celebrates festivals like Exeter Castle Oktoberfest- German beer festival, Long Weekend - 3 day festival of music, art and forward-thinking technology. Exeter Festival of South West Food and Drink – an annual festival celebrating Exeter's rich food culture. Exeter Respect Festival – a multicultural event that celebrates diversity and many more. You are never going to be bored while staying in Exeter. Keep checking your event calendar; you may find something which can make your days memorable.
5) Thinking about where to go for shopping?
High Street is the main shopping street; All the shops are in easy walking distance with each other. You can also explore new and modern architecture. This is the only shopping centre in the world to boast a 12th-century church at its centre. You will also find Harlequins Shopping Centre nearby full of trendy shops; there is everything from accessories to interiors to fashion.
Why study at Exeter? 
The University of Exeter is one of the top 100 universities in the world, according to Times Higher Education because of its reputation for pioneering research and leadership. In 2020, Guardian League Table- Exeter is ranked in 10th position out of 121 higher education institutions. The University of Exeter and Exeter college campuses are located in the lively city centre. Students can also sail, surf or do other watersports at Falmouth's seven beaches.
If you are worried about employability, don't! Around 95% of University of Exeter students get a job within just six months of graduating. Oh, now you can take a deep breath!                                                                                                                               
Tired of Student Accommodation hunt?                                                                    
You can find ​Budget-friendly​, affordable stays in Exeter, wide ranges of sharing ​flats, ensuites, studios, private-halls etc​. can be selected according to the budget and requirements. Students can also opt for student hostels provided by universities, but that can be a bit expensive. Finding the best accommodation in a country unknown is the most challenging task. So, the first step, which is majorly important before choosing any accommodation, is to ​deeply research, read all the reviews available on the internet, and check those ratings​. For students living away from home for the first time, Finding student accommodation in Exeter becomes quite difficult. Keep in mind that, whichever the student housing you choose will be your home for years, where you will eat, live, sleep, socialize, make friends, study, and which will define your student experience abroad.                                                     
Don't be confused about Leasing Policies                                                 
If you are ​living anywhere in the UK​, then when it comes down to leasing policies, it's ​per week basis​. Usually, the preferred method is every month, but students can fluctuate a lot in terms of stay. ​Therefore, ​weekly basis​ rents are curated to make it flexible for the landlord to have a tab on the lease due, and even guarantors are set up to help students pay their rent on time. 
Last but not least, Don't forget to download the iExeter App. It can help you with your daily planner, useful maps of the campus, personalized information, any updates are just part of what it provides. That is why having this app can be really convenient for students.