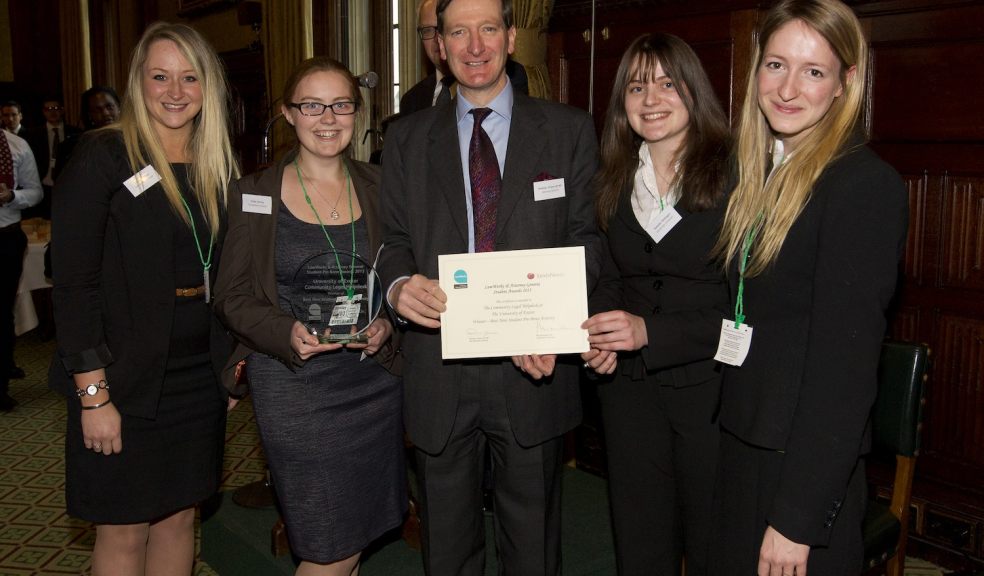 Legal Helpdesk wins Attorney General Pro Bono Prize
University of Exeter law students have been awarded the prize for Best New Student Pro Bono Activity by the Attorney General Dominic Grieve QC MP for its legal helpdesk that provides assistance to court users.
The Community Legal Helpdesk is run by Law students who are supervised by a qualified lawyer, providing free information and guidance to members of the public involved in legal disputes. Family, small claims housing and employment problems are the most common queries.
The announcement was made at the annual Law Works and Attorney General Student Awards 2013, on 25 March in London. The ceremony began with the LawWorks' Chairman, Paul Newdick CBE reflecting on the importance pro bono has to society and thanking all the shortlisted candidates (Best contribution by: New Student Pro Bono Activity, Individual Student, a Law School and Team of Students) for their ongoing passion and generosity. The Attorney General, Dominic Grieve QC MP then poignantly described his own experience of pro bono as a young lawyer, characterising the great sense of accomplishment that is experienced when you are able to help someone who needs your assistance.
In a statement Grieve said:"It's incredibly important that we recognise and celebrate the fantastic work done by students and law schools in providing pro-bono work.  It is impressive to see, so early on in their career, the commitment of these students to providing access to justice for all."
Law students Charlotte Brasher and Laura Godfrey, who both serve as Student Directors of University of Exeter Community Legal Helpdesk, attended the ceremony.  Charlotte Brasher was extremely proud of winning the award, she said:"I feel an overwhelming sense of pride that our project has been awarded this prestigious award. We are at a point in time when the need to give something back to the community has never been so acute, and the recognition that our project achieves this aim is profound."
Professor Sue Prince, Director of the Helpdesk at the University of Exeterand responsible for setting up the Community Legal Helpdesk said: "The reason that the Community Legal Helpdesk won this award was its innovative approach to making a real difference to the community. The Community Legal Helpdesk provides students with a real opportunity to make a difference to the administration of justice.  At Exeter, our students are able to see how government policy on legal services directly impacts on the legal system. I am not aware of any other similar project run by University students at their local courts, and Exeter is paving the way for other similar schemes."
The importance of the Community Legal Helpdesk is recognised by the Exeter Combined Court, District Judge Stephen Arnold.  In a statement he said:"The decision of Exeter University to approach the Court with the idea of a helpdesk manned by their law students was unanimously applauded and supported by the judiciary and the Court staff. There has always been a concern that the legal process remains a mystery to many lay persons who are actively involved in litigation and the Helpdesk was seen as offering guidance and support in areas such as housing and small claims.  I know from my own experience how much the Helpdesk is appreciated by the public."