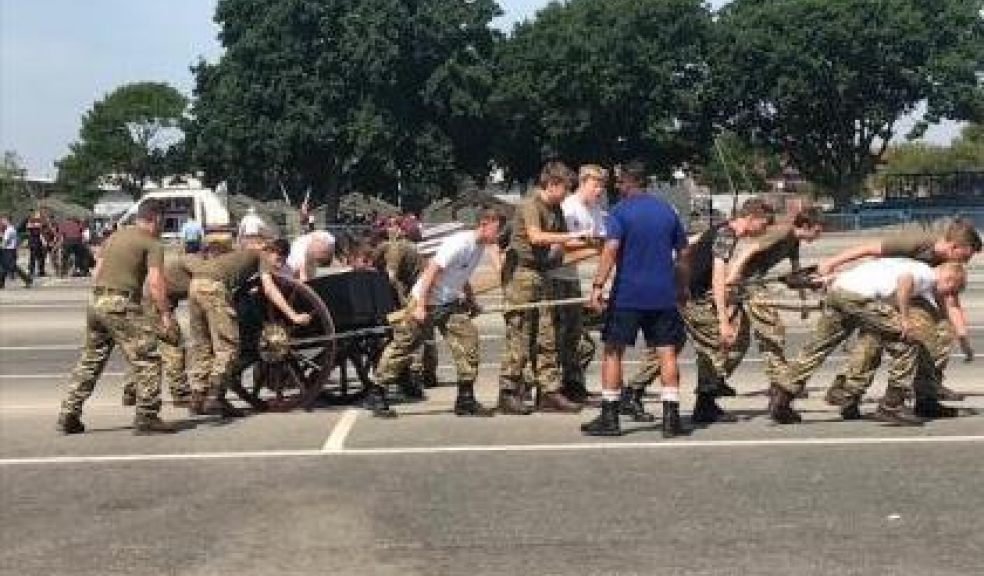 Gunning for glory! Newton Abbot students fired up for Royal Navy Field Gun Challenge
A driven team of students from South Devon University Technical College have been pushing all the boundaries to take part in the prestigious Royal Navy Junior Leaders' Field Gun Challenge.  The annual contest is led by the Royal Navy and sees teams of 16-24 year olds race against each other to assemble and manoeuvre a Field Gun, used in historical warfare.
The UTC Barbarians, a team formed of South Devon UTC and Scarborough UTC students, undertook a week-long Royal Navy boot camp to prepare for the Field Gun Challenge, which took place on 6th July at HMS Collingwood in Fareham, Hampshire. The UTC Barbarians finished in fifth place in the plate 3 final after competing against trainees from the Royal Navy and Royal Air Force, as well as those from the National Sea Cadets, local colleges and a team from the Missouri Military Academy.
This is the third year the science and engineering specialist school, South Devon UTC, has entered the hardcore challenge, which is very similar to the Royal Navy and Royal Marines Charity Gun Challenge, and is run along a course on a flat track with no obstacles.
The UTC Barbarians were pleased with their performance and were congratulated by college principal Ian Crews, who commented: "I'm so proud of our students. Once again, they faced the challenge with great enthusiasm and determination and it has really paid off. The opportunity to compete in such a unique challenge, which we enter because it is hugely rewarding and develops leadership and team working skills, is an experience our students will never forget."
Team members competing in this year's challenge trained hard with a Royal Navy instructor ahead of the Field Gun Challenge to be at their best for the arduous Royal Naval tradition that focuses on teamwork, leadership and discipline.
Bailey Duke, a student at South Devon UTC who is joining the Royal Navy or Royal Air Force in September 2019, has always had an interest in the armed forces and has been introduced to the military lifestyle through this challenge.
Bailey, 18,  commented: "The discipline of the Junior Field Gun Challenge is real. We stayed on a real ship on a Royal Navy base in Portsmouth which was a great way of finding out more about the military lifestyle. I gained a feel for the strict organisation and the daily routine and I learnt the importance and value of self-discipline."   
This year, South Devon UTC welcomed the Royal Navy as an employer partner. The Royal Navy will now help shape the curriculum, provide Challenge Projects and offer work experience to ensure South Devon UTC students are ready for work when they finish Year 13.
Stephen Green, Teacher of Engineering, commented: "The Junior Leaders Field Gun Challenge not only promotes the Royal Navy as a career, but also serves as a leadership and team building challenge in the development of young people at the UTC. The competition is supported by the Royal Navy and Royal Marines Charity and we will be fundraising for them as part of our charity work. As a retired Naval Officer, it is a charity close to my heart." 
The college is currently recruiting students for the 2019/20 academic year. Young people with a flair for science and engineering due to start Year 10 or Year 12 in September 2019 are invited to the next Open Evening on Thursday 4th October 2018, 5-7pm. Alternatively, you can contact the college for more information. Call 01626 240201 or visit http://southdevonutc.org/