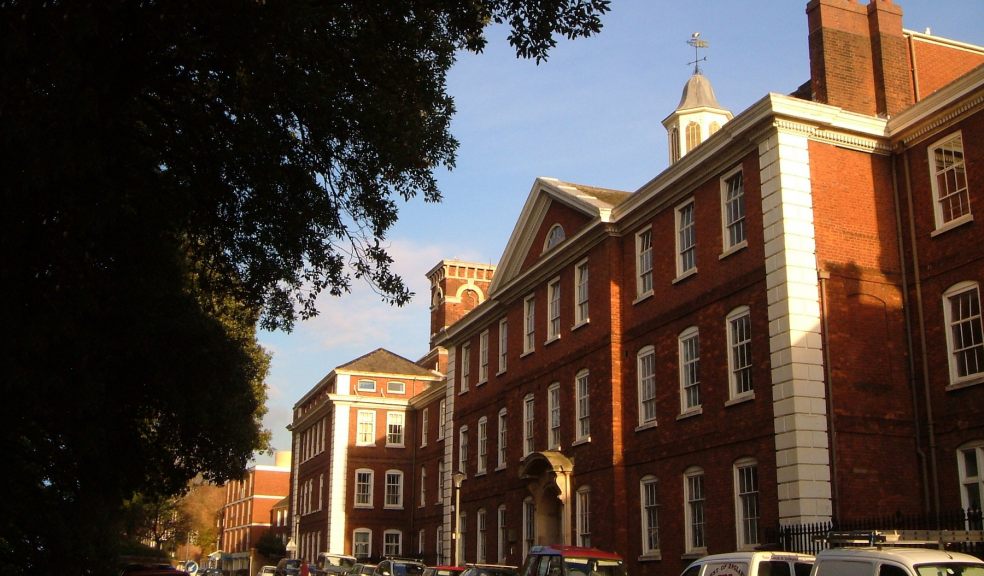 Exeter's largest and most exclusive student accommodation opens to the public
Combining state-of-the-art modern luxuries with historical, period features, the first phase of a £7 million development of Exeter's landmark former city hospital will open to the public this week (8 March).
The Halford Wing, forming part of the notable, Grade II* Listed Dean Clarke Estate on Southernhay, is currently being converted into Dean Clarke Lofts - 30 of the largest, most exclusive, double-height, student loft apartments in the city, complete with super-fast broadband up to 100MB, unrivalled views over Exeter Cathedral and city, and period features in abundance.
Two of these spacious, upscale "loft" apartments will open as show homes on Friday 8 March with the first tenants expected to move in at the start of the 2013-14 academic year. They are available for both post graduate students and professionals in training with all-inclusive rents, on 51-week tenancy agreements.
"This student accommodation is extremely luxurious by comparison to any other student accommodation I have seen," said Cathryn Bishop, director of Devon and Cornwall-based Cornish Interiors, one of the companies behind the plush but practical Phase I decor.
"I would have given my right arm to have lived in a loft like this when I was a student," she added.
As well as offering a prime location, within walking distance of the city centre, the Quayside and the University of Exeter campuses, these carefully designed, generously proportioned, fully furnished, insulated student lofts boast: tall, Georgian windows; well-equipped kitchens with microwaves, full-size hobs, ovens, washer-dryers and fridge-freezers; flat-screen internet televisions and powerful Wifi; large, luxurious bathrooms; gas-fired central heating; and 18 of the 30 lofts benefitting from spacious double-bedrooms on mezzanine floor overlooking living areas.
The property will be overseen by onsite managers, provided by an RICS regulated managing agent, Academy, with additional CCTV in public spaces for extra security: "Onsite management will be provided with an on call maintenance service for peace of mind,"  said Steve Trave, managing director of Academy.
"Our aim is to create a high-class, secure, peaceful and professional place to live and learn in a great location," he said.
The restoration to create Dean Clarke Lofts forms part of an extensive, sensitive redevelopment programme to bring Dean Clarke House back to life after the administrative arm of the NHS vacated the property in 2008.
Phase II, due to open in summer 2014 includes the conversion of the 18th century Dean Clarke House, which fronts onto Southernhay, into serviced offices and luxury residential apartments, similar to London's Mayfair district, with a concierge service for residents.
A restaurant, part of the Loungers chain, will open on the ground floor of Dean Clarke Lofts in mid-April, bringing added vitality to this part of the city centre.
"At its peak, the former RD&E hospital was a very important part of the social economic balance of the community and has been since the mid-18th century. It is apt that it now forms a critical component in the strategy for breathing new life into the community today," said Exeter-based LHC architects who have worked closely with planners to bring the ambitious project to fruition.
A team of experts from national law firm, TLT, also worked hard to make sure the purchase of Dean Clarke Estate Ltd was completed on time. David Smithen, estate development partner for TLT, said: "We are delighted to have advised Dean Clarke Estate Ltd on this complex purchase, which is a significant south-west multi-million pound property development deal. Various specialist experts from across the firm worked hard to make sure that the purchase was completed within the tight deadline."
The upscale development follows an exhaustive consultation process between developers, planning officials and conservation officers - all keen to remove the current building from the local Building at Risk Register.
"We're pleased that work has started on the repair and conversion of this important, listed building. The student accommodation will help meet the needs generated by the ongoing expansion of the University of Exeter in an area that presently has a low student population," said Richard Short, Exeter City Council's assistant director of City Development.