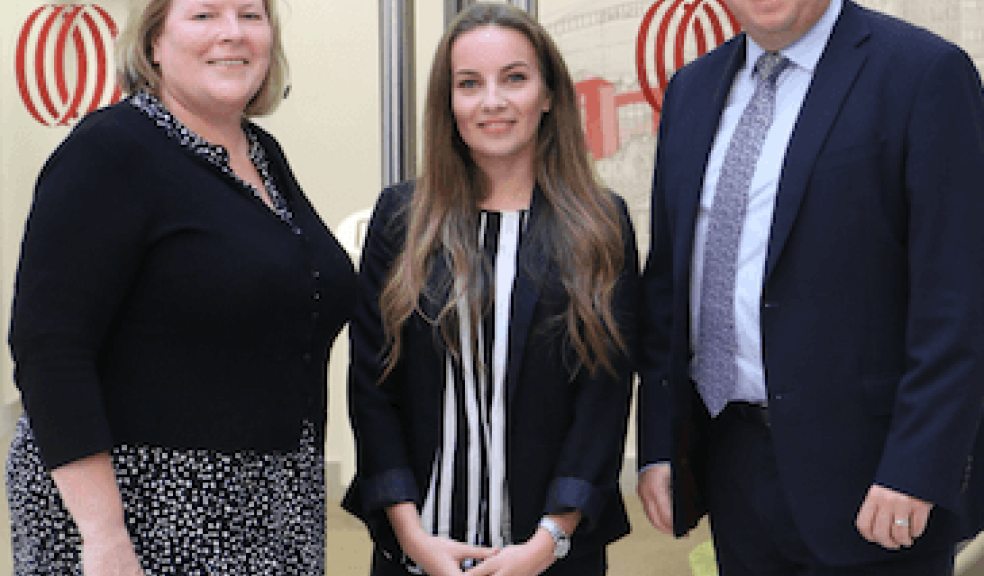 Exeter College graduate on track for a bright future
Katie Fowler, who graduated from Exeter College this year with a Business Management BA degree, has secured a place on a prestigious Graduate Scheme with international property company, JLL, with a fully funded Masters. It is a fantastic achievement for Katie, who aims to become a Chartered Surveyor after two years.
Katie, who previously studied at West Exe School, progressed directly from her studies at college onto an internship over the summer at the Exeter office of JLL. She impressed so much that she moved successfully onto their Graduate Scheme. Katie was first introduced to her employer during a talk given to the Business Management BA students by its Lead Director, Tim Western.
JLL is an international, property-based, professional services and investment management company, specialising in real estate. JLL have provided property consultancy advice to the college over the past 20 years.
Tim said of Katie: "When I first met Katie at college it was obvious that she had a passion for property, she asked loads of questions and really had a feel for the local property market and business environment. Katie had a real aptitude and enthusiasm and so it was pretty obvious when she came to do an internship that she was going to be a great prospect moving forward. This is why we offered her a full-time position."
After the two years Assessment of Professional Competence (APC) process, which Katie is undertaking alongside a Masters degree, and following the final assessment, she aims to become a fully fledged Chartered Surveyor with the Royal Institution of Chartered Surveyors (RICS), which will be a great milestone moment in her career.
Katie credits her experience of studying at Exeter College as setting her on her path to success in a field she thoroughly enjoys. She says "I really enjoyed studying A Levels at Exeter College and when I found out I could progress and study a degree level course, at a lower cost that at a university and stay in my home town it really appealed to me. Also, the fact that I could study two days a week meant I could still work and had the flexibilty to pursue other things, such as internships whilst studying."
"Exeter College's Centre for University Level Study was a really nurturing environment. I was in a class of 19 students, which meant that I was given a lot of bespoke advice and a lot of support and opportunities to talk directly to people such as Tim from JLL. It was Exeter College's relationship with local employers that built the foundation for me to be able to work for JLL and be given this opportunity. Once I'm qualified the opportunities are endless, both in the UK and worldwide."
Katie's fellow graduates are all also doing really well following their degree, taking different paths  for example, continuing to a top up year at universities and one is starting up their own digital marketing company. Their tutor Deborah Kearney (pictured left, with Katie and Tim) is very proud of her students and former students and says of Katie: "I am really pleased to see that Katie has been so inspired by her studies, discovering and then pursuing her passion. From listening to Tim from JLL in class, she instantly knew that the property and commercial world would very much suit her skills and I think her chosen career path is a match made in heaven." 
About our Centre for University Level Studies
Exeter College is a TEF Gold winning college that offers a wide range of university level courses, including BA, Foundation Degree, HNC and HND programmes.
University level education at the Centre for University Level Studies is a critical and growing part of the college's learning community. The college works in partnership with well-respected university partners and awarding bodies, enabling students to study in Exeter and at the same time benefit from teaching excellence and a wide choice of courses.
If you are interested in finding out more about studying at university level with Exeter College, visit exe-coll.ac.uk/he or email headviser@exe-coll.ac.uk