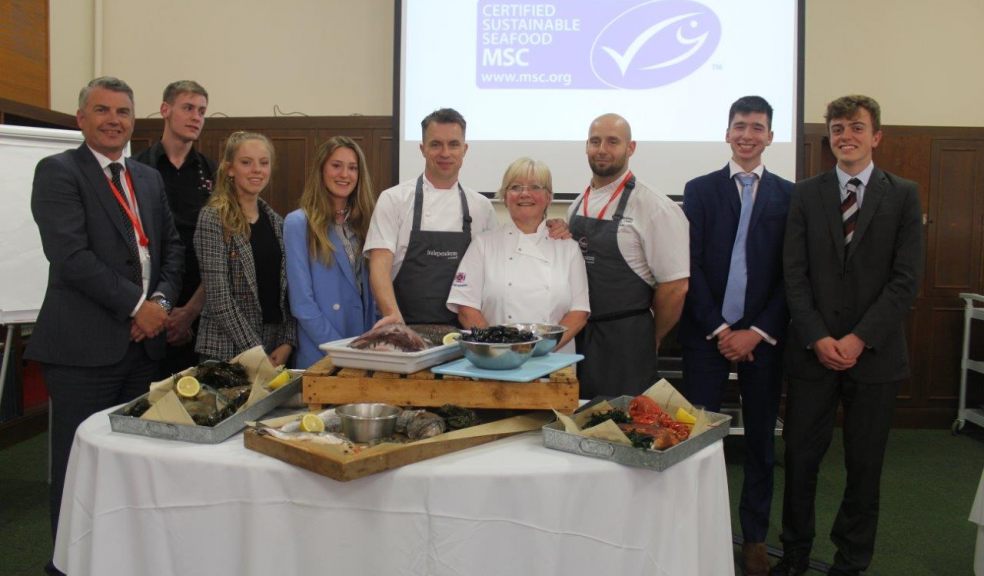 Celebrity Chef James Tanner visits Exeter School
Exeter School pupils and staff were delighted to welcome celebrity chef James Tanner.

The ambassador for Independents by Sodexo's, Exeter School's catering provider, spent time with Junior School and Sixth Form pupils giving demonstrations on cooking with wonky veg and fresh fish.

In the morning, James and Sodexo chef Tom Allen spent time talking to Year 5 pupils about fresh fruit and vegetables. The pupils were given the opportunity to taste and look at some more unusual fruits and vegetables, such as dragon fruit and star fruit from warmer climates, and artichoke and fennel. The chefs talked about how pupils could incorporate different fruits and vegetables into the food they already enjoy eating. 

The chefs and Catering Manager Michelle Hendrick made a delicious fruit salad and smoothies for pupils to try, as well as a scrumptious smelling risotto. 
They shared top tips for the fruit salad, such as preparing a syrup for the fruit, made from water with a little bit of sugar. They encouraged the pupils to notice the different meals they might eat in the school dining room, such as the fish, which might be goujons or fish cakes, and that all fish served at school is from the UK. Pupils were also asked to consider the distances some food might have to travel to reach our plates. 

In the afternoon, James and Tom spent time with Lower Sixth pupils talking about fresh fish, how it is caught and the benefits of eating it. They also discussed sustainability and the Marine Conservation Society's measures to help consumers, members of the fishing industry and retailers make the right sustainable seafood choices. 

The chefs invited pupils to help make a wonderful fish stew which they all tasted. They extolled the benefits of buying fresh, local and seasonal ingredients and gave advice for the Sixth Formers, helping them to preparing for life beyond school. 

The entire school enjoyed a street food inspired menu, made by the Sodexo catering team with the assistance of James and Tom. Pupils and staff tucked into zingy mini fishcakes, salt chilli squid, breaded sole goujons and mackerel paté.

Exeter Junior School pupils relished the opportunity to try new foods. Poppy Sadeghi, Lamorna May, Alice Brauer and Connie Kemmish said the fruit salad was heavenly. "You could taste all of the fruit in there," they said. "It felt very fresh and tasted tropical. The fruit was amazing."

Seb Hemmings learnt that a lot of different fruits can be really nice. "I learnt about how fruit and vegetables can help you a lot, such as vitamins in broccoli. I now know the names of different fruit and vegetables, such as dragon fruit, star fruit and fennel. I loved it!" 

Catering Manager Michelle Kendrick enjoyed meeting James Tanner as he shares the Sodexo team's ethos and passion for using fresh, local, sustainable ingredients.

"Talking about healthy eating and demonstrating to pupils that cooking is indeed a very valuable life skill for us all," she said.

Exeter School Headmistress Sue Marks said James Tanner had an engaging manner with pupils. 

"They were hooked on his demonstration and learned so much about where the ingredients came from and how important fresh fruit and vegetables are to maintaining good health."

Head of Sixth Form Ali Marsh said James Tanner came to speak to the Lower Sixth during their Futures Week activities, preparing for life beyond Exeter School. 
"He was totally inspiring, highlighting the impact of fishing and sustainability on the oceans and fish stocks. He discussed his journey as a chef and how important sourcing his food locally. He prepared a very delicious fish stew which the Sixth Form had the opportunity to taste."

Sixth Formers Martha Halse and Lily Alford said they enjoyed listening to James Tanner talk about sustainable fishing and the struggles yet opportunities in his field of work. 

"We were lucky enough to try the delicious food that we saw being prepared for us in the session made up of fresh fish and vegetables in a creamy white sauce," they said.

Celebrity chef James Tanner has worked with Independents by Sodexo's since 2015 as an ambassador for its 'fresh food from scratch' ethos. 

He said he was really passionate about educating young people not only about the vast range of fruit and vegetables that are available, but also about the importance of using seasonal, local and sustainably sourced ingredients. 

"The pupils at Exeter School were all really keen to try some of the different foods we offered them, and I hope that they gained an interest in cooking! Thanks to everyone at the school for the warm welcome."