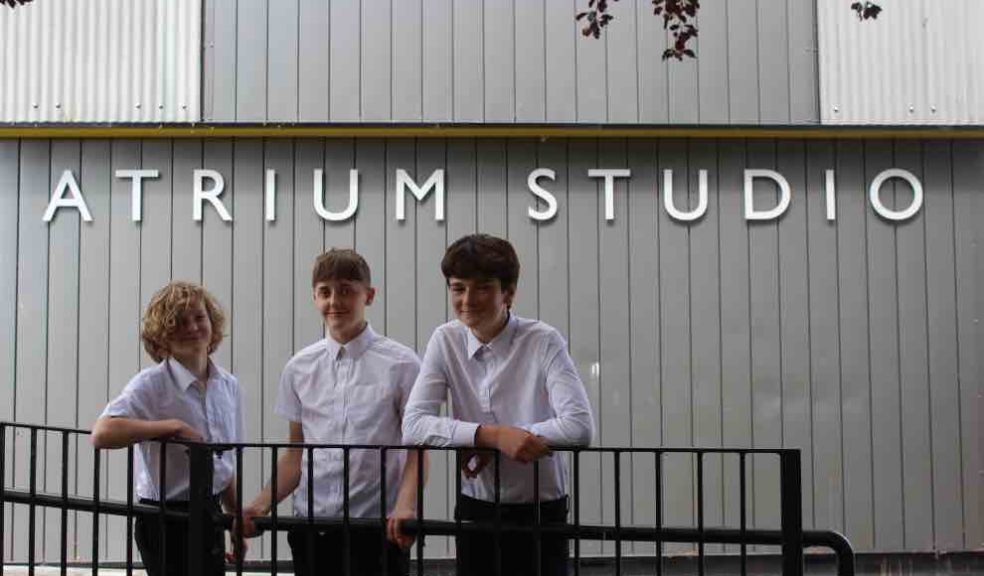 Ashburton students win South West title in national schools' competition
A team of three Year 9 students from Atrium Studio School in Ashburton has fought off tough competition from hundreds of schools across Great Britain to win the South West of England prize in Shell's national schools' competition, The Bright Ideas Challenge.
The winning team's bright idea conceived a way to capture the hydropower of household taps and store the energy for use in powering anything from personal devices to cars.
Manu Kay, Torin Coulson and Marlon Moss-Motto have won £1,500 to boost the STEM (Science, Technology, Engineering & Maths) teaching at their school. The team will now travel to London for a VIP STEM experience at Imperial College London, where they will build a prototype of their idea and compete against 12 others teams in the hope of becoming the National Champions. The winner will be crowned by Shell's STEM Education Ambassador, Rachel Riley, and take home an additional £3,500 for their school and individual prizes for each of the team members.
The Bright Ideas Challenge asks young people aged 11-14 to use their STEM knowledge and problem solving skills to imagine innovative solutions for making future cities clean, efficient, vibrant places to live, work and play. By 2070, it's estimated there will be around 10 billion people on the planet, with demand for energy set to double. This means the world needs to find new ways to produce more energy.  
The 12 other winning ideas from across the country included everything from an energy capturing car coating inspired by the naturally occurring chemical reactions within the Oriental Hornet bee, to windows which capture solar power, demonstrating the wide variety of potential innovations across the problems faced by future cities.
Speaking about the winning ideas, Marcus-Alexander Neil, Shell UK Education Manager, commented: "It is a real thrill to see the ingenuity the students have brought to their competition entries. As the next generation of scientists, mathematicians and engineers they are able look at things from a fresh perspective.
Our hope is that participating in The Bright Ideas Challenge inspires many of these talented students to apply their classroom learning to real-world problems and become the scientists and engineers the world needs to meet our future energy demand."
Manu Kay from the winning team commented: "My team is so excited to have the best entry in South West. We can't wait to go to London and try to win the national prize. For our entry, we tried to imagine the cities we will live in when we're older which helped us use our science lessons to figure out real problems. It really got us thinking about how we might be able to help make life easier and better in the future."
Sam Westaway, Built Environment Studies Teacher from Atrium Studio School said: "Using STEM knowledge to solve a real-world problem opened our students' eyes to how their lessons can be applied in a real-world context. Competitions like The Bright Ideas Challenge really help our students think big about what's possible. Our school is so proud of the team for getting this far and we're so excited they're in the running to be named National Champion in London."
The National Champion of The Bright Ideas Challenge will be announced by Rachel Riley, Shell STEM Education Ambassador, at the VIP STEM experience in London on Friday 21 June.