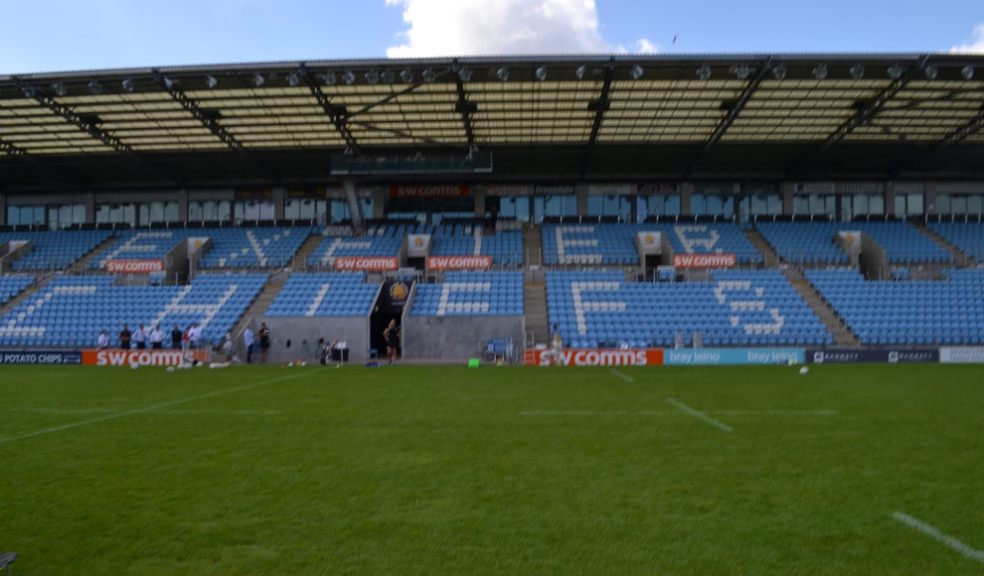 Maunder commits to the Chiefs
Jack Maunder is the latest name to commit his future to the Exeter Chiefs, agreeing terms on a new deal with the current Gallagher Premiership league leaders.
Just days after fellow England internationals Ben Moon and Harry Williams said they were staying put at the Devon club on new contracts, the 22-year-old scrum-half has himself followed suit in signing on with Rob Baxter's squad.
"Obviously, I'm very happy," said Maunder. "It's a club that myself and my family have had a big association with for a number of years. For a player like myself, the club ticks every box. It has great coaching staff, a great squad, the culture is amazing and for me, Exeter is home. 
"Knowing that my future is with the Chiefs makes things so much easier. Coming in every day you know what you are going to get. I love being around the lads, it's been a fun few years for me and, hopefully, we can continue to keep pushing forward."
Thrust into the first-team fray back in October 2016 in a European Champions Cup encounter against Clermont-Auvergne at Sandy Park, Maunder hasn't looked back since that day, establishing himself firmly within the first-team mix at the Chiefs.
His 67 appearances and six tries underline his worth to the cause and he's looking to being part of an exciting future for the Chiefs.
"I know I am very lucky to be part of this squad," added Maunder, who is the eldest son of former Exeter Rugby Club legend, Andy Maunder. "If you look around the group we have, a lot of the boys are young and moving into what you would call their prime years. 
"There are a few of them that have been here a while now, but they know the Exeter way and how we go about things. For all of us, it's an exciting time and one that you want to be part of."
That said, the demands and pressure being placed upon the Chiefs squad is increasing season on season. 
"Right across the squad, the competition for places is huge," explained Maunder, who faces a battle for the number nine shirt from a host of rivals, including younger brother, Sam.
"If you look at those around my age group, we've come in at a time when the club is constantly pushing for trophies. It's a huge shift from what was the norm a years ago. That said, every time we take to the field, we know it's a huge game. It's meant that for us as youngsters we've had to get used to that big game mentality, whether it's in the Premiership or Europe, a lot quicker than previous years.
"However, it's great for us to get that experience, because it not only makes us better as players, but it adds a real competitive edge to things."
And competition is something that Maunder – who made his England debut on the summer tour to Argentina back in 2017 – says he relishes.
"As a group of nines at the club, we all have a huge amount of respect for one another," he continued. "It's an exciting group, led by [skills coach] Ricky Pellow, but we all work together to bring the best out in each other. I've said before how much time and effort Ricky is willing to put into all of us to make sure we're at the top of our games.
"At the same time, we learn from one another. Whitey [Nic White] is a little bit older than the rest of us, so has that bit more experience, but whoever is playing or on the bench, it's up to all of us to work together to make sure we're in the best place possible.
"Every time you train, every time you play, you know you have to be performing because there are three or four who can easily take your spot and do a great job of things. That's not going to change moving forward, but it does bring a competitive edge that I think we all thrive off."
Certainly, Maunder has demonstrated this season and in the past that he is more than capable of delivering on the big stage. Indeed, his showings this season were rewarded with a recent call-up by Eddie Jones into the England training squad for their recent Six Nations Championship campaign.
"The call-up did come as a bit of a surprise, I wasn't really expecting it, but it was great and it definitely gave me a real lift," said Maunder.  "As a player you want to push yourself and be playing at the highest level you can, but to do that and be in that environment, you have to be doing well for your club.
"If I'm not performing well for Exeter, then opportunities like that don't come. My priority, first and foremost, has to be making sure I'm doing well for Exeter and if things follow from that, that's a bonus!"
Just when Maunder gets his chance to shine again remains to be seen, given the current COVID-19 crisis. However, he says when rugby does return, he and everyone will be looking to make up for lost time.
"Rugby and the Premiership is a side-show to everything else right now," he added. "The focus at the moment has to be on staying safe and following all the guidelines. When we do get back to playing rugby, though, it's going to be amazing. It will feel like the first game of the season, so you'll be excited, but you'll be nervous as well. All those emotions will flood back, but for all of us it will be great to get back out there and playing again!"