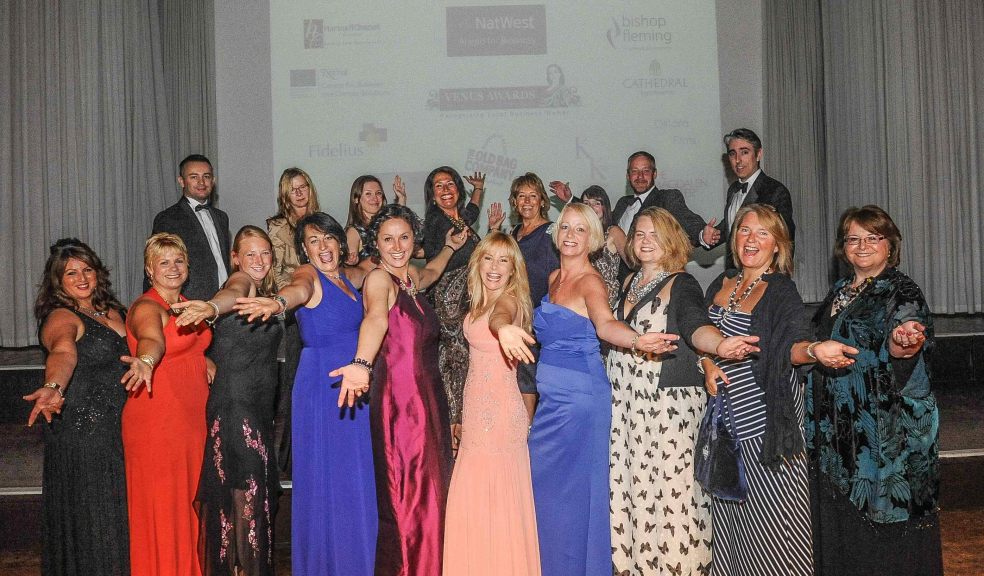 Devon Venus Award winners revealed at glamorous gala evening
Following thousands of votes and over 1,432 nominations and applications the Devon Business Women Awards announced the 2013 winners at the University of Exeter's Great Hall on 5 September 2013, hosted by Celia Delaney and Tara Howard.
From the moment you walked into the room you could feel the thrilling and exciting emotions coming from so many influential women of Devon all awaiting their awards. Each winner was announced and presented with their awards after they enjoyed a sumptuous three course meal, with some exceptional entertainment, topped off with a wonderful song performed by Celia herself, everyone enjoyed themselves and the night was a huge success.
The founder of the Venus Awards, Tara Howard has with the help of other local business women created the Venus Awards to recognise business women across the UK. Established in many regions such as Dorset and Southampton, Tara is committed to taking the Venus Awards to more regions across the country, following requests from women to bring the awards to their town, city or area.
Tara commented on the night "We are entering year five and there has not yet been a Venus Awards ceremony without a few tears of joy and Devon was no exception – big congratulations to all the inspiring women that entered the awards".
Celia Delaney, who hosted last night's Awards says:
"This has been the culmination of many hours of work, both on the part of the Venus team and our fantastic local sponsors, who have thrown themselves into the judging process with great enthusiasm and who tell me they have enjoyed it enormously.
I am so proud of the women who have nominated, entered, and of course, won an award: the number of people who went in for the awards is a testimony to how much women would like to be recognised for their achievements.
"For my part, I've made many great new friendships and contacts, and it was a delight to host an awards ceremony where women felt they could be themselves and have fun. I've no doubt the Awards will be even more popular next year as word about them spreads."
The Exeter Daily was proud to be sponsoring the Employee of the Year Award, a hard-fought contest that went to the public vote. Natalie Vizard, Editor of The Exeter Daily said: "I have found the Venus Awards so exciting to be involved with because it has allowed The Exeter Daily to connect with so many local businesses. I have loved hearing all about the employees that have been nominated, and the efforts they have made for Devon's businesses have been inspiring.
"All three finalists were worthy of winning the Venus Award for Employee of the Year, however only one could be crowned the winner on the night. That accolade went to Tracey St Anton of Boswell Farm Cottages in Sidmouth, who has been described as 'A joy to work with... always positive and accepts any task cheerfully, no matter how daunting and will always go the extra mile to get the job done. Equally valuable in the team or leading it, she is always supportive & encouraging to others."
Below is the full list of Venus Award winners for Devon:
Bishop Fleming Entrepreneur of the Year
Sarah Cressall – The Creation Station Ltd, Exmouth
Sarah established The Creation Station in 2002 to create a flexible family focused business opportunity for herself. Sarah recognised a gap in the market for children's educational art and craft classes and transformed her vision to inspire children's imaginations into a successful reality. Supporting over 55 Creation Station franchise owners across the UK Sarah was awarded the title of Best Female Franchisor of the year sponsored by Coconut Creatives in 2011. 

Cathedral Appointments Employer of the Year
Mariam Badavi – Purity Boutique Spa Ltd, Exeter
With over 10 years' experience as a beauty therapist, Mariam Badavi owns Purity Spa, offering a wide range of treatments in a vintage-inspired place of beauty, adorned with shabby chic furniture and floral pastels. The vision for Purity is to allow you to leave behind the pressures of everyday life by creating a unique day spa that provides treatments with visible benefits that are relaxing and rejuvenating in a tranquil environment.

Fidelius Insurance High Achiever of the Year
Olivia Champion – Scientist at Exeter University
Olivia Champion is a research scientist and most of all trained in the overarching theme of understanding host pathogen interactions at the molecular and cellular levels. Apart from being part of highly competitive programmes, she has won a Medical Research Council studentship to carry out at the London School of Hygiene and Tropical Medicine. Her current research commenced in October 2007 at the University of Exeter, where she has focused on understanding the molecular basis of pathogenesis in the pathogens Yersinia pseudo tuberculosis, Yersinia pestis, Burkholderia pseudomallei and C. jejuni.
Hartnell Chanot & Partners New Business of the Year
Ros Debenham – Radiance MediSpa, Exeter.
The aim of Radiance MediSpa is to give clients the knowledge and options to enable them to choose the most effective course of treatments for them. The spa offers medical grade products and the latest evidence based treatments that are used by plastic surgeons and aesthetic doctors worldwide and are reviewed at the face and body conferences in London. All staff are beauty and cosmetic specialists who have been fully trained.

Heart Business Mother of the Year
Julia Bramble – BrambleBuzz, Colaton Raleigh
Social Media is transforming the way the world does business. Internet has become the biggest single opportunity to grow your business. BrambleBuzz makes social media accessible and successful for companies. All the social media help and advice it offers is rooted in very sound, up-to-the-minute thinking in terms of marketing, customer service, planning for business goals and selling.

Home Based Business of the Year
Lisa Singleton – Zebra Design, Tedburn St Mary
Zebra Design offers a professional and personal service to ensure that companies stand out from the crowd. With over 15 years' experience to draw on, Zebra Design can create the graphic design solution that works best for clients.

Lifetime Achievement of the Year
Jackie Bligh – TaxAssist Torquay, Paignton & Exeter
TaxAssist accountants provide a wide range of accountancy services including tax returns, payroll and bookkeeping. The company is a part of the largest network of accountants who offer a huge range of experience and expertise to many small businesses right across the UK. They offer great opportunity to build clients' business and gain good contacts locally by providing a high quality, fast reliable service at a competitive price.

NatWest Small Business of the Year
Jacqui Batterbee – Batterbee Thompson & Co Ltd, Plymouth
At Batterbee & Thompson they offer a complete Accountancy, Taxation and Business Advisory Service for the owner managed and family owned business sector. With their wide breadth of expertise, they can offer proactive early advice and support, help with identifying business opportunities, solutions to problems or issues and advice on ways to increase profitability. Based in the South West they have links countrywide.
Networker of the Year
An Swinnen – Business English Consulting Service Ltd
An Swinnen runs a business involved in delivering not only tailor-made intensive Business and Management Skills Training worldwide, but also Train the Trainer courses, EDI and LCCI Qualifications. In particular, Business English Consulting Service Ltd is a British International Training Company which was set up in 2004 that deliver tailor-made intensive training for high-profile clients.

The Exeter Daily Employee of the Year
Tracey St Anton – Boswell Farm Cottages, Sidmouth
Boswell Farm Cottages offers seven charming self-catering cottages sympathetically converted from period farm buildings in Devon. The cottages are cradled in a beautiful peaceful valley two miles from Sidmouth sea front and surrounded by acres of farmland. Boswell Farm Cottage provides an ideal location for coast and country holiday.

The Old Bag Company Inspirational Woman of the Year
Glynis Lidster – Welcome Hall Ltd, Plymouth
Glynis is Centre Manager for Welcome Hall Limited which opened in 1995 as a Community Resource Centre to promote the benefit of those people residing or working in the Devonport area. She supports volunteers from within the local community and around the world in various language schools, helping develop their social and language skills.

CBCS Green Business of the Year
Cathy Debenham – YouGen Ltd, Sidbury.
Cathy learnt online by trial and error about renewable energy, how to run a business online and use social media, she has brought 20+ years of experience in marketing, communication and journalism, and a passion for green living to YouGen. Cathy faced a huge learning curve to start YouGen, the idea struck Cathy in 2005 and developed it until she announced blogs, business plans and the website in 2009 and has been successfully kept her business flowing making people aware of renewable sources and energy.
With the Venus Awards spreading across the country – Tara the founder is looking for companies that would like to engage with the growing force that is women in business perhaps using the Venus Awards as a vehicle!





Venus Awards Devon. www.venusawards.co.uk Tara Howard MD - Email: tara@venusawards.co.uk Phone:01202 438940 Mobile: 07837 771852