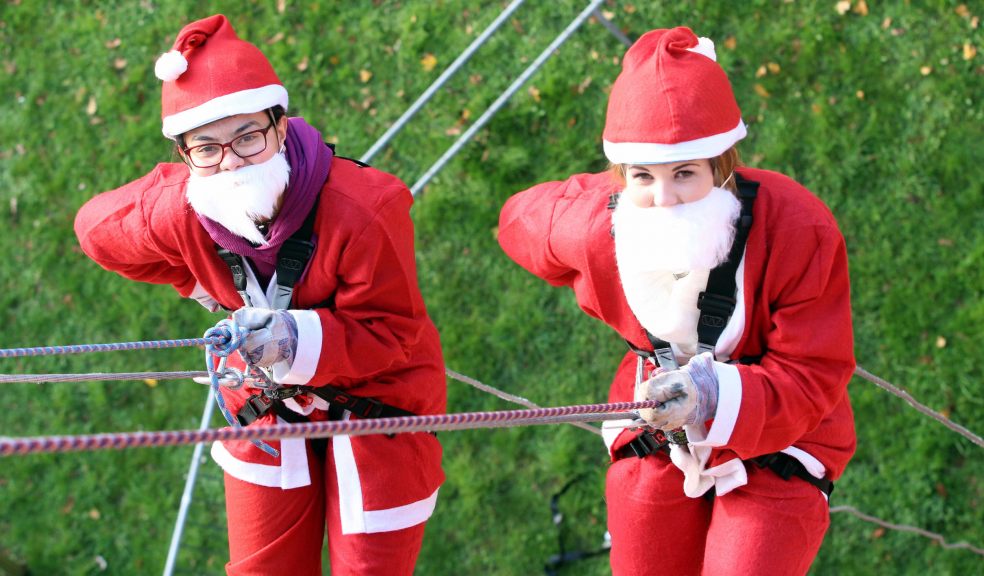 YMCA Exeter's Santa abseil breaks record
YMCA Exeter's 5th Annual Santa Abseil took place on Saturday 6th December with almost 60 local people, young and old, abseiling off the Princesshay car park to help combat youth homelessness.
Fifty-seven people put on their Santa suits, an increase of over 20 participants from last year, and overcame the dizzy heights to step over the roof's edge and raise over £4,000 to support those without safe accommodation, with the figure still rising.
One of the brave abseilers was Julia Holland, who used to manage a supported accommodation project for young homeless people in Exeter. However, following a serious incident in 2011 she became unwell and subsequently faced homelessness herself.
She describes how: "Due to being unwell I was unable to work and therefore unable to pay my mortgage. Our home was repossessed and the local authority only offered us B&B accommodation for 28 days."
She goes on to describe how, "Most people think of homeless as 'the drunk in the shop doorway' and that it will never affect them, but this couldn't be further from the truth. As I, myself, have experienced."
For many like Julia, the work of the YMCA in Exeter is so close to people's hearts and is why, CEO Peter Stephenson describes the abseil as 'a great opportunity to do something fun and personally challenging whilst helping some of the most vulnerable in the community'.
"Amid the celebration and festivity, Christmas is a time when poverty is often at its worst and so many young people across Devon are without a place to call home," he said.
YMCA Exeter would like to say a special thank you to Attention Media, Gilbert Stephens, ISCA Outdoor, ISCA Scaffold and Princesshay for helping facilitate the smooth running of the event.
Photos are available here.